15 Fruity Cocktail Recipes You've Never Heard Of
*sprints to the liquor cabinet*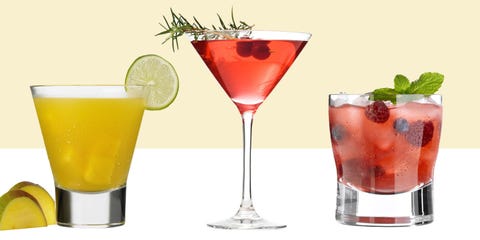 Think beyond your vodka cranberry this summer with 15 refreshing drink ideas ahead.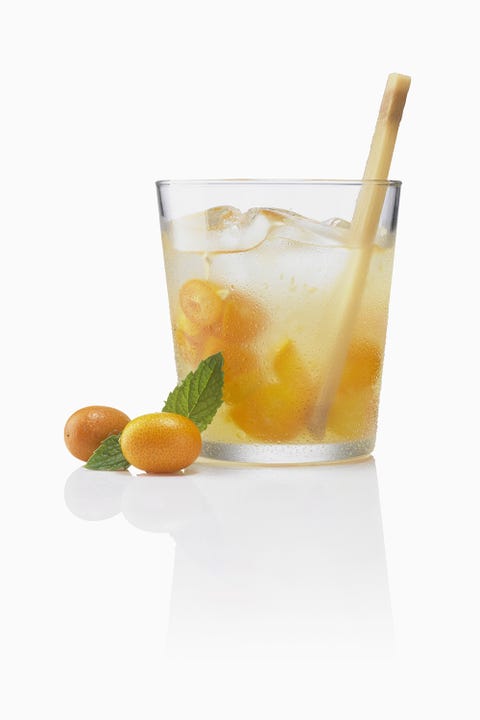 Jack Andersen
Getty Images
A Kumquat Quest
Ingredients:
2 parts Grey Goose Original
½ parts Grand Marnier
¼ squeeze Lime
2 tsps Demerara Brown Sugar
6 Kumquats
Directions:
Cut all the kumquats in half and put all the rest of the ingredients into a highball glass. Muddle all and add crushed ice. Float Grand Marnier.
From Grey Goose.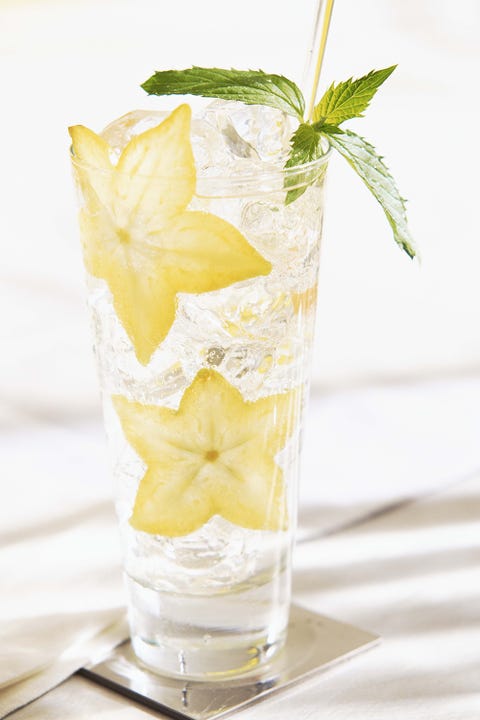 Ross Durant Photography
Getty Images
Starfruit Sangria Lemonade
Ingredients:
12 oz. Sauvignon Blanc or Dry Riesling, chilled
6 oz. London Dry Gin, such as Tanqueray
8 oz. Freshly Squeezed Lemon Juice

6 oz. Simple Syrup

10 Dashes Orange Bitters

1 Starfruit

Ice

3 oz. Chilled Club Soda or Ginger Beer
Directions:
In a large pitcher, stir wine, gin, lemon juice, simple syrup, and orange bitters together. Add 1 cup of ice and stir well. Slice starfruit into 1/4-inch thick slices. Fill serving glasses with ice and line sides with starfruit slices. Add club soda or ginger beer to wine mixture, stir gently to blend, and pour into serving glasses.
From Serious Eats.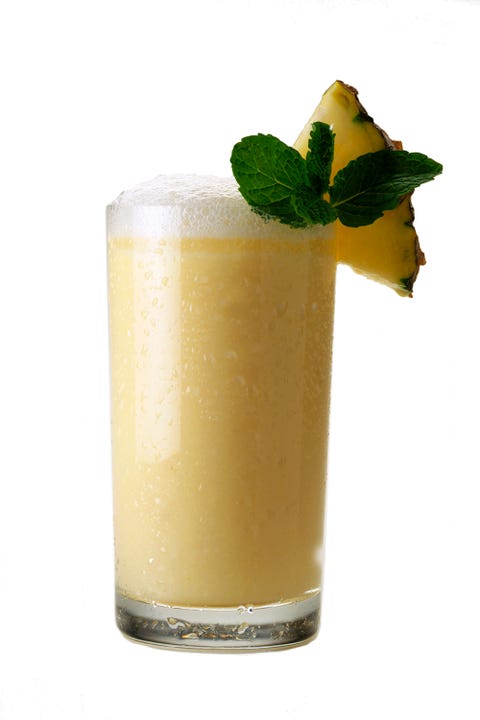 Dennis Gottlieb
Getty Images
Pineapple Mint Cocktail
Ingredients:
4 1.5 inch Pineapple chunks
2 Mint leaves
1 oz. Simple Syrup
2 oz. Leblon Cachaça
Muddle the pineapple, mint and sugar in a shaker. Fill the shaker with ice and add Leblon Cachaça. Shake vigorously. Serve in a rocks glass. Garnish with a pineapple wedge.
From [link href="http://www.liquor.com/recipes/the-pineapple-mint-caipirinha/#gs.bNy0LOU" link_updater_label="external" target="_blank"]Leblon Cachaca.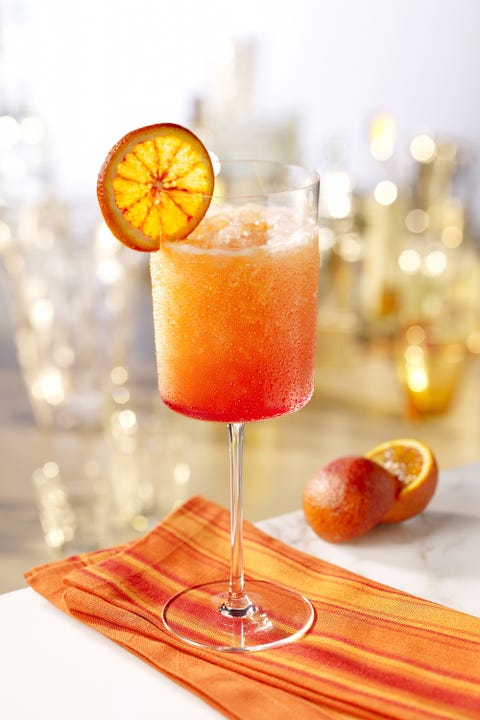 Blood Orange Gin and Tonic
Ingredients:
1 1/2 oz. Fin
2 oz. Fresh Blood Orange Juice
Couple Dashes Orange Bitters
About 4 oz.Tonic Water
Directions:
Fill a highball glass with ice. Add gin, blood orange juice, and orange bitters. Top with tonic water and gently stir. Garnish with a blood orange slice and serve.
From White on Rice Couple.
Jack Andersen
Getty Images
Mango Brava Daquiri
Ingredients:
2 oz. Mango-Infused Rum
.5 oz. Lime Juice
.5 oz Simple Syrup (one part sugar, one part water)
Directions:
Add all the ingredients to a shaker and fill with ice. Shake, and strain into a chilled cocktail glass.
Garnish with a lime wheel.
From Aisha Sharpe/Liqour.com.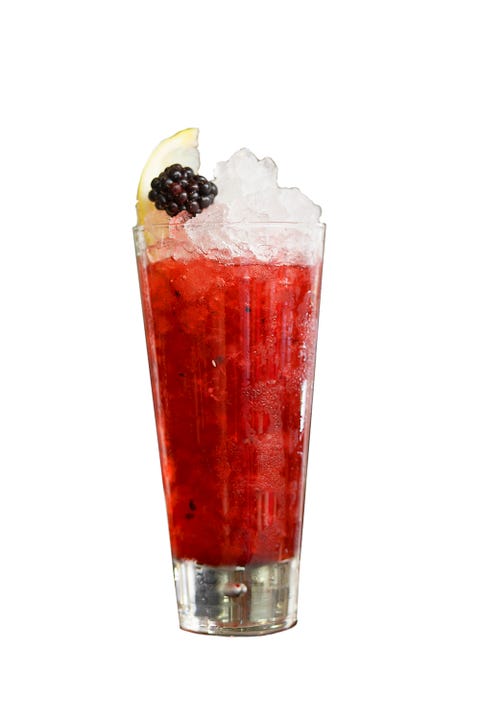 Pimm's Spice
Ingredients:
50 ml. Pimm's Blackberry and Elderflower
10 ml. Vanilla Syrup
6 Mint Leaves
A Pinch of Cinnamon
A Large Mint Sprig and Cinnamon Stick to Garnish
Directions:
Mix everything together and churn with crushed ice. But how to crush the ice? Rolling pin and tea towel. Sledge hammer and sock. Washing machine and sandwich box. The choices are endless, although probably the first one is safest.
From Pimm's.
Brillig Rosemary Pomegranate Soda
Ingredients:
1 oz. Pomegranate juice
1 oz. Rosemary simple syrup
Seltzer
Directions:
Fill a Collins glass one-third of the way with ice. Add the pomegranate juice and simple syrup. Fill the glass to the rim with seltzer and stir gently. Add more juice or syrup to taste. Garnish with a rosemary sprig and serve.
From Liquor.com.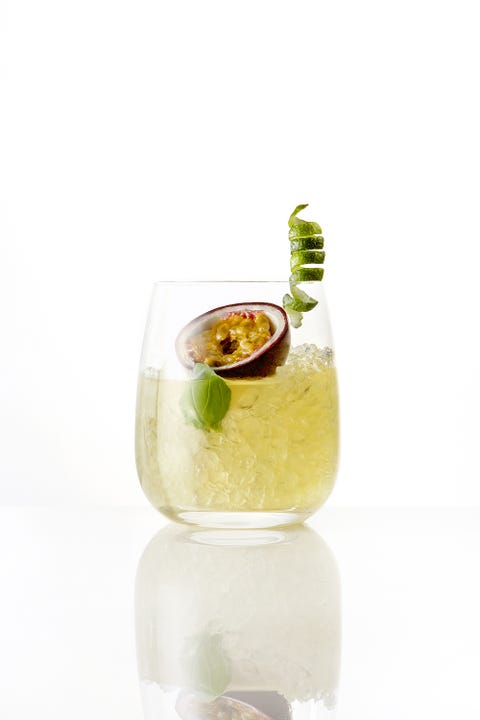 Johanna Parkin
Getty Images
PamaBeet Sparkling Cocktail
Ingredients:
6 oz. Biotta Beet Juice
2 oz. Pomegranate flavored vodka
Organic honey (to taste)
Sparkling water or club soda
Directions:
Chill a tall glass in the freezer for 10 minutes. Take chilled glass out and combine ingredients listed above with a mixing spoon (ice cubes optional).
From Biotta Beet Juice.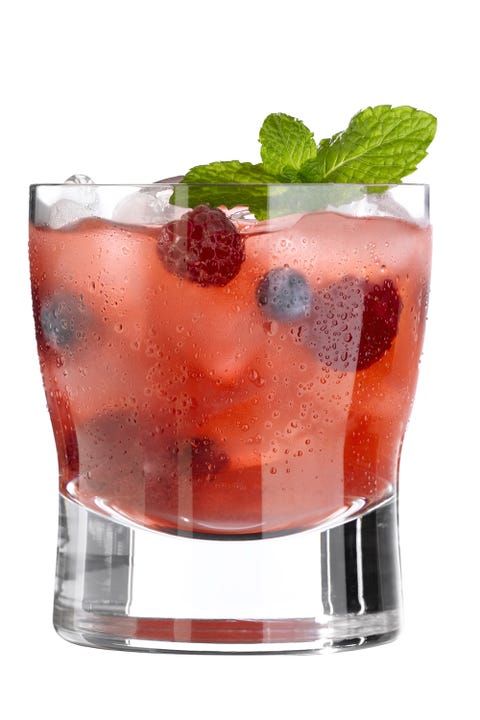 Brian MacDonald
Getty Images
Cabana Life
Ingredients:
2 oz. SKYY Infusions®Raspberry
1 oz. Fresh Lime Juice
0.75 oz. Simple Syrup
1 Sugar Cube
3 Mint Sprigs
Directions:
Muddle Mint and sugar cube. Build in glass.
From SKYY.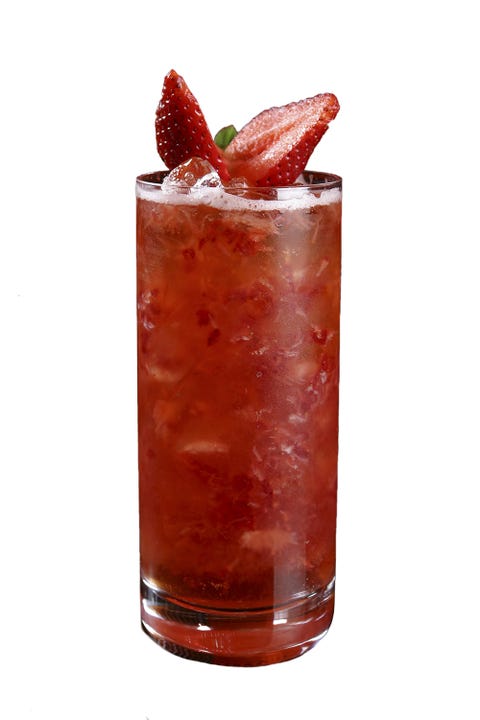 Strawberry Dutch Mule
Ingredients:
1.5 oz. Ketel One Oranje Flavored Vodka
1 oz. Fresh Lime Juice
75 oz. Simple Syrup
2 Strawberries
Ginger Beer
Directions:
Muddle strawberries and simple syrup in the bottom of a mixing glass. Add Ketel One Oranje and lime juice and shake with ice. Strain into a copper mug filled with ice. Top with ginger beer. Garnish with a strawberry wedge.
From Ketel One Vodka.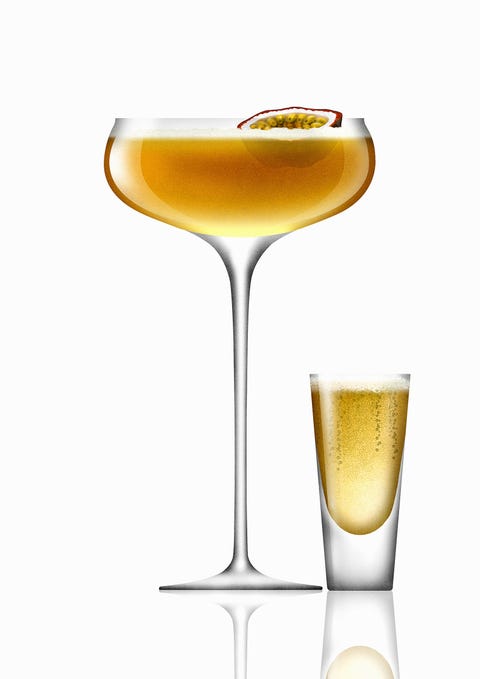 Moet Golden Glamour Cocktail
Ingredients:
4 oz. Moët & Chandon Imperial Champagne
.25 oz. Navan Vanilla Liqueur
1.5 oz. Passion fruit juice
Directions:
Add all the ingredients to a coupe glass.Garnish with a fresh mint sprig.
From Moet and Chandon.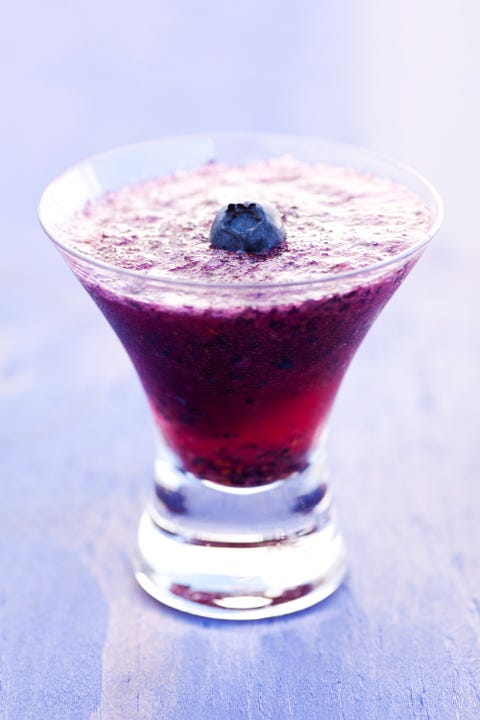 Alejandro Rivera
Getty Images
Blueberry Jam and Prosecco Cocktail
Ingredients:
1 1⁄2 tbsp. Bueberry Jam
3⁄4 oz. Fresh Lemon Juice
1 1⁄2 oz. Vodka, preferably Ice Fox
3 oz. Prosecco
5 Blueberries, to garnish
Sprig of Fresh Thyme, to garnish
Directions:
In a cocktail shaker, combine the jam, lemon juice, and vodka with ice. Shake vigorously for 15 seconds and then strain into an ice-filled rocks glass. Top with prosecco and garnish with the blueberries and thyme.
From Saveur.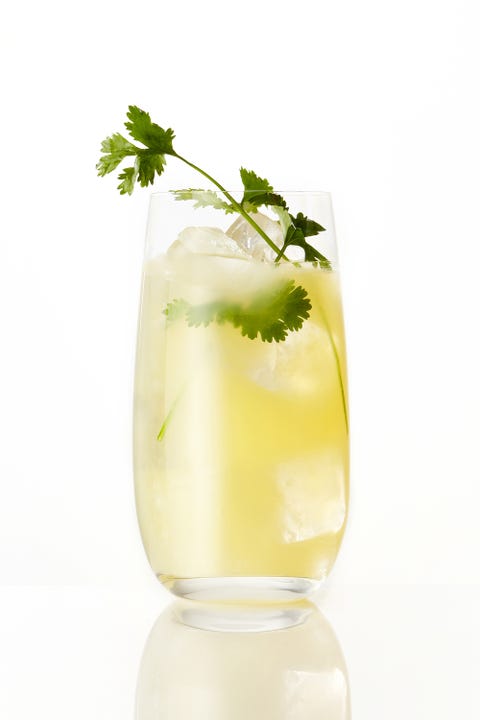 Johanna Parkin
Getty Images
Ginger Lychee Mojito
Ingredients:
2 oz. Gin or White Rum

2 tbl. Ginger SimpleSyrup

1/4 cup Lychee Juice

Sparkling Water

Few Slices of Cucumber, peeled and sliced in rounds

Few Sprigs of Fresh Mint

Ice

Ginger Simple Syrup
Directions:

In a tall mason jar (or glass) add 3-4 cucumber rounds and several mint leaves. Use the back of a large wooden spoon to muddle the mint and cucumber so that the mint begins to bruise and break down the cucumber. Add ice to the glass, ginger simple syrup, and lychee juice. Top with sparkling water and garnish with extra cucumber and fresh mint leaves.
From Little Ferraro Kitchen.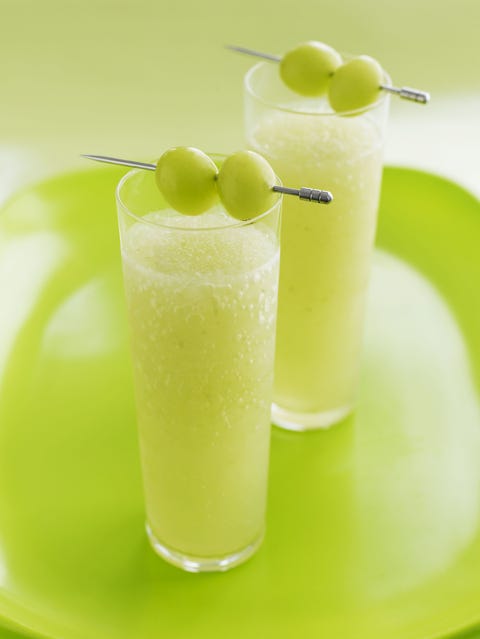 Alexandra Grablewski
Getty Images
Lamb's Tail
Ingredients:
1 Part Bison Grass Flavored Vodka
1 Splash Apple Juice, Fresh Pressed
Soda Water
2 Slices Carambola
6 Whole Grapes
Directions:

Fill a chilled highball glass with crushed ice. Add apple juice, fresh bison grass vodka. Top up with soda water. Garnish with karambola and grape.
From Absolut Vodka.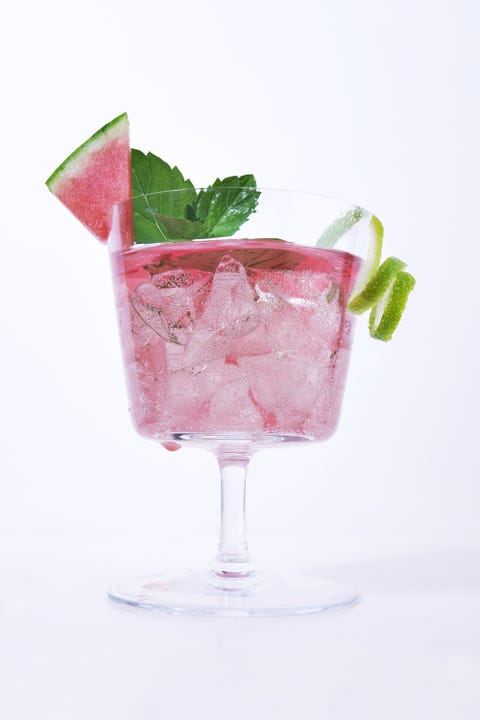 Impstepf Studios LLC
Getty Images
The Firecracker
Ingredients:
4 oz Prairie Cucumber Vodka
4 (1-inch) cubes of seedless watermelon
2 limes, diced
2 oz simple syrup (Boil ¼ cup water and sugar just until sugar dissolves. Add ¼ cup ice to cool—refrigerate leftovers)
Directions:
Combine vodka, watermelon, and lime in a cocktail shaker. Muddle all ingredients well. Add simple syrup, fill with ice, cover and shake until ice cold. Rim the glasses with a cut lime and dip in the lime rim mixture. Fill the glasses with ice and pour the ingredients from the shaker into the glasses. Garnish with a watermelon slice, a cucumber slice, and a mint sprig.
From DrinkWire.
This content is created and maintained by a third party, and imported onto this page to help users provide their email addresses. You may be able to find more information about this and similar content at piano.io