17 Boozy Popsicles to Enjoy This Summer
Alcohol-infused "poptails" are blowing up on Pinterest this summer.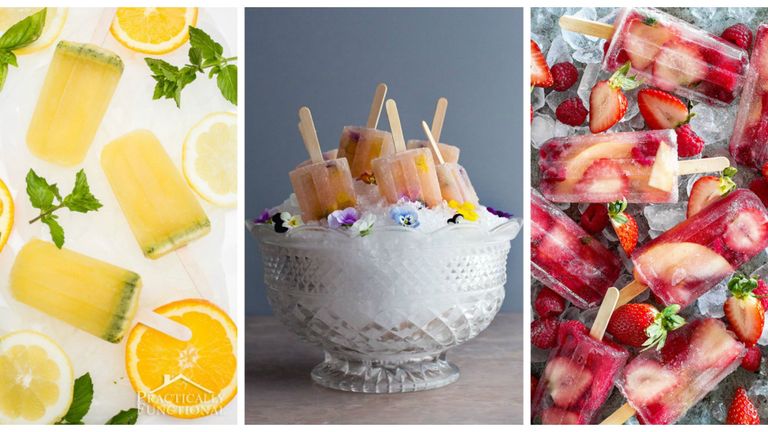 (Image credit: Future)
By Lyndsey Matthews published
For a spin on the classic summer dessert, try infusing your popsicles with alcohol for a delicious and boozy treat this season. They're super popular on Pinterest right now—in fact, searches for "boozy popsicles" have increased 68% since last year. Find some of our favorite recipes to make your own boozy "poptails" below, and for more ideas check out Pinterest's Cool Summer Popsicles board.
1.Prosecco Popsicles
If you don't own ice pop molds, try this quick hack: Pour yourself a glass of bubbly and place a fruity popsicle in the glass. Voila! You've got yourself a poptail.
2.Vodka Gummy Bear Popsicles
How can you made vodka-soaked gummy bears even better? Turn them into popsicles by freezing them in Sprite!
Get the recipe at A Spicy Perspective.
3.Basil Mint Citrus Mojito Popsicles
With over 8,000 pins, these minty rum pops are the most popular boozy popsicles on Pinterest this summer.
Get the recipe at Practically Functional.
4.Champagne and Fruit Popsicles
All you need to make these boozy treats is a bottle of bubbly and some fresh fruit.
Get the recipe at Barefoot Wine & Bubbly.
5.Bourbon and White Peach Popsicles
These boozy pops are just begging to be enjoyed on a porch swing.
Get the recipe at The Beach House Kitchen.
6.Coconut Cream Popsicles with Vanilla Bean and Malibu Rum
Take yourself on a mini vacation with these tropical popsicles. All that's missing is the tiny umbrella!
Get the recipe at The Modern Proper.
7.Bellini Popsicles with Edible Flowers
Elevate your brunch game with these champagne popsicles.
Get the recipe at Honestly Yum.
8.Jalapeño Mango Margarita Popsicles
Take these tequila-infused popsicles to the next level by serving them in a margarita.
Get the recipe at Broma Bakery.
9.Kahlua Coconut Cream Affogato Popsicles
Get buzzed with these boozy coffee pops.
Get the recipe at Yes to Yolks.
10.Strawberry Negroni Popsicles
Cool off with this refreshing spin on the classic cocktail.
Get the recipe at The Roaming Kitchen.
11.Dark and Stormy Popsicles
Ginger beer and dark rum is even more delicious in popsicle form.
Get the recipe at Brooklyn Supper.
12.Whiskey Yogurt Fig Popsicles
For a slightly boozy treat, try these yogurt and fig popsicles that only use two tablespoons of whiskey.
Get the recipe at The Little Epicurean.
13.Lemonade Moonshine Popsicles
When life gives you lemons, make lemonade moonshine popsicles.
Get the recipe at Dessert For Two.
14.Moscow Mule Popsicles
You only need three ingredients to make these boozy popsicles.
Get the recipe at Shutterbean.
15.Irish Coffee Popsicles
Can't get enough iced coffee this summer? Try these boozy popsicles for a little extra kick.
Get the recipe at Feast and West.
16.Mango Bourbon Smash Popsicles
Bourbon and mango isn't the most obvious flavor combo, but trust us: it's super tasty.
Get the recipe at Heart of a Baker.
17.piced Rum Horchata Pops
This creamy, cinnamon-infused drink tastes even better frozen (and spiked with rum).
Get the recipe at The Speckled Palate.
Lyndsey Matthews is the Destination News Editor for AFAR; previously she was a Lifestyle Editor across all of Hearst Digital Media's brands, and a digital editor at Martha Stewart Weddings and Travel + Leisure.