Georgetown Cupcakes Take Manhattan
The famed DC bakery has a new home in NYC.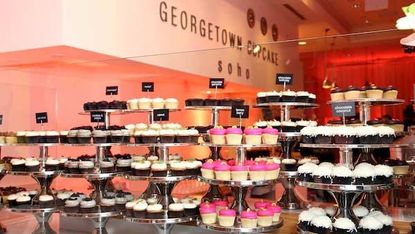 (Image credit: Archives)
My prayers have been answered (but my diet will suffer): Georgetown Cupcakes is opening its doors tomorrow on Mercer Street — dangerously close to my Soho apartment — and offering free cupcakes. The Washington DC-based TLC sister stars, Katherine Kallinis and Sophie LaMontagne, felt it was time to grace NYC with their scrumptious goodies and boy, am I glad they did. The two floor, 3000-sq. ft. space will feature a 12-person seating area, along with a private room downstairs, perfect for throwing bachelorette parties and baby showers. The sisters are also introducing a new trio of exclusive NYC flavors — apple crumble, cheesecake and B&W cookie — to the current 18 flavor line-up, but when it comes to all-time favorites, Katherine loves the Peanut Butter Fudge and Sophie adores the Chocolate Hazelnut. My personal fave? The classic Red Velvet.
So inspired, I may just attempt to replicate some of the flavors myself with a little help from the duo's adorable cookbook, The Cupcake Diaries. Next stop: Core Fusion.