The Official Drink of Every Major U.S. Sporting Event (and How to Make Them)
Because every sports game can be a drinking game if you try hard and believe in yourself. 🍹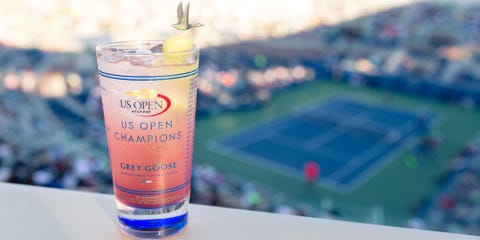 Nothing beats watching sports IRL. Except, of course, having a cocktail to sip while doing so. Even if you can't make it out to the stadium/courts/track, you can whip up the traditional drinks of your favorite events, no problem. Here's how.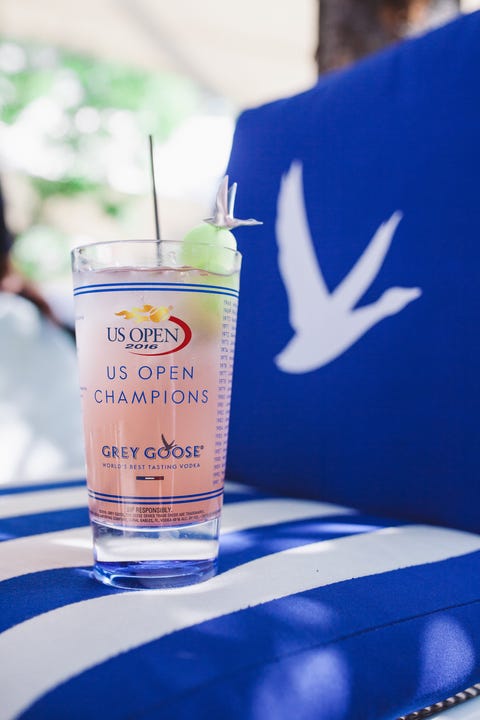 The U.S. Open: The Honey Deuce
This year marks the 10th anniversary of the partnership between Grey Goose and the U.S. Open, and they're serving these delish drinks to thirsty tennis watchers in celebration. Don't forget the melon balls—they're 🔑.
Ingredients:
1.25 oz. Grey Goose Vodka
3 oz. Lemonade
.5 oz. Raspberry Liqueur
Garnish: Frozen Honeydew Melon Ball Skewer
Directions:
Chill a collins glass by placing in refrigerator/ freezer or by filling with ice water for 5 minutes. Remove from refrigerator/freezer and fill with ice. Measure and add vodka to the glass. Top with measured amount of fresh lemonade. Measure and add raspberry liqueur. Garnish with skewer of 1 or multiple frozen honeydew melon balls (note: place honeydew melon in freezer beforehand, then, to create melon balls, use melon baller).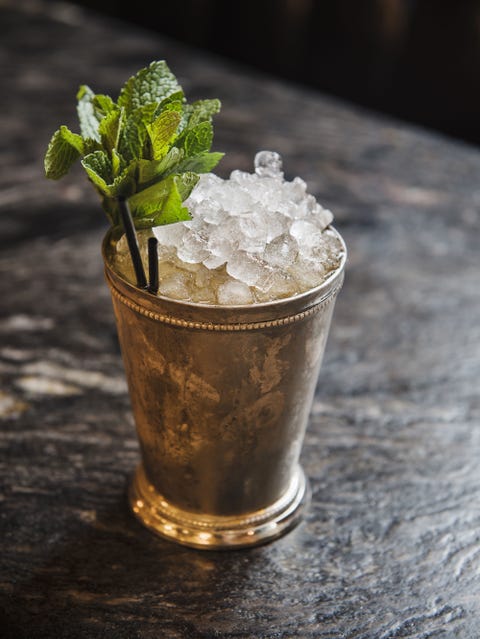 Kentucky Derby: Mint Julep
It's simple: You go to the Kentucky Derby for three things: betting, big hats, and mint juleps. Here's how to make the perfect one.
Ingredients:
2 cups sugar
2 cups water
Sprigs of fresh mint
Crushed ice
Old Forester Straight Bourbon Whisky (or similar)
Silver Julep Cups or Frosted Glasses
Directions:
Make a simple syrup by boiling sugar and water together for five minutes. Cool and place in a covered container with six or eight sprigs of fresh mint, then refrigerate overnight. Make one julep at a time by filling a julep cup with crushed ice, adding one tablespoon mint syrup and two ounces of Old ForesterKentucky Whisky. Stir rapidly with a spoon to frost the outside of the cup. Garnish with a sprig of fresh mint.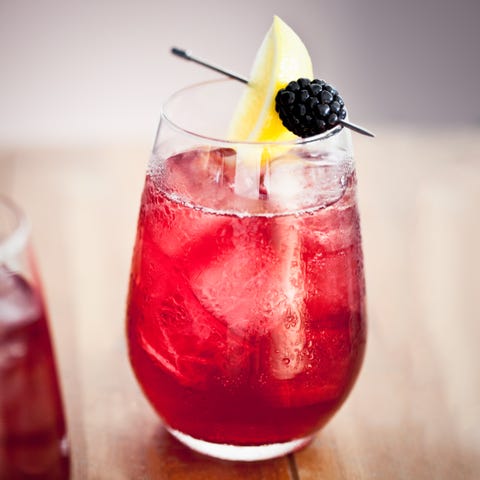 The Oaks: The Lily Cocktail
Yes, the horse race prior to the Kentucky Derby has its own cocktail—The Grey Goose Oaks Lily—and it's damn good, too.
Ingredients:
1 1/4 oz. Grey Goose Vodka
1 oz. Sweet and Sour Mix
1/4 oz. Triple Sec
3 oz. Cranberry Juice
Directions:
Once the ingredients are mixed, place the pinkish cocktail in an Official Oaks Lily® glass (stemless wine glass) with crushed ice, add a straw and garnish with a blackberry and lemon wedge.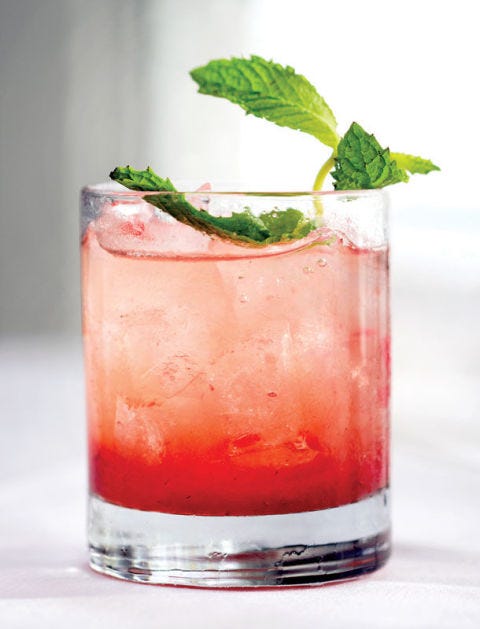 The Belmont Stakes: The Belmont Jewel
The official drink of the Triple Crown used to be the Belmont Breeze, but since 2012 the Belmont Jewel has reigned supreme.
Ingredients:
1.5 oz. Woodford Reserve Bourbon
2 oz. Lemonade
1 oz. Pomegranate Juice
Orange zest for garnish
Directions:
Combine ingredients in a cocktail shaker with ice. Strain over ice into a rocks glass. Garnish with an orange zest or wedge.
Indy 500: Pit Lane Lemonade
The bright yellow drink is a favorite for the banquets to celebrate the win of the race.
Ingredients:
1 oz. Limoncello
1 oz. Vodka
3 oz. Lemonade
Lemon twist or wedge for garnish
Directions:
Mix Limoncello, vodka, and lemonade in a shaker with ice. Pour the mixture into a highball glass and garnish with a twist or wedge of lemon.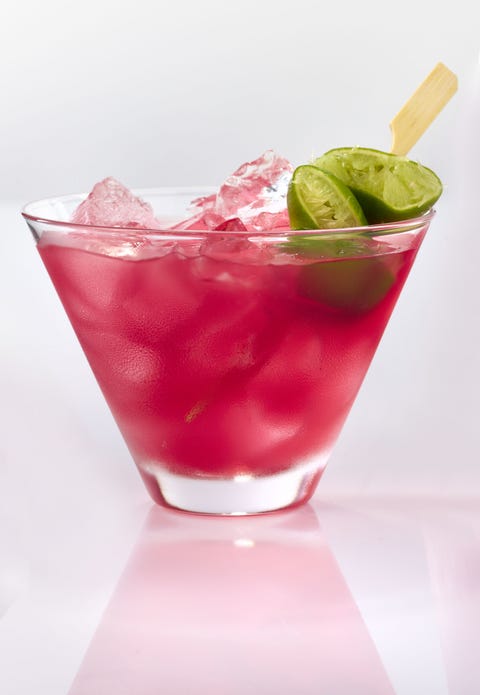 The Masters: Azalea Cocktail
While a classic gin and tonic is the official cocktail of the Masters in many eyes/mouths, the Azalea Cocktail wins out as the "official" official cocktail, and is named after the azalea bushes that bloom just in time for the tournament in Georgia.
Ingredients:
2 oz. lime juice (2 to 3 limes)
2 oz. pineapple juice
4 oz. gin* (can substitute vodka, if you prefer)
¼ ounce grenadine
Directions:
Freshly squeeze lime juice. Fill shaker half way with ice. Add lime juice, pineapple juice, gin, and grenadine. Strain into rocks glasses. Serve with lime garnish.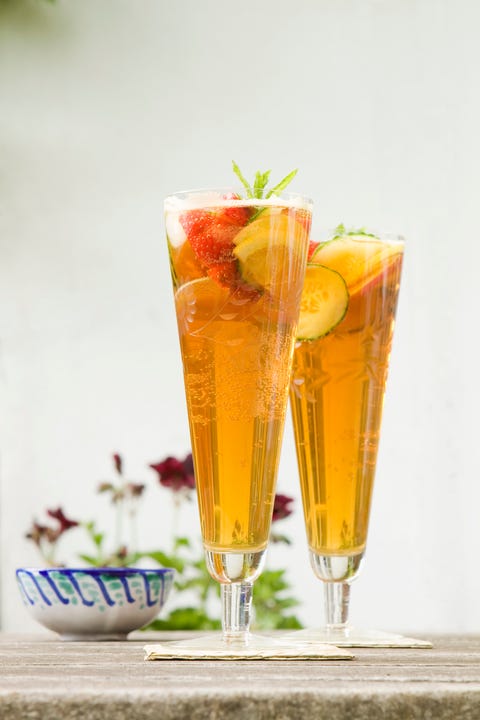 Bonus! Wimbledon: Pimm's Cup
Technically *not* a U.S. sport, but we can't resist a Pimm's Cup. You?
Ingredients:
1 part Pimm's Original No. 1
3 parts lemonade, lemon-lime soda, or ginger ale
mint leaves, thin cucumber slices, orange slices and strawberries
Directions:
Take a pitcher or a glass and add as much ice as you like. Pour one part Pimm's No. 1 with three parts lemonade, soda, or ginger ale over the ice. Add mint leaves, thin cucumber slices, orange slices, and strawberries and serve. (Note: You can muddle the mint and fruits before.)
This content is created and maintained by a third party, and imported onto this page to help users provide their email addresses. You may be able to find more information about this and similar content at piano.io