Why I Bought Myself an Engagement Ring
Well, someone had to.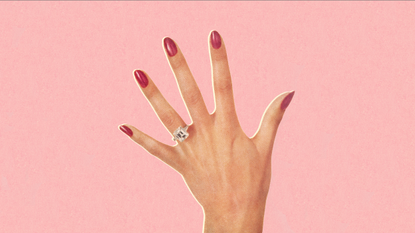 (Image credit: Getty images)
"I bought myself an engagement ring in Tanzania," I emailed a group of my girlfriends, mainly for effect.
I knew it would give them something to talk about the next time they met up for drinks without me. My girlfriends love to gossip. They're bitches like that.
They particularly love to gossip about me, the last single woman standing in our group of college friends, the only one who didn't get married last year.
"Poor Jo! She travels all the time. How is she ever going to find a husband?"
"She should have just married the last guy."
Maybe I should have, but I didn't. And so I bought myself an engagement ring at the Four Seasons in the Serengeti during a trip nice enough to be a honeymoon even though it wasn't.
I've been the managing editor of Yahoo Travel since April, which is about how long I've been single. I love the idea of marriage. I love it so much that when I finally do it I want it to last forever. My ex-boyfriend was my best friend, but he wasn't my husband.
Now I am single and 34. I have my dream job, one that has allowed me to travel to 12 countries in the past nine months, telling stories all over the globe. It's such a dream that some days I don't even think it's real. I'm convinced that I will wake up one morning and Richard Dawson will pop out of my closet to tell me this isn't my life at all. Rather, I've been on a Japanese reality show for the better part of a year and now is the bit where I'm locked in a house with nudists.
Earlier this year I published an amazing nonfiction book about nuns called If Nuns Ruled the World, and in May I have a new novel coming out.
Like I said, it all seems like a dream. And yet, my friends are very concerned I will end up a spinster, and that has left a large black mark on my otherwise remarkable existence.
"Maybe you should have just gotten married. It's better to be divorced than never married."
"Are you gay?"
"There's nothing wrong with settling."
There is a lot wrong with settling. If anyone taught me that, it was the 10 nuns I interviewed over the past three years. Each of them is ostensibly single (technically married to Jesus, but he isn't around all that much). They chose a life that diverted from the norm of marriage followed by kids, and each of the women I profiled told me she has absolutely no regrets. They all live each day to the fullest. They followed their passions. They fight for causes that actually change our world. But they're nuns, not single agnostic New Yorkers, so being single is OK.
I have been on a total of one dating-website date since my breakup. It was one of those apps that tries to be discerning by connecting you only with friends of friends of your dry cleaner to ensure you're not meeting for coffee with someone who's a secret serial killer or, God forbid, didn't attend an elite university.
This gentleman actually went to my college, four years ahead of me. He worked in finance, was shorter than advertised, and at one point leaned in to smell me.
"Have you been married?" he asked me, before I even had a sip of my machiatto.
"Nope."
"Are you sure?"
"I am."
"But why?"
"Excuse me?"
"I mean, you're really pretty and you seem nice. Why haven't you been married?"
"Oh, I'm crazy," I replied. He didn't get my sarcasm or another date.
The fact that my date needed to pinpoint my fatal flaw in order to discern why no man had tied me down shook me up for a few days. What if my bitchy friends were right, and having failed at one marriage set you up for success in nailing down the next one?
I'm actually a hopeless romantic. I get that dating is a numbers game (now more than ever in the age of Match, Tinder, OkCupid, Hinge, etc.). I was told the other day that there is even an app that connects you with other people who just want to meet up to cuddle. But somehow I still believe in the serendipity of locking eyes with someone across a crowded airport, bumping into him in the Acropolis, or being forced to share a cab in Mumbai. I actually have no doubt that I will meet my husband somewhere on my travels.

Photo: Courtesy Jo Piazza
Nuns wear rings, delicate and understated gold bands on their right ring fingers, to signify their marriage to Jesus Christ. When I asked one about her ring, she replied matter-of-factly, "It's about commitment. To God and to myself."
My friends love their engagement rings. Each one is bigger than the next, but somehow they all look the same. A big diamond surrounded by little diamonds set in platinum.
I like to call it the "Rachel" haircut of rings. Everyone has it and in 10 years they'll think it is tacky.
I've never been one for diamonds, but I love jewelry and precious stones, particularly unique ones from around the world. I first heard about tanzanite when I arrived at the safari lodge. "It's actually rarer than diamonds," the resident lodge zoologist and Discovery Center Manager, Oliver Dreike, told me.
I was intrigued. So was Tiffany & Co. After the stone was discovered in the late '60s, the global jeweler attempted to capitalize on its rareness by renaming it tanzanite after Tanzania. They thought its original name, blue zoisite, was unlikely to be a commercial hit. Tiffany launched an advertising campaign saying the stone could be found in just two places in the world, Tanzania and Tiffany.
On the last day of my trip I wandered into the Lithoe Africa shop at the lodge to just glance at the tanzanite rings, assuming nothing would catch my fancy. I assumed wrong. The ring I fell in love with was simple: a plain gold band with a two-carat blue-violet tanzanite flanked by delicate bars of white gold. It was beautiful and slightly expensive and I loved it. The only finger it fit was the ring finger of my left hand.
"Ugh. I can't get it. It will look like an engagement ring," I moaned to the French woman tending the shop.
She rolled her eyes at me and I could practically hear her thinking, Silly American. She managed not to say it out loud. Instead she said, "Who cares. Are you worried no man will approach you?" She let out a small grunt and looked me up and down.
A little.
She continued, with the requisite amount of Parisian disdain, "It's a beautiful ring. Who cares what finger it is on?" She was so French and yet so right.
"I want it," I said.

Photo: Courtesy Jo Piazza
I immediately texted my ex-boyfriend. We talk every day. Like I said: best friend, but not my husband.
"I bought a fancy ring in Tanzania."
"Great!"
"Well, someone had to."
"Don't be stupid."
I think I'm half-joking when I call it my engagement ring. I think about what the nuns told me. It's a commitment to myself and a reminder that.
I'm not wrong, or crazy, or flawed to wait for the right person. I saw the sun rise over Mount Kilimanjaro this morning while writing this, looking at my ring sparkle as my fingers flew across the keyboard. I'm happy to just be with me for a little bit longer.
Related: How to Break Up With People You Aren't Dating
Related: Why I Cheated on My Husband
Celebrity news, beauty, fashion advice, and fascinating features, delivered straight to your inbox!
Jo Piazza is author of seven critically acclaimed books, both fiction and non-fiction which have been translated into more than ten languages, including her most recent, Charlotte Walsh Likes to Win.