23 Things You Shouldn't Do in Your Online Dating Profile
Just refrain from talking about the zombie apocalypse, okay?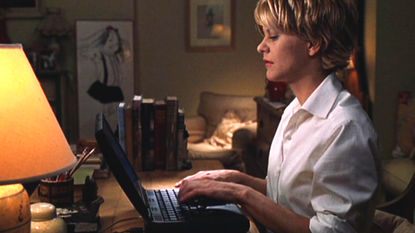 (Image credit: Warner Bros.)
In her new book You Probably Shouldn't Write That: Tips and Tricks for Creating an Online Dating Profile That Doesn't Suck, Lisa Hoehn of ProfilePolish.com outlines the mistakes you don't even realize you're making and offers step-by-step guidance to crafting a digital dating presence that will get you exactly what you're looking for. Here, an excerpt of 23 "don't's" to keep out of your "about me" section.
1) Insult any group of people. Because then you're an as*hole.
2) Refer to a woman as a girl. Because you might be perceived as sexist.
3) Talk about the zombie apocalypse. Because it ain't gonna happen, and the fad is over.
4) Use hashtags. Because they're best left to Twitter and Instagram.
5) Include external links. Because then you're putting extra work on your prospective match.
6) Mention your ex. Because then you're not over him or her.
7) Reference a "new beginning" or a "fresh start" or "getting back on your feet." Because then you have baggage.
8) Use "etc." at the end of a list of your interests. Because it's not informative in any way.
9) Double space between sentences. Because it makes you look as outdated with technology as you are.
10) Refer to your readers as "you" (unless a prompt set it up that way). Because it's creepy.
11) End! Every! Or every other! Sentence! With an exclamation point!! Because overeager is just as unattractive as apathetic.
12) Make cheesy, corny, romantic statements. Because it's...well, cheesy and corny.
13) Fill your profile with rhetorical questions. Because one is enough.
14) Use the phrase, "just like everyone else." Because you're not.
15) Employ lists in every section or paragraph. Because too many are boring to read and don't give enough detail.
16) Write, "My friends say that I'm..." Because you're more self-aware and confident than that.
17) Make blatantly sexual references. Because it's gross and conveys the wrong message.
18) TYPE IN ALL CAPS. Because you're not yelling.
19) Mention your student (or any) debt—or talk explicitly about money at all. Because it's too personal.
20) Reveal details of your medical history. 'Nuff said.
21) Use more than one emoticon :). Because you should be able to use your words, not punctuation, to convey your mood.
22) Wax poetic about...anything. Because no one cares.
23) Say that you're looking for a "drama-free" relationship. Because you've clearly been part of a drama-filled relationship.
You Probably Shouldn't Write That: Tips and Tricks for Creating an Online Dating Profile That Doesn't Suck by Lisa Hoehn, $7.75, amazon.com.
Follow Marie Claire on Instagram for the latest celeb news, pretty pics, funny stuff, and an insider POV.
Celebrity news, beauty, fashion advice, and fascinating features, delivered straight to your inbox!
Alexandra Tunell is the Senior Digital Beauty Editor at Harper's BAZAAR, where she writes beauty features and covers industry news, health, fitness and wellness trends. She began her career in the Lucky beauty closet, then went on to work at Allure. When she's not testing the latest skin care treatments, the Los Angeles native is searching the city for the best Mexican food, binge-watching Bravo and escaping to the beach as often as possible.