Woman Sells Wedding Gown in Hilariously Brutal Ad After Husband Allegedly Cheated
"Great condition but needs dry cleaning before wearing to get rid of the stench of betrayal."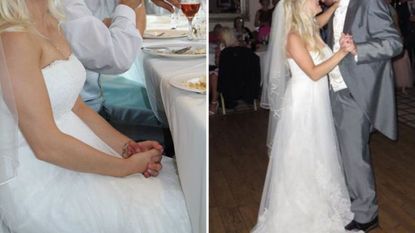 (Image credit: Archives)
When a relationship ends, you delete your couple pictures on Instagram and burn the T-shirt they left in your apartment. When a marriage ends, however, it's a little more complicated, but a blogger named Samantha from the U.K. found at least one way to handle it: Sell the wedding dress. When the 28-year-old discovered her husband was supposedly having an affair and living with another woman, she posted the dress on eBay (opens in new tab) to help pay for the divorce.
"Great condition but needs dry cleaning before wearing to get rid of the stench of betrayal," she begins, but it gets even better.
"As it reaches the floor, it is a little dirty around this area and so will need a dry clean before it's worn for your special day," the description reads. "I didn't have time to get it dry-cleaned myself before my cheating scumbag of a husband decided to call an end to our marriage." Yikes.
Otherwise, the dress, designed by Art Couture (opens in new tab), is in perfectly good condition, strapless, and complete with a veil. Starting at 500 British pounds (originally 2,000 pounds), it's practically a steal ... but it doesn't exactly have the best track record.
"If you want a dress that is full of bad memories and shattered hopes and dreams, then this is the one for you!" she writes. Currently, there are no bids placed on the dress, but it still has a little over four days before time is up.
"Hope this dress brings you a lot more happiness than it brought me in the end," Samantha concludes. "And if not ... well you can always sell it on here!"
Read the full post here:
Follow Marie Claire on Facebook (opens in new tab) for the latest celeb news, beauty tips, fascinating reads, livestream video, and more.