Why I Married a Total Stranger
"There were definitely moments when I stepped back and thought, What have I done?"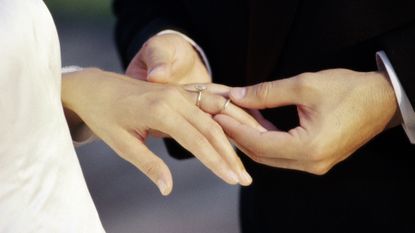 (Image credit: Archives)
The idea of marrying a total stranger seems completely insane to most people—but not Sonia Granados. The 33-year-old Miami social worker turned her love life over to a team of experts at FYI's Married at First Sight and they matched her with a spouse. Sonia and her husband literally met for the very first time at the altar. (For those of you who are new to the show: The couples then live together for six weeks before deciding whether to stay married or get divorced.) Here, Sonia describes what it's actually like to marry a complete stranger, including the good, the bad, and the awkward.
I was never one of those girls who was like, "Oh my god! I can't wait to get married!" But I always knew I wanted to go through life with a partner. I daydreamed about doing everything with him, having inside jokes. I was looking for that best friend that you also want to have sex with!
I just couldn't find him. I dated in little spurts, months at a time. There was one guy who I dated on and off for like four years. I thought he was the love of my life, but he was a player, and marriage wasn't his thing. And then there was another boyfriend who gave me that instant feeling of "this is such a good guy!" Even my friends thought he was awesome, but then he wound up cheating on me.
I did Match, I did Plenty of Fish, and I'd meet guys at bars, or get set up by friends. But for some reason, it never worked out. It got harder the older I got, but it was especially hard dating in Miami. It's a horror story. There are so many beautiful women in this city, and men refuse to commit to one. It comes down to, "She's not skinny enough!" or "She doesn't have booty!" I was discouraged. A friend of mine sent me the link to the Married at First Sight casting call and said she'd thought I'd be great for it. Two weeks later, I decided to try it, thinking that they'd never actually choose me, and that even if they did, they'd never find me a match.
The process is super intense. The questionnaire you have to answer is something like 800 questions long! They did a psychological evaluation, you meet with each expert who appears on the show separately [there's a clinical psychologist, sexologist, sociologist, and humanist] and you do a bunch of Skype interviews with people who are in charge of casting. I actually felt good that it was so intense, because it meant they were screening my husband just as carefully. There was a sense of calmness to the process for me. That was really weird, because I usually have anxiety. [But] even being hopeful, I worried. What if I got someone self-centered? Or someone who wasn't empathetic? Or a cheater?
Once I knew I was chosen, I told one of my brothers, who I'm pretty close to in age. I figured if anyone would definitely understand, it would be him. His immediate response was, "Whoa. That's pretty crazy, Sonia." He came around a little bit, and told me to do it but that I should talk to our dad before things went any further. (My dad and I are very close.) At first he thought I was a little bit crazy but that turned into support really quickly, and the same thing happened with my mom.
I only had about two weeks to plan my wedding. But I was never one of those girls who'd spent years thinking about what her flowers would look like. I don't even think I picked my flowers, to be honest. It's a little weird too, because it's not the sort of wedding you can invite 300 people to, and when there's such short notice, some people aren't going to be able to make it. The people who do make it have to promise they'll keep it a secret for several months and sign a nondisclosure agreement. No one can post on Facebook the next day, "My daughter got married!"
The one thing I was really excited about was picking a dress. And when I found the dress that made me feel like a bride, it all started to sink in. I was really getting married.
Waking up the morning of the wedding was almost an out-of-body experience. There were the typical butterflies, that nervous excitement, but on top of that, you're asking yourself, "Is my husband going to be attracted to me? Am I going to be attracted to him?" It didn't have to be physical attraction, necessarily. He didn't have to be the most handsome man I've ever seen. But I wanted to feel drawn to him.
I waited behind these big heavy curtains to walk out, and at one point, there was a big gust of wind, and I took a peek at someone who was up at the altar and thought, Oh my god. It was this older man, and I didn't think I'd upped my acceptable age range to 55. But then I started walking up the aisle, and I realized that the man I'd seen at the altar was actually the officiant and not my husband. I was super relieved. My husband was smiling, and I was too. I liked his shoes. That sounds small, but it told me he had style, and I thought he was handsome.
The rest of that day is kind of a blur, but I do remember saying to my husband, "By the way, I'm in this for real." He made a great first impression on my family and friends. I remember one of my aunts being all excited, saying, "Oooh, he's so good-looking!" and the consensus was that he seemed like a really genuine person. My husband's family is just as great. I hit it off with his sister right away, since she's a therapist and I'm a social worker, and had a really nice dance with his dad, who was super emotional and teary. They are a great family, and I'm so glad that his family and mine were both so receptive and compassionate in this process.
And then all of a sudden, you're right in the middle of learning everything about this other person. Not just the big things, like his values, but little things. This is a random example, but he likes to get up in the middle of the night and just eat. Boxes and boxes of sweets. And you're getting used to sleeping next to someone new. It's weird! He's a stranger, and he's my husband, and nothing makes that not feel weird at first.
He was very comfortable being himself from the very beginning, but it took me a little longer. The funny thing is that the physical aspect of our relationship came a little bit more easily than forging an emotional connection did. Then again, that kind of makes sense — when you're beginning a relationship, you're often focused on physical chemistry right off the bat, rather than the deep and emotional stuff. It's just a little unusual for it to play out that way with your husband, after you're married.
The major challenge was communication. I'm not the very best communicator. I don't want to hurt people's feelings or be a nag. That makes it difficult, because when you marry a stranger, you have to communicate, and you have to communicate very well. If not, it's a mess. There were definitely moments when I stepped back and thought, What have I done? What have I gotten myself into? But there were moments that were really joyful, too. My husband and I have a really similar sense of humor, and finding the funny side in what we were going through and feeding off one another's quirky side was really important.
You'll have to watch and see whether we stay together or choose to get a divorced at the end of the process, but I'll say this: If someone came to me and asked whether this process was right for them, I'd make sure they understood they'd have to do a lot of work. This isn't a fairy tale, and it wasn't all roses and butterflies. But I don't regret it one bit. It's an amazing experience that I feel blessed to have been chosen for.
Season four of Married at First Sight premiered July 26 at 8:45 on FYI.
Follow Marie Claire on Facebook for the latest celeb news, beauty tips, fascinating reads, livestream video, and more.
Lauren Hoffman writes about television, women in pop culture, and her feelings. She is a regular contributor to Cosmopolitan.com, and her work has also appeared in Vulture, Buzzfeed, Bitch, The Stranger, City Arts, and more. Lauren lives in Seattle, Washington and is a semi-professional bridesmaid.