I Gave Up College to Get Married—Now I'm 19 and Divorced
Taylor thought marrying her longtime boyfriend would make them closer than ever—but instead, it tore them apart.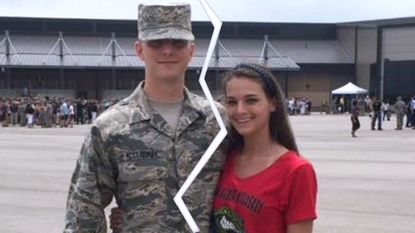 (Image credit: TAYLOR GAMBLE | DANA TEPPER)
Marie Claire Newsletter
Celebrity news, beauty, fashion advice, and fascinating features, delivered straight to your inbox!
Thank you for signing up to Marie Claire. You will receive a verification email shortly.
There was a problem. Please refresh the page and try again.
I was always the girl who would go to college. Everyone in my family knew I would go. So after I got into my dream school in South Carolina, everyone was surprised when I moved to California to get married instead. But what went down after my boyfriend and I said "I do" was the biggest shock of all.
We began as high school sweethearts
My ex-husband Albert and I grew up together, but we didn't really become close until one day in December when I was a freshman and he was a sophomore. I was drinking an Arizona Iced Tea on the bus home from school. When the bus stopped suddenly, I smashed into the seat in front of me and spilled tea all over myself. I turned around because I heard him cracking up laughing behind me. I just remember thinking, Wow. That's a smile I could get used to seeing. He really has the most perfect smile with these beautiful white teeth.
We texted nonstop for the next 10 days. He officially asked me out in a text message on Christmas Day. He was like, "You know what would make my Christmas really great? If I could call you my girlfriend." The next few years were a whirlwind. I was a cheerleader, and even though our football team was awful, he watched me perform at every game and brought me blue Gatorade and Skittles after every halftime routine. There was some high school drama and we broke up a few times, but as my graduation loomed closer, I knew for sure that we were in it for the long haul — we did everything together, we loved each other's families, and we talked excitedly about our future. Albert made plans to join the military, and I couldn't imagine not being by his side.
Three months after I finished high school, he proposed.
"You may now kiss the bride"
On November 25, 2015, Albert and I had a courthouse wedding. I didn't have a wedding dress or a fancy reception or anything like that, but just being with Albert was enough for me. Fifteen or 20 of the most important people in our lives came to watch us exchange wedding bands and say "I do." That whole "you may now kiss the bride" thing felt like a movie. Afterwards, our parents threw us a party at a local restaurant, and we had a mini honeymoon at a hotel near the beach. It was the happiest day of my life.
Once I got married, I suddenly felt so much older. Whenever Albert and I went out to restaurants, I'd see waitresses noticing my ring and looking at my face, like they were trying to figure out my age. Nobody ever thinks I look older than 16. They'd be like, "Wow, you got married really young." And I guess I did, but nothing really changed. That first week was so blissful.
Starting our life together as newlyweds
One week after the wedding, the military stationed Albert in California. We couldn't move onto base right away, so we were cooped up in a cramped hotel for our first seven weeks out west. It was pure hell. There was a microwave, but no kitchen, so we bought a little portable grill so we could cook burgers and chicken. That's all we could cook. I blew through the $7,000 I had saved up from my waitressing job on the room, our car, and our meals. I was a little bitter about spending all that money, but we were married. I figured what's mine is his and what's his is mine. I was happy to help him out.
Life didn't get any better once we moved into our house on base. We could live there rent-free, but the place was kind of a mess. The toilet was always clogged; the shower never worked.
Albert had to work from 6:30 or 7:00 in the morning until 6:00 at night. I searched far and high for a job, but nobody would hire me. And because I didn't apply to any colleges in California, I couldn't go to school. That meant that I was alone all day, five days a week — sometimes seven days a week if he had weekend duty. And even after Albert came home from work, he'd either go to the gym, or he'd be too tired to do anything. I was so lonely. I met a few military wives, but they were older and had kids, and I couldn't relate to them.
To keep myself busy, I watched Netflix. A lot of Netflix — Grey's Anatomy, Gossip Girl, One Tree Hill, House of Cards... basically everything. My sister Tara and I talked every day on FaceTime. I cleaned the house, went to the commissary on base for cheap groceries, and looked up recipes for tacos and chicken cutlet and salmon. I was basically a housewife — just without the kids.
The loneliness sucked, but the other hard part was that we never discussed my education or my career. I had postponed college and left my family and friends behind at the age of 18 to move across the country in support of my husband's military career, but we couldn't even talk about what I wanted out of life — his focus was on his new life. I researched certificate programs, where I'd go to school for nine months and become a certified medical assistant, and presented the pros and cons of each one along with how much they'd cost. But he kept pulling the money card and said we couldn't afford any of them. And that was that.
When I got married, I thought I'd be married forever. I'm really family-oriented; Albert and I wanted to start having kids in our early 20s. We wanted to get a dog and go to our kids' games together and spend the rest of our lives in love. We fantasized about our future all the time.
But life in California was hard. We literally lived in a desert — there wasn't a speck of grass and we had to travel 45 minutes just to find the nearest restaurant. Money was really tight, so we couldn't travel or do anything special. I had assumed that military families made a pretty good living, but it was a struggle. The strain was starting to take its toll on us. When we were together, we'd just sit around the house for hours, basically not even speaking. He'd be playing his video games and I'd be watching Netflix or making dinner. It was kind of awkward.
We knew our relationship was going downhill and tried hard to save it. Once a week, no matter how tired we were, we had a date night; we ate dinner and watched movies together. We had long, tough talks about our feelings. And we made a few friends who lived off base. Going to barbecues and pool parties with those friends helped our relationship stay afloat for as long as it did. But inside, I was starting to feel less and less connected to Albert.
The moment it all fell apart
In June, after seven months of living together, Albert and I agreed that I should fly back to New Jersey to attend my sister's high school graduation and spend the summer making money at my old waitressing job.
My plan was to save up enough money to make my life with Albert easier, then fly back to California in August. But while I was home for the summer, Albert and I had a huge fight over FaceTime. Things turned nasty, so I told him I needed space. We didn't speak for the next two days.
The next time we talked, it was like all of our issues from California just tumbled out. Finally, I was just done. I couldn't do it anymore. I didn't want to be together anymore.
Albert flew back to New Jersey a week or two later because his dad was having surgery. We met up to talk. The conversation stretched out for hours, but ultimately, we came to the same conclusion: we love each other, but we're not in love anymore.
Our marriage couldn't be annulled, so now we're separated. We don't talk anymore. We're saving up money to get legally divorced, but it's expensive. It's taking time. For the first time since I was 14, Albert and I aren't in each other's lives at all.
I never thought I'd be 19 and divorced
It wasn't easy to tell everyone what had happened. At first, I only told my mom and my sister. Not even my dad knew about the divorce right away. When I ran into people who asked about me and Albert, I'd tell them that everything was fine between us, just because that was easier than explaining the truth. But slowly, as the weeks went on, I began opening up about what really happened. Some friends told me I should try to stick it out with Albert, but the people closest to me, like my sister and my friend Macie, knew all the gory details about what our relationship was actually like. They understood that Albert and I had to do what would make us happy.
I'm embarrassed by what happened. I feel like I failed at something, even though I know that's not really true. Not everything in life works out. That's just how life is.
Sometimes I sit back and think, wow, what was I thinking? I don't regret that time, because I really did love him, but I do think about where I'd be today if I hadn't spent all that time and energy focusing on his career. What if I had poured all that time and energy into my own career? What would my life look like now? In the future, I have to set the bar high for myself and never give up on my dreams.
I still like the idea of marriage, but I don't think I'll get married again until I'm in my 30s. Right now, it's time to put myself first — finally.
Follow Marie Claire on Facebook for the latest celeb news, beauty tips, fascinating reads, livestream video, and more.
Celebrity news, beauty, fashion advice, and fascinating features, delivered straight to your inbox!