The Spotify Playlist This Girl Used to Dump Her Boyfriend Is Pure Gold
Get out (leave) right now.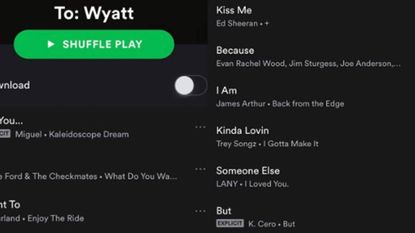 (Image credit: Archives)
Breaking up with someone or telling them you don't want to carry on seeing them can be a massive pain. If you're not a fan of the dumping-via-test method (not really legit) and think ghosting is just way too harsh, you could always do what this girl did and make a Spotify playlist. Really.
Admittedly, it's a little mean. But Kirsten Titus (the dumper) is clearly a mastermind. Her sister Erika posted screenshots of the playlist on Twitter with the caption: "So my sister has gone on a couple of dates with a guy named Wyatt but she likes someone else so she made him a Spotify playlist and..."
The tracks she added to the playlist spell out her breakup message: "Do you still want to kiss me because I am kinda lovin someone else but we can still be friends." She featured songs by James Arthur and Ed Sheeran, but sadly no JoJo.
Wyatt, who is 20 and goes to uni in Utah with Kirsten, is clearly not taking her very public brushoff too much to heart. He replied on Twitter with his own playlist in response.
Replying to Erika, Wyatt wrote, "I made her one back btw" and posted a screenshot of his playlist. It only featured one track, but that track said it all: "STFU."
Touché, Wyatt.
Follow Marie Claire on Facebook (opens in new tab) for the latest celeb news, beauty tips, fascinating reads, livestream video, and more.
Paisley is sex & relationships editor at Cosmopolitan UK, and covers everything from sex toys, how to masturbate and sex positions, to all things LGBTQ. She definitely reveals too much about her personal life on the Internet.