The 15 Emotional Stages of Being in a New Relationship
You didn't text me back so, obviously, you're dead.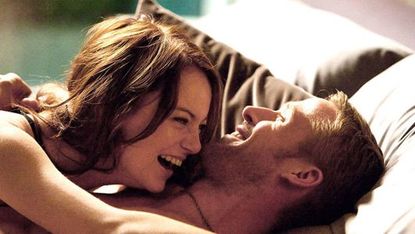 (Image credit: ARCHIVES)
1. Oh my god, where did you come from, most perfect person I have ever met?! Kissing you is the best and hanging out with you is the best and also not having to date someone who is a total loser is the best! Plus, you are so hot! How are you so hot?
2. Oh my god, you listen to Sixpence None The Richer's "Kiss Me" unironically, too???/Wait, you listen to Dave Matthews Band and you're openly admitting that? I'll just tell myself you don't really like DMB and focus on the Sixpence tidbit, and we'll get through this.
3. Every song I listen to reminds me of you. "Drunk in Love"? You. This weird EDM song that's mostly just beeping sounds with a foghorn playing over it? Somehow still you.
4. That one thing you do is really weird and I'm not completely into it. I'd be lying if I said that the fact that you brush your teeth using only baking soda wasn't confusing and strange, but I still like you a lot, so who cares? No one is perfect.
5. I'm just gonna Google your exes really quickly. Just to see if I'm hotter than they are. No big.
6. Uh-oh, I'm mad at you and you're mad at me. I don't want to have a fight because I hate fighting but I'm also mad at you. And now you're mad at me because I was mad. I'm glad you told me about it and actually, you handled it pretty well, and you know what, I handled it pretty well too. Man, what can't we survive?
7. Man, the qualities I do not love about you are really piling up. Again, it's cool though because they don't really matter and all your other qualities are seriously top notch. Still feelin' it.
8. Will things always be this great? A lifetime of just pleasant experiences and awesome sex? Is that a thing?
9. Oh, no, what if one day things aren't great and this ends. I don't want it to end. Do you think it might end, every friend I know and also strangers I ask on the street? Do you? I would be so sad. Great, now I'm sad and nothing has even happened yet.
10. I'm so into you but also know basically nothing about you. Like, do you have a secret family? Is it weird to ask about diseases?
11. Why did anyone ever break up with you? Wait, why did they break up with you? Am I missing something? What if we break up for the same thing they broke up with you for? Oh well, they sounded like an asshole anyway.
12. I feel like I'm in love with you but I will not, will not, say it. I mean, I think it approximately five times every time I see you but I know it's too soon and I will not say it. Don't you worry about that.
13. You didn't text me back last night so, obviously, you're dead. I will attend your funeral and say that I loved you because I did, only I couldn't say it because we'd only been dating a few months, but now that you're dead, all bets are off. I loved you. I really did.
14. Honestly, if you are thinking about dumping me, which you might be because I have no idea what's going on at this point, that's fine. I don't even care. Like, what are you, Angelina Jolie in the '90s? No. You're just a person. I'll find someone else. It's not a big deal. I mean I only loved you, like, a little bit anyway. Whatever.
15. But seriously, please don't leave me, I've already imagined our wedding and you are so great I could cry. Wait, what's that? You haven't thought about leaving once? And you like me as much as I like you? And I should just stop overthinking every millisecond of our courtship so I can actually enjoy the fact I've found someone remarkable? Fiiiiine.
Via Cosmo
Image courtesy of Warner Brothers
Celebrity news, beauty, fashion advice, and fascinating features, delivered straight to your inbox!
Lane Moore is an award-winning comedian, actor, writer, and musician based in New York City. Her first book, How To Be Alone: If You Want To And Even If You Don't became a #1 bestseller and was praised as one of the best books of the year by The New York Times, New York Magazine, NPR, Good Morning America, Fast Company, Marie Claire, and many others. Moore also gave a TEDx Talk based on the book, called How To Be Alone. Her comedy show "Tinder Live!" is regarded as one of the best comedy shows in New York City and has been praised by The New York Times, Entertainment Tonight, CBS, Time Out New York, and New York Magazine. She has a monthly sold-out residency in NYC, and also tours rock venues and colleges worldwide. As an actor, Moore plays Kelsey on HBO's Search Party, and has a recurring role on Rooster Teeth's What Do You Know? and had a memorable role on season 5 of HBO's Girls. She also frequently appears on Comedy Central, VH1, MTV, truTV, and IFC shows. As a musician, Moore is the front person and songwriter in the band "It Was Romance." In her time as the the Sex and Relationships Editor at Cosmopolitan, she won a GLAAD award for her groundbreaking work championing diverse, inclusive coverage. Moore also hosts the live streaming comedy show How To Be Alone on Twitch, which she calls "PeeWee's Playhouse for lonely adults."