Wedding Dilemma: Going Stag
Stop fretting about finding a wedding date!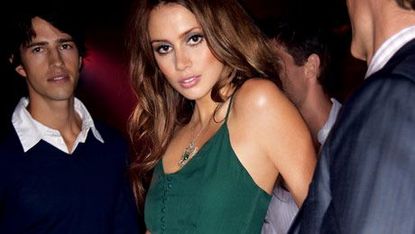 (Image credit: Chris Militscher)
Stop fretting about finding a date for the wedding. Seriously. It's supposed to be fun! And it is fun: You get to put on a dress and girl-up. You get to consume endless free Korbel and shrimp puffs. You get to dance your ass off in celebration of two fine people with enough optimism to fire themselves from a cannon that has only a 50/50 chance of hitting its mark. And if you go solo, you will meet men. Who are single. And taken with the sight of you, alone, in an emerald strapless sheath. So find Table Nine all by yourself - you can do it. Network. Meet people. Let them adopt you - they will. One of them might even try to take you home.
Bonus! Five parting shots for old biddies asking why a pretty girl like you came - gasp! - stag.
1. "He didn't match his tie to my dress, so he's in our hotel room thinking about what he did."
2. "The restraining order prohibits him from coming within 500 feet of the bride."
3. "I'm having a flare-up."
4. "No English."
5. "I did bring a date. She's sitting right there."