This Is Why Men and Women Cheat in One Chart
New infographic lays it all on the table. The rub? Given the right situation, everyone is susceptible.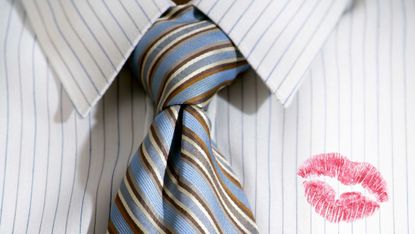 (Image credit: Archives)
Well endowed men are more likely to cheat.
But they shouldn't be too cocky, as a new Huffington Post infographic based on compiled research shows that their wives are, too.
Other alleged high-risk traits include those who fake orgasms, narcissists, insecure people, men with deep voices, and children of cheaters. So, basically, everyone.
Further results show that women find emotional cheating more disturbing than the raw physical act of getting busy, while men are on the opposite side of that coin. Everyone pretty much agrees that passionate kissing falls under the "cheater" category, while nearly 20% more women than men find flirty texting to be a crime.
For those of you looking to advance your adultery game, HuffPo kindly breaks down the cities with the most ambiguously attached couples. DC and Houston are leading the charge, with model-filled Miami, seemingly staid Pittsburgh and, naturally, loose Los Angeles banging their way in behind. Chicago is a mere number nine, though it also boasts the most online cheaters, whatever that means. Bringing a new meaning to "hump day," Wednesday afternoons at work are the most popular time to tryst.
Trying to make sense of it all? It's seems pretty simple, really. Women cheat because they're attracted to the person and need to reaffirm their general sexiness; men do it because they want more sex. In other news, bonobos do it because it's fun.
Related:

5 Ways You're Sabotaging Your Relationship


Is Emotional or Physical Cheating Worse?


15 Reasons to Hang Up Your Booty Call

Via