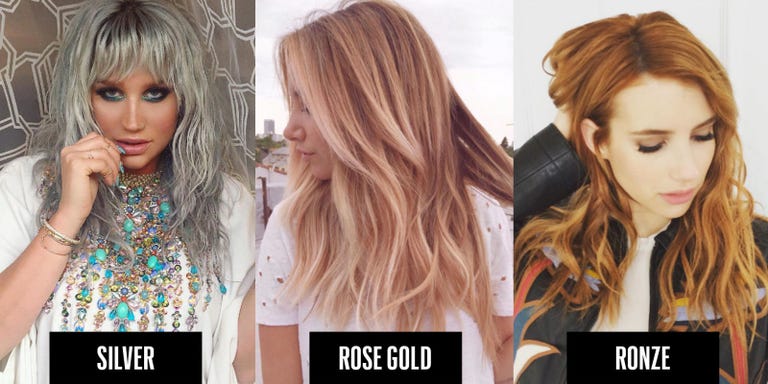 Summer is nothing if not an excuse for a new dye job—sun-bleached hues are one of our favorite lazy-girl trends, after all—and the stars are all about the heavy metal as of late. From slight tweaks to the classics to full-on, thermal-electricity-conducting hues, we're loving these off-kilter looks. Here, find five metallic shades you can use to amp up your strands as the temps heat up.
Kylie Jenner is obsessed with color play, so wigs are a must to keep the health of her hair in check. Even still, this bright copper shade she debuted at Coachella is totally in reach for your strands IRL as long as you have a colorist who knows their way around penny-hued dyes. Extra points if you throw some dark root growth into the mix.
The sweetest of the heavy metal looks, you can match your hair to your rosé. A good option for golden blondes (you're halfway there), you're basically adding a pink tint for the soft, warm shade.
Jennifer Lawrence has done a lot of experimenting on the platinum blonde spectrum, and her current 'do is cooler than cool. Literally. The equal parts white and silver shade is totally reminiscent of the metallic element itself, buuuut is super high maintenance. (AKA you better have purple shampoo on tap.)
Bucking blonde completely, Kesha decided to kick gray up a few notches with a striking silver shade. The key to emulating the natural sheen of the metal is adding dimension and using the right toners. And considering this is one of the most difficult hues to create, skip the D.I.Y. approach and consult a colorist who *really* knows what they're doing.
Red + Bronze = Ronze, which is essentially a classic redhead's edgy cousin. Beloved by Emma Roberts, as well as a slew of other stars, it's super wearable—especially for natural brunettes. It's all about finding the right balance of tones (from golden red to deep bronze) to flatter your complexion.