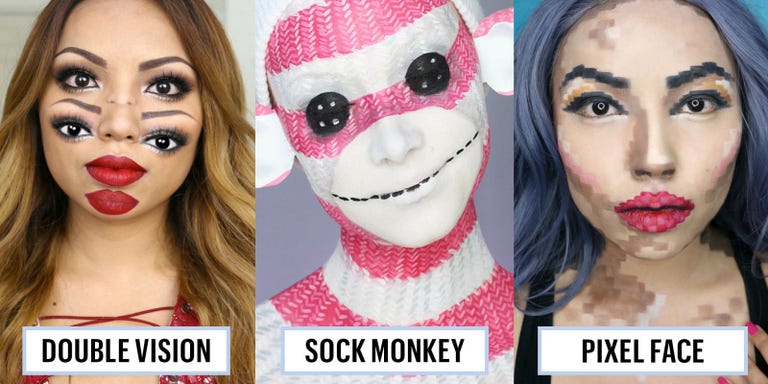 Halloween may seem far away, but if you plan on going next-level with your makeup (i.e. getting trippy with it), you're already behind in the game. Whether your keen on becoming a heart-attack-inducing sock monkey or straining *all the eyes* with a double vision visage, the internet has got you. Here, the 10 tutorials you won't be able to unsee, for better or for worse.
Blogger NsomniaksDream not only masters the art of the IRL X-Ray, but does so on one half of the face for an extra dose of creepy.
Inspired by Sebastian Bieniek's Double Face photo series, blogger Promise Phan doubles down the face beat in the most unsettling of ways.
User Dope2111 slayed our minds with this double vision look. I mean, two fleeky brows, smoky eyes, and red lips. Damn.
4
More Than Meets the Eye
If you really want to run around messing with people, look no further than this disappearing act by designdain. Just watch it.
Inspired by Pixel Minecraft, Dope211 is back at it again with some low-res realness. It took her a good two and half hours to complete, which probably makes it most of the beginning-friendly how-to's on this list.
We love sock monkeys! Or, at least we did until user Madeyewlook brought the childhood staple to life in human form. This said, respect.
Everyone knows Dory's the baddest ocean-dweller in the game, so instead of being Harley Quinn like everybody else, be this little blue tang fish.
Okay, the Snapchat Rainbow is kind of old news at this point, but we guarantee no one will be disappointed if you show up to a party looking like this.
Maaaaajor Roy Lichtenstein vibes. Also a good route if you're a fan of bold brows and extreme contouring.
AKA beer goggles. 'Nuff said.