20 Simple Ways To Treat Yourself
You deserve it! We're bringing you 20 ways to give yourself the royal treatment. Click through our list and share your favorite way to unwind in the comments.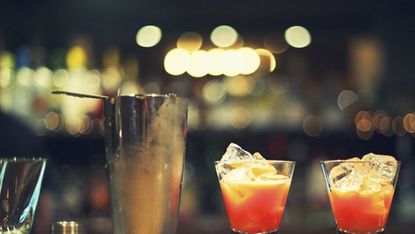 (Image credit: Getty Images)
1. Dine at a fancy restaurant alone.
2. Cook one of your family's most fabled recipes.
3. Say yes to a date with someone who isn't your type.
4. Get soft-serve from the ice cream truck.
5. Take a self-defense class.
6. Grow a garden, no matter how small.
7. Pamper yourself with a foot massage.
8. Kick back with a seasonal cocktail instead of a cheap beer.
9. Take a trip with your best friends.
10. Strike up a conversation with an attractive stranger.
11. Read a classic novel.
12. Have a Netflix binge-a-thon.
13. Buy flowers from the deli on your way home.
13. Indulge your artistic inclinations in a class.
14. Explore your surrounding by taking a different route to work.
15. Curate the perfect "wake up" playlist.
16. Order breakfast in bed..
17. Throw a party for no reason.
18. Make your bed in the morning.
19. Turn your favorite Pinterest project into a reality.
20. Splurge on a weekend getaway at a destination you've always wanted to visit.
Related:
20 Women Changing Entertainment
The 20 Funniest Women On Twitter
The 20 Most Binge-Worthy TV Series of the 2000s
Celebrity news, beauty, fashion advice, and fascinating features, delivered straight to your inbox!