Road to Beauty Day 2: Fashion Scholarships and Plastic Surgery in the Rio Hills
Created by Marie Claire in partnership with Dove Follow the five L'équipée women as they travel Brazil on their motorbikes to discover what beauty means around the world.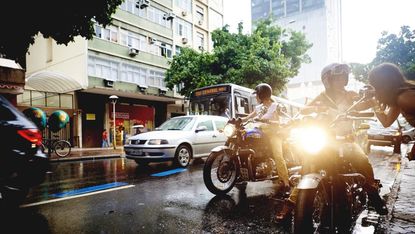 (Image credit: Ludovic Ismael)
The L'équipée girls are continuing their adventures after yesterday's beach fun and heading for the hills. For many foreigners, the communities on Rio's hills are certainly one of the city's most striking features.
This morning, Pauline took her colleagues up the hills of Vidigal to visit Casa Geração Vidigal, a fashion school founded by Nadine Gonzalez and Andrea Fasanello. Since 2014, the two women have managed the school from a modest house, training 20 students last year and expecting to train another 20 this year.
Many of the students live in poor communities and for some, like Jessica Senra, it takes up to three hours to reach Vidigal. But their effort is well worth it, as, by the end of the year, the school gives them commercial support to create their own collection.
"All of last year's graduates are now employed," says Andrea. "We have some financial support to start the school year, but we need more. Each student costs 25 thousand Brazilian Reals a year. Our goal is to get companies to sponsor student scholarships."
The L'équipée girls spent all morning learning to sew and they were even offered a few clothing pieces made by the School's students.
Brazil's New Face Of Plastic Surgery
After their sewing class, Louise B and Louise D went on a separate mission. A recent surgery graduate in Paris, Louise B has also spent six months in Jordan with Doctors Without Borders, and was thrilled to meet Dr. Paulo Müller - one of the leading plastic surgeons in the country.
Speaking from his Ipanema office, Dr. Müller reveals: "In Brazil, it is very common for women to consider plastic surgery, whether they are rich or poor. The Brazilian woman is coquette and she doesn't see beauty care as an economic issue. Instead, it is a cultural issue, as no matter how humble the woman might be, she always wears lipstick and perfume."
He added: "Plastic surgery, in order to be good, must pass unnoticed. Today, with 30 years of experience, I can say that beauty is more of a state of mind than an aesthetic matter."
Keep following the L'équipée girls' quest to discover what beauty means around the world at the
Road to Beauty.
Celebrity news, beauty, fashion advice, and fascinating features, delivered straight to your inbox!