Road to Beauty Day 7: Discovering Sisterhood Among the Women of Noiva de Cordeiro
Created by Marie Claire in partnership with Dove Follow the five L'équipée women as they travel Brazil on their motorbikes to discover what beauty means around the world.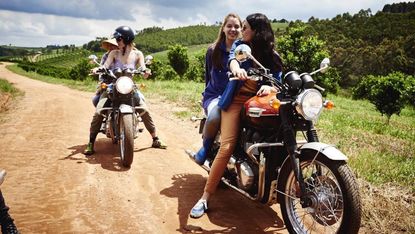 (Image credit: Ludovic Ismael)
Sharing the everyday life of the women from Noiva do Cordeiro has created very strong bonds that L'équipée girls wanted to strengthen, to make the most of this uncommon experience based on fraternity and sharing.
Genuine Sisterhood
"We've been welcome here as if we were part of the family," says Cécile. "We simply couldn't leave so soon, there was still too much to say." The language barrier could have been hard to overcome, but the L'équipée girls had found a voice translation app that worked quite well. But communication quickly became easier still, as gestures, laughter and looks became enough. Everybody helps out in Noiva de Cordeiro, be it someone who needs to say something, or someone who needs help building a house. If someone needs something, someone else always shows up to either give or lend what is missing.
The community is structured around the central house (the casarao) where everyone gathers to meet and share, the surrounding houses are simply used for sleep. The French girls found themselves sharing typical teatime treats from Minas Gerais (biscoitos de polvilho, and bolinhos de chuva) in the casarao. For a full hour, they listened to the story of Noiva do Cordeiro, the rural community founded on a love story.
The Story
At the end of the 19th century, Maria Senhorina de Lima was forcefully wed to a Frenchman, but she soon left him to go and live with the man she loved. Found guilty of adultery, the lovers were excommunicated, along with their offspring for four generations to come. They built a huge house, where they raised their 12 children. 50 years later, Délina, today's village matriarch, who was only 16 at the time, married an Evangelist pastor 27 years her elder. He implemented very strict religious rules for the community: any form of comfort was forbidden and religious ceremonies became mandatory. The region's mostly catholic population disapproved of the community's religious orientation, and ostracised it once again, causing the place to fall into severe poverty. Today, Noiva do Cordeiro is a prosperous village of around 400 inhabitants that is like a small separate society, living a truly communal lifestyle.
Heartbreaking Farewells
It's time the girls from L'équipée went on their way. Louise D – a keen observer who is both very sensitive and the member of the group with the closest connection to nature – has been deeply moved by this communal life: "Even though being among all these women brings back childhood memories from boarding school, which isn't necessarily pleasant, I would still like to spend a couple of months here, to truly live their life, their relationship with the land, their relationships among themselves. It's all so moving!"
The women from Noiva de Cordeiro gather in front of the big house. Before the girls start their bikes' engines, they start singing. Cindy and Pauline are moved to tears by this emotional moment. "It's incredible to see how much everyone genuinely loves each other here!" says Cindy. "This feeling of tenderness, family, fraternity touched me to the core," Pauline would later say, she who had recently lost someone close to her heart. Two days were definitely not enough to truly find out what communal life is about in Noiva de Cordeira, but one thing is for sure: These brave and united women have changed their own world and that of their community's future generations for the better.
Rosalee Fernandes
This 50-year-old woman is one of the eldest daughters of Dona Delina, the village elder. A natural leader for the younger girls, she has been instrumental in breaking the inhabitants of Noiva do Cordeiro free from religious extremism. This initiative has been essential, and has turned the village into what it has become today. "The biggest change happened in 2004. I don't know how or why, but the people here convinced me to run in the regional elections and, as incredible as it sounds, I was elected." It was the first time she ever truly left the community. "I went to see the world outside and it was scary, but I also learned a lot and I studied by myself." She is no longer interested in participating in politics, but the experience helped her to understand how to implement social projects to help her community.
Another thing that changed life in Noiva do Cordeiro has been the media attention that started in 2008: "It has been a fundamental step for us to be recognised and respected, because until not too long ago we were pariahs in the region."
The third factor of change has been the agrarian credit conceded by the federal government in 2012. "It wasn't easy, but we finally got it. And that has allowed us to buy the land we cultivate today and the necessary equipment to do so." Rosalee admits that the community is doing much better now than it used to, but still she wants more. "I wonder if I will see in my lifetime a dispensary, a school and a proper road leading to Noiva do Cordeiro."
Keep following the L'équipée girls' quest to discover what beauty means around the world at the Road to Beauty.
Marie Claire email subscribers get intel on fashion and beauty trends, hot-off-the-press celebrity news, and more. Sign up here.