Alicia Keys Got a Bob Haircut and No Longer Looks Like Alicia Keys
Hi, hello, and nice to meet you, 2018 Alicia.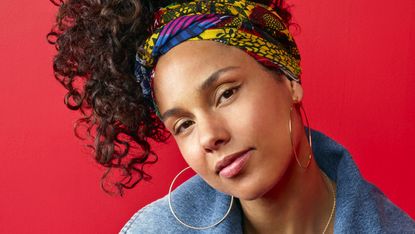 (Image credit: NBC)
Marie Claire newsletter
Celebrity news, beauty, fashion advice, and fascinating features, delivered straight to your inbox!
Thank you for signing up to . You will receive a verification email shortly.
There was a problem. Please refresh the page and try again.
Please hold on to your tiny hats and prepare to clutch your pearls, because Alicia Keys just got a majorly short haircut, and she no longer looks like the Alicia Keys you know and love. Yes, the mother of every song you've drunkenly (and soberly) sung in the middle of a bar has chopped off all of her signature long curls into a short, choppy bob.
It's already been a big month for celebrity hair changes, with Demi Lovato dyeing her black hair blonde, Sophie Turner dyeing her blonde hair platinum, and now Alicia Keys is following suit, but this time with a haircut.
The Details
The singer posted a photo to her Instagram this past week wearing a bustier, low-key makeup, and, most noticeably, significantly less hair than usual. The photo depicts Keys with a short, voluminous, side-swept bob that's brushed to one side of her head. So, you know, totally different than the Keys we're used to seeing.
"That's Alicia Keys?" asked one MarieClaire.com editor, before adding, "She looks like a sexy Molly Ringwald." Which, um, fact (although Molly Ringwald is obviously already sexy). Keys didn't tag any hairstylists or photographers or brands in her photo, so we can't tell whether this new hairstyle was for a shoot or a campaign, or just a fun in-the-moment hair change, but either way, I'm in love with it, and so are her fans.
"Beautiful haircut!" reads one comment on the photo, while another reads, "Looks better than any hairstyle she has ever had." Of course, there's always a chance that the entire look is just a fake out, and Keys never cut her hair and is just wearing a wig, but I prefer to believe what I want to believe, which is that Keys finally jumped on the short-hair train and is riding it all the way into 2019.
And if this just made you really, really want to cut your hair, then check out my absolute favorite celebrity haircuts to get you inspired to make a salon appointment ASAP.
55 Short Hairstyles and Haircuts for Major Inspo
Image 1 of 55
Jordan Alexander
The&#xA0;<em>Gossip Girl</em>&#xA0;star&apos;s tight shave is enough to convince us to pick up the clippers. If you&apos;ve been considering The Big Chop, this fall might be the time.
Victoria Pedretti
Updos aren't just reserved for those with long locks. Tease the crown of your head with a comb and some hairspray, wind your hair up, then secure with some pearl-studded pins.
Miley Cyrus
We&apos;re calling this one the &apos;Beanie Baby,&apos; and it makes us want to grab the scissors and snip-snap ourselves a mullet. Added bonus: if you&apos;ve run out of&#xA0;<a href="https://www.marieclaire.com/beauty/news/g4434/best-dry-shampoo-for-every-hair-type/" target="_blank">dry shampoo</a>, no one has to see the grease.
Natalie Portman
A piece-y bob is oh so French Girl-chic, and&#xA0;<a href="https://www.marieclaire.com/beauty/news/g3103/fall-hair-colors/" target="_blank">subtle highlights</a>&#xA0;throughout add dimension for some extra swishy movement.
Dua Lipa
This bold, blonde bun can be yours with just a hair tie and some gel, and some pins. Slick your hair back with gel, running it through the ends, then wind it into a bun. Add pins to highlight a little flip at the end, and&#xA0;<em>voila</em>.
Maisie Williams
A classic bob is always chic, but 2020 has been the year of mullets. A shaggy, '70s bob is the new look for fierce, edgy women. Add some choppy bangs to really complete the look.
Zoë Kravitz
Chances are, your eyes are fixated on the allure of Kravitz&apos;s&#xA0;<a href="https://www.marieclaire.com/celebrity/a30413618/zoe-kravitz-red-lipstick-golden-globes/" target="_blank">ravishing red lipstick</a>. But her face-framing pixie cut, which complements her features so well, also plays its part with choppy layers subdued with an inky-black hair color for peak chicness.
Barbie Ferreira
While we&apos;re waiting for&#xA0;<em>Euphoria</em>&#xA0;season two, get prepped by copying Barbie&apos;s classic chop. This look is perfect for both fine and thick hair. Clip some sections back with barrettes for a face-focused style.
Ruth Bell
Ruth Bell, who formerly rocked an amazing buzzcut, grew out her strands to this amazing Mia Farrow-esque look. A little pomade helps keep strands in place, for a effortlessly chic style.
Jodie Turner-Smith
Allow&#xA0;<a href="https://www.marieclaire.com/beauty/a30188862/queen-and-slim-shiona-turnini-brian-badie-interview/" target="_blank"><em>Queen &amp; Slim</em></a>&#xA0;breakout actress Turner-Smith to take your breath away. In case you needed further confirmation, this constructive cut shows that natural curls can be worn in endless ways.
Karlie Kloss
A classic clavicle-brushing lob is an unbeatable classic. A sharp middle part helps achieve the model-esque look, but switch it up with a side part for an edgier look.
Kendall Jenner
Try cutting a classic lob into a super-sharp, asymmetrical, angular shape for added dimension. Playing up the style with barrettes makes this look even more your own.
P!nk
P!nk has been rocking her edgy cropped look for a long as we can remember. Get a shorter shave on the side with longer lengths on top to mimic her iconic look.
Kaia Gerber
Gerber looks all grown up with the&#xA0;<a href="https://www.marieclaire.com/beauty/hair/a30184139/kaia-gerber-hair-short-bob/" target="_blank">bob she debuted summer 2019</a>. The supermodel has stuck to the chin-length cut for a while. Her slightly off-centered part and flippy ends matches her effortless appeal.
Ryan Destiny
Actress Destiny looks incredible no matter the style, but this glossy-textured bob, made piece-y with a few perfectly placed stray hairs and wispy ends, is one our favorites.
Sophie Turner
Turner&#xA0;<a href="https://www.marieclaire.com/beauty/a27338000/sophie-turner-hair-makeup-billboard-music-awards-2019/" target="_blank">looked nearly unrecognizable</a>&#xA0;to Team MC&apos;s eyes at the 2019 Billboards Awards with her bright blonde lob. Take a flat-iron and add soft bends wherever you want more body to lift an otherwise flat lob with more volume.
Zoey Deutch
<em>The Politician</em>&#xA0;actress Deutch told&#xA0;<em>Marie Claire</em>&#xA0;in an&#xA0;<a href="https://www.marieclaire.com/beauty/a31706356/zoey-deutch-interview-la-mer-the-eye-concentrate/" target="_blank">interview</a>&#xA0;that this slicked-back, flipped bob is her favorite red carpet beauty look. We must agree.
Rowan Blanchard
This might be a hard ask, but I never want Blanchard to grow out her again. Short hair is&#xA0;<em>made</em>&#xA0;for the actress. If you don&apos;t feel like fussing with your hair at all, try this back-swept style to let your makeup steal the show.
Margot Robbie
Feast your eyes on Robbie at the 86th Academy Awards, which should have featured a "Best Lob of the Night" award. This bright blonde, blunt cut lob accentuates her neckline so beautifully.
Bella Hadid
This fall called for a bobbed-up Bella. Although&#xA0;<a href="https://www.marieclaire.com/beauty/hair/a29829142/bella-hadid-kim-kardashian-bob/" target="_blank">everyone was saying this style is very KKW</a>, this sultry dark chocolate shade and chin-grazing cut looked incredible on the supermodel. Another takeaway: your part doesn&apos;t have to be perfect. Let it go!
Ashley Benson
Benson&apos;s been known to move on from hairstyles&#xA0;<em>quick</em>, but one thing she&apos;s kept consistent the past year is a short cut. Team MC has kept up with her&#xA0;<a href="https://www.marieclaire.com/beauty/hair/a29398519/ashley-benson-hair-brunette/" target="_blank">ever-changing</a>&#xA0;hair&#xA0;<a href="https://www.marieclaire.com/celebrity/a30100938/ashley-benson-bob-brunette/" target="_blank">in 2019</a>, but these golden mermaid waves reign supreme. Case in point: figuring out the shade that complements your skin tone the most should be a priority.
Irina Shayk
Long hair Shayk is no longer, and the dramatic change to a sleek, angular bob is for the better. TBH, when you have a breathtaking bone structure like this do you even need hair to begin with?!?
Selena Gomez
Warm shades of caramel peeking through is the reason Gomez's graduated bob doesn't look juvenile curled under. You can revive and modernize this '90s style with color.
Ruby Rose
What sets Rose's salt and pepper pixie a part from the rest is her shaved sides. Sure, it's badass, but you're a badass too.
Cynthia Erivo
Erivo showcases the most tried-and-true way to jazz up a buzzcut: color (<em>but make it fun</em>). The gradient effect of this platinum shade is eye-catching in the best way.
Mila Kunis
Kunis' deep side part stylizes this cut so easily by adding structure. If you're sick of a straight-edge lob, get a little risqué with a shorter cut on one side.
Michelle Weaver
OWN&apos;s&#xA0;<em>Love Is</em>&#xA0;actress Weaver is giving us &apos;90s Halle Berry vibes with close-cut curls. The answer is no, this pixie style will<em>&#xA0;never</em>&#xA0;get old.
Saoirse Ronan
There's nothing much more minimalist than a sleek, center-parted, blunt cut bob. Ronan is proof that this classic cut is peak elegance.
Leighton Meester
Some extra styling, like a half bun &#xE0; la<em>&#xA0;Gossip Girl&apos;s</em>&#xA0;Meester, takes the guesswork out of how to make a look your own. Plus, it&apos;ll show off your hair color if you also have ombr&#xE9; dip-dyed ends.
Demi Lovato
Lovato&apos;s layered&#xA0;<em>all the way up</em>, which breathes life into an otherwise shapeless lob. The motto: the piece-ier, the messier, the better.
Dua Lipa
A slightly asymmetrical bob like Lipa's will do nothing but accentuate your gorgeous jawline and give you more room to dress up your bare neckline with whatever you see fit.
Damaris Goddrie
These defined curls look so gorgeous on Goddrie, and will look so goregous on you. You can always depend on tight ringlets for added dimension.
Halle Berry
You can't talk about short hair without paying homage to Berry's iconic pixie cut. There's a reason this style goes down in beauty's history books.
Meagan Good
Good's skin looks so flawless, and there's no doubt her bright blonde pixie cut, which complements her complexion, has a lot to do with that glow.
Tilda Swinton
Swinton is the epitome of très chic with this structural cut. There are three words to describe this cut: cooler than cool.
Taraji P. Henson
Henson dressed up her lob with an asymmetrical cut, which adds fullness and volume to this sleek style.
Lupita Nyong'o
It's impossible to pick just one of the "best" short styles Lupita Nyong'o has worn so well throughout the years. She honestly deserves her own gallery, because this woman makes magic with her natural hair. Can't choose between an afro and a buzzcut? Do both!
Charlize Theron
How can we not talk about Marie Claire&apos;s latest cover star,&#xA0;<a href="https://www.marieclaire.com/celebrity/a27284115/charlize-theron-long-shot-movie-interview-2019/" target="_blank">Charlize Theron</a>, and her inimitable, chin-grazing, dark brown bob she stunned the&#xA0;<a href="https://www.marieclaire.com/beauty/a26501351/charlize-theron-oscars-2019-hair-transformation/" target="_blank">2019 Oscars red carpet</a>&#xA0;with? A sleek, a-line cut coupled with a fresh dye job will transform your entire look, and shave 10 years off of you.
Lucy Boynton
Stop trying to smooth down your flyaways, and work&#xA0;<em>with</em>&#xA0;them instead. Everything about Lucy Boynton&apos;s graphic eyeliner, brushed-up brows, and choppy bob is a vibe.
Danai Gurira
Danai Gurira's braided lob stole the show at the 2019 Vanity Fair Oscars Party. Trying different textured styles, like braids, passion twists, bantu knots, and more look so good with bobs.
Yara Shahidi
Curls can do anything. So much yes for Yara Shahidi's curly side bangs and blunt cut. Ugh, and that blue eyeshadow. I can't.
Cardi B.
Long live the pixie cut Cardi B debuted at the 2018 MTV Video Music Awards. Celeb stylist Tokyo Styles is responsible for this wig, which paid homage to Halle Berry's famous '90s 'do in the best way. Leave it to Cardi to make this throwback style feel completey fresh.
Hailey Baldwin
Over the years, Hailey Baldwin has experimented with several hair colors. She's transformed her locks from chestnut brown to pastel pink. But Baldwin keeps going back to blonde, and considering how good this wavy bob looks in that hue, we 100-percent support the decision.
Halsey
Halsey's cotton-candy pink hair is serving retro vibes, and we're here for it. Notice how much volume she has...on short hair. Don't let anyone tell you it has to be otherwise.
Solange Knowles
Solange Knowles (who I like to call Solo the Songstress) stuns in every style. However, her natural curls kept short and dipped in platinum might arguably be my favorite. Just look at those perfect ringlets!
Tessa Thompson
Major heart eyes for actress Tessa Thompson&apos;s latest starring role in&#xA0;<em>Creed II</em>&#xA0;AND this gorgeous chin-grazing cut we&apos;ll never get over. Romantic waves dress up this bob beautifully.
Amandla Stenberg
Fact: Amandla Stenberg changes her hair as often as the weather (and we<em>&#xA0;love</em>&#xA0;it). On this day, she decided to go with a deep side-part and slicked curls. Be sure to use a pomade to finger-through your curls so they&apos;ll look extra defined like this.
Lucy Hale
Jet-black hair is a&#xA0;<em>lewk</em>. Try pairing this inky color with a subtle asymmetrical cut, like Hale&apos;s, and you&apos;ll instantly become the coolest-looking girl in the room.
DeWanda Wise
Tip: Glorious curls and a subtle touch of color will breathe so much life into a standard bob. Doesn&apos;t actress DeWanda Wise&apos;s textured cut make you want&#xA0;<a href="https://www.marieclaire.com/beauty/g15856674/best-bangs-2018/" target="_blank">to try curly bangs</a>? Same.
Emilia Clarke
The GoT's star's grown-out pixie manages to look mature and fresh, edgy and sophisticated, all at once. Plus, her high-contrast color job adds major dimension. Are we bold enough to bring this pic to our stylist? We just might be...
Samile Bermannelli
Let us all bow down to these insanely gorgeous curls that manage to stay voluminous on top thanks to a smattering of short, graduated layers. For even more of a heart-shaped lewk, create a deep side-part over the arch of one eyebrow, like Bermannelli's.
Kristen Stewart
In which Kristen Stewart convinces us that shaved, bleached hair is definitely one badass way to keep your head cool in the heat (now, if only we had her courage to go through with it).
Julia Garner
Curly haired gals, we've got you: use a diffuser when you're drying hair to boost volume at the rooms. Or, look for a half-inch curler if you want to create your own corkscrew curls.
Lily-Rose Depp
Depp keeps it classic with this elegant, ever-so-slightly rounded-at-the-ends style.
Janelle Monáe
Mon&#xE1;e&apos;s been experimenting with all kinds of beauty looks for her&#xA0;<em>Hidden Figures&#xA0;</em>press tour, from&#xA0;<a href="http://www.forbes.com/sites/marshallshepherd/2017/01/09/hidden-figures-reveals-4-great-lessons-for-science-and-society/#af57bd26c036" target="_blank">Minnie Mouse ears</a>&#xA0;adorned with safety pins to extravagant&#xA0;<a href="https://www.marieclaire.com/beauty/hair/how-to/g1857/how-to-top-knot/" target="_blank">top knots</a>. But for the everyday, we&apos;re all about the sophisticated puffy curls that give this blunt look so much more character.
Chloe Metzger is the deputy beauty director at Cosmopolitan, overseeing the editorial content and growth strategy of the hair, makeup, and skin space on digital, while also obsessively writing about the best hair products for every hair type (curly girl here; whattup), and the skincare routines that really, truly work (follow her on Instagram to see behind-the-scenes pics of that magazine life). She brings nearly a decade of writing and editing expertise, and her work has appeared in Allure, Health, Fitness, Marie Claire, StyleCaster, and Parents. She also has an unhealthy adoration for Tom Hanks and would like to please meet him one day, if you could arrange that. Thanks.