The 2012 Prix d'Excellence Beauty Awards
In the global gold standard in beauty, only a handful of products are honored for having the year's best innovations. Discover the winners, which truly deliver on their promises of wrinkle-free skin, a glowing complexion, and a firmer body.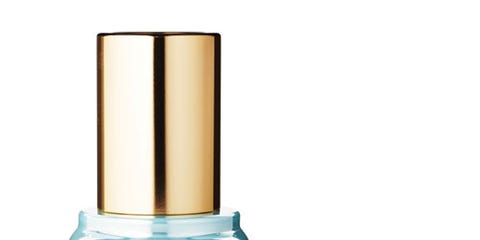 In the global gold standard in beauty, only a handful of products are honored for having the year's best innovations. Discover the winners, which truly deliver on their promises of wrinkle-free skin, a glowing complexion, and a firmer body.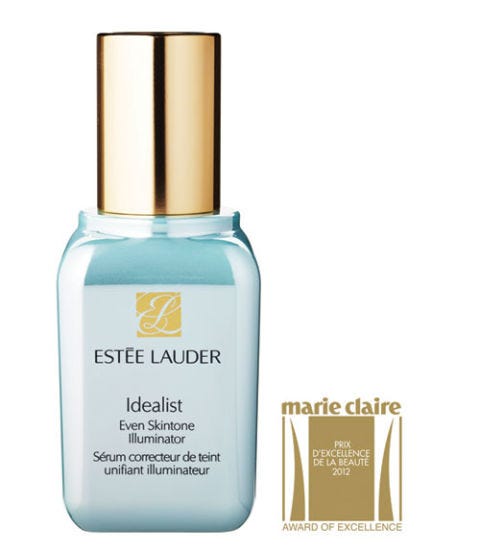 Skin Brightener
ESTÉE LAUDER IDEALIST EVEN SKINTONE ILLUMINATOR, $85; esteelauder.com.
WHY WE LOVE IT: This is one high-tech product: Its "optical" light-reflecting pigments fight fine lines, camouflage red spots, and illuminate skin instantly, while color-correcting agents like rice bran extract and licorice clear complexions in just two weeks.
WHAT THE JURY SAYS:
"This serum is crazy good. Disguised by its gentle formula is cutting-edge technology that erases everything that bugs us about our skin."
"A reliable serum that works on all skin types."
"From the first application, the texture of your skin is silkier, fresher, and brighter, and the little imperfections seem less noticeable. In 15 days, your skin tone starts to look more even. I'm also obsessed with the slightly citrusy scent."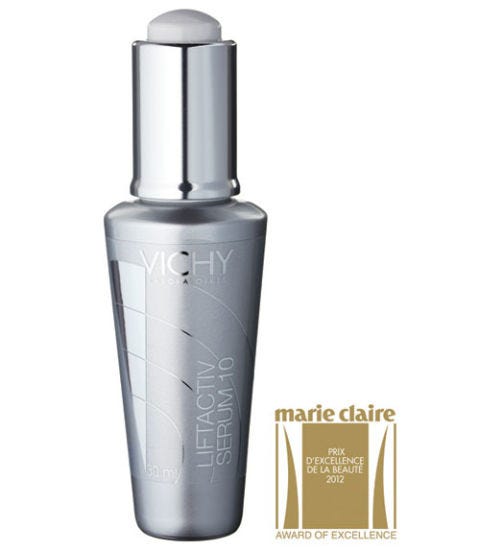 Anti-wrinkle Treatment
VICHY LIFTACTIV SERUM 10, $52
WHY WE LOVE IT: A potent combination of hyaluronic acid; ceramides; thermal water from Vichy, France; and rhamnose (a skin-enhancing sugar found in plants) penetrates deep into the skin to de-puff, reduce the appearance of fine lines, and stimulate cell renewal. And talk about instant gratification: You'll notice a tightening lift after just 10 minutes, with noticeable results within a month.
WHAT THE JURY SAYS:
"A great step toward improving elasticity! In eight weeks, smoother and glowing skin."
"A breakthrough in antiaging products. Plus, it feels great when applied to the skin—even on the most sensitive types."
"Simple, well-designed, and incredibly efficacious. Just two drops a night smooth fine lines and plump up skin."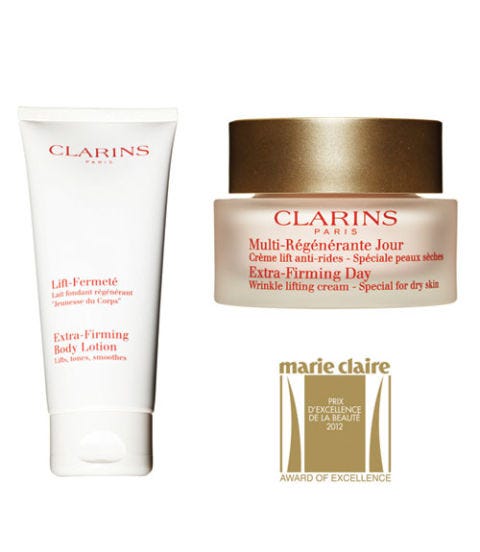 Antiaging Body Cream
CLARINS EXTRA-FIRMING BODY CREAM AND LOTION, $60 each; sephora.com.
WHY WE LOVE IT: Both the rich cream and lightweight lotion are packed with antiaging plant extracts like shea butter and centella, which promise to firm, tighten, and rebuild skin's collagen structure within four weeks. The hardworking lemon-thyme extract stimulates elastin production for an allover firm but baby-soft feel.
WHAT THE JURY SAYS:
"A super-dense, buttery texture that penetrates the skin in seconds? Give it to me now!"
"The best of both worlds: The luxurious feel of shea butter and hazelnut oil and a results-oriented cocktail that will actually help us look better in a bikini."
"A gym session in a jar! It helps sculpt your body, and this antiaging product smooths out newly formed wrinkles of the 30-something crowd and the deep lines and sagging skin of those 40-plus!"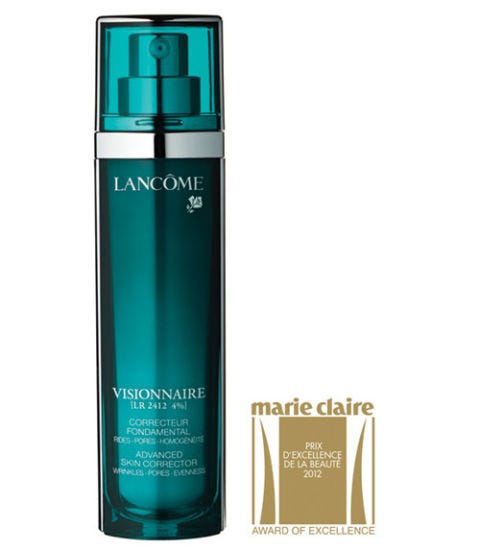 Skin-Perfecting Serum
LANCÔME VISIONNAIRE ADVANCED SKIN CORRECTOR, $84; lancome-usa.com.
WHY WE LOVE IT: This do-it-all facial treatment blasts wrinkles, shrinks pores, and restores suppleness to skin, thanks to an exclusive plant-derived molecule known as LR 2412. This powerful antiaging weapon claims to absorb deeper into skin than traditional retinol, boosting collagen and diminishing sunspots.
WHAT THE JURY SAYS:
"Not really a serum, not exactly a cream, but a great product that does everything!"
"An all-encompassing skincare product with a silky texture that feels so luxurious on your skin."
"An astonishing treatment--the pearly rose finish brightens the complexion instantly, and the LR 2412 helps you say ciao to wrinkles, spots, and all other signs of aging."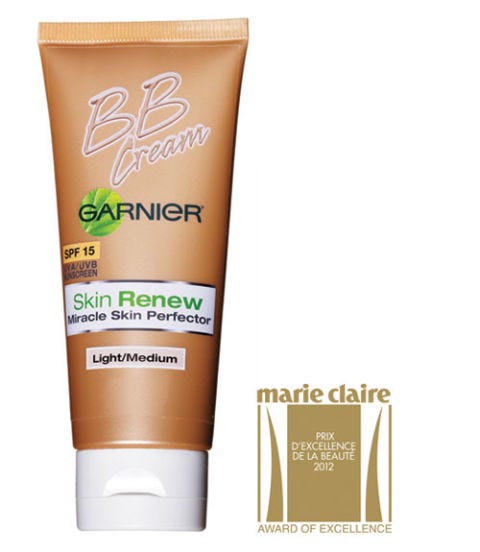 Complexion Corrector
GARNIER BB CREAM SKIN RENEW MIRACLE SKIN PERFECTOR, $13; garnier.com
WHY WE LOVE IT: This lightweight multitasking cream hydrates, imparts a subtle glow, and protects skin from damaging UV rays in a single step—at an affordable price!
WHAT THE JURY SAYS:
"The balance between hydration and makeup is genius."
"I'm always on the hunt for a product that does everything—sort of like a 'lazy girl's special' cream. The not-too-thick texture is just right for flawlessly melting into skin."
"This light and easy product is one to never be without. After applying this second-skin-in-a-tube, you'll look in the mirror and still see your face—only with a better complexion."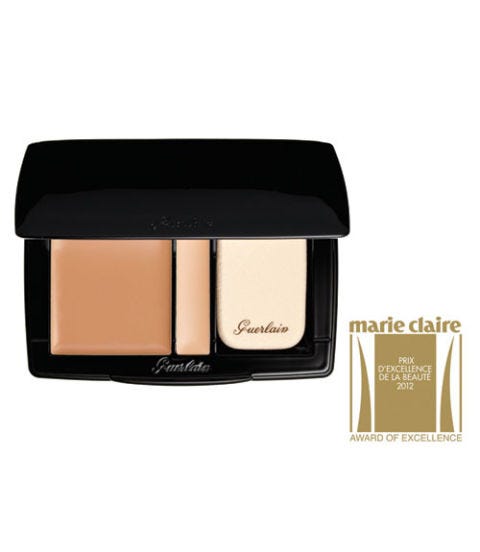 Foundation Duo
GUERLAIN LINGERIE DE PEAU COMPACT FOUNDATION & CONCEALER, $70; nordstrom.com.
WHY WE LOVE IT: Its insanely velvety texture melts into skin, creating an almost-invisible veil, while silk fibers keep skin supple (not dry), shrink pores, and smooth wrinkles for an instant airbrushed effect. The added advantage? A hyaluronic-acid-infused highlighting concealer erases dark circles and redness in a hurry.
WHAT THE JURY SAYS:
"It gives the impression of bare skin but helps hide whatever you want to hide."

"A super-clever duo of shades."
"Finally, a compact compatible with dry skin! The breathable formula is incredibly comfortable and dewy. As for the idea of a concealer in a case? Truly genius!"
"We should all have this in our bags. Touch-up on the fly—how fantastic!"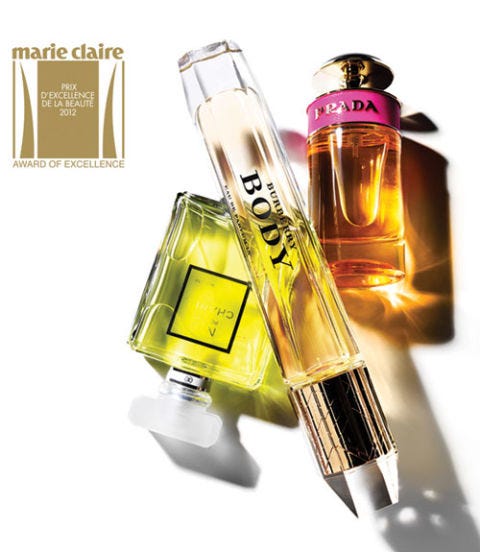 International Perfume Winners
Chosen by a panel of MC editors
Best Fragrance: CHANEL NO. 19 POUDRE EAU DE PARFUM, $115; chanel.com.
Why we love it: If it was good enough for Coco, it's good enough for us: A new take on the classic rose, iris, and green blend created in 1971 by perfumer Henri Robert for the style icon herself.
Best Concept: PRADA CANDY EAU DE PARFUM, $108; nordstrom.com.
Why we love it: Leave it to the legendary fashion house to take the idea of a supersweet scent and make it cool, thanks to the unusual twist of mellow caramel and a musky dry-down.
Best Bottle: BURBERRY BODY EAU DE PARFUM INTENSE, $115; burberry.com.
Why we love it: Designer Christopher Bailey conjured up this elegant, sophisticated flute with the aim of creating an "iconic" bottle. Mission accomplished.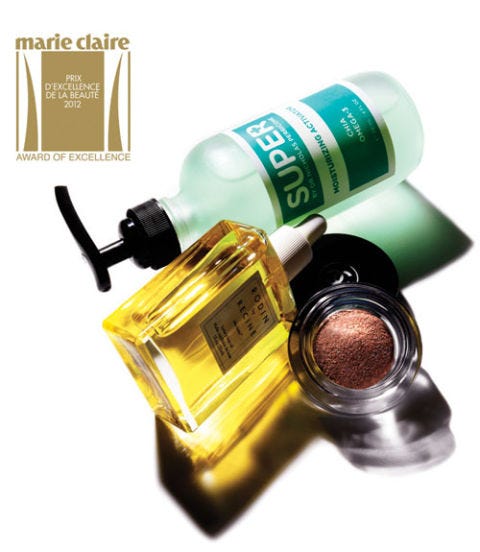 U.S. Beauty Winners
Best in Skin: SUPER BY DR. NICHOLAS PERRICONE ACTIVATORS, $38 each; getsuper.com.
Why we love it: Like a conditioner for your skin, this line improves old-school toner by combining exfoliating acids with ultra-hydrators and plenty of antioxidants.
Best in Eco: RODIN BY RECINE LUXURY HAIR OIL, $65; barneys.com.
Why we love it: Nothing quite says decadence like this rich, chemical-free moisturizer that's packed with delicious-smelling orange, apricot, almond, and other essential oils.
Best in Makeup: CHANEL ILLUSION D'OMBRE LONG WEAR LUMINOUS EYESHADOWS, $36 each; chanel.com.
Why we love it: The silky gel texture glides on like a dream, and the colors are as intense as they are gorgeous. Need we say more?
This content is created and maintained by a third party, and imported onto this page to help users provide their email addresses. You may be able to find more information about this and similar content at piano.io