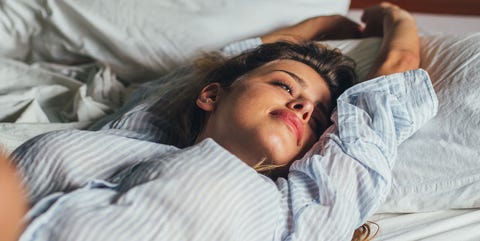 You know those busy, powerful women who look like they slept a full nine hours, even if it's legitimately impossible given their schedule? The totally rested, ready-for-anything look is something to envy, especially if it's achieved without hours and hours of blissful REM cycles.
From a works-while-you-sleep serum to souped-up water, smart habits before bed and in the morning can go toward achieving that "Oh, I definitely slept enough last night" look. Below, three busy women on how they fake all the zzz's.
"At night, I focus on moisturizing my skin. I use a hyaluronic acid, then follow up with a night serum packed with alpha-hydroxy acid, eye cream, and an overnight moisturizer to lock it all in. I also recently started using a silk pillowcase. It helps keep my hair smooth and minimizes any extra irritation on my face."
- Chandra Johnson, owner of vintage shop twooneseven
Ahava Extreme Night Treatment, $80
Ahava Extreme Firming Eye Cream, $62
Certain skincare products are better than others at faking good sleep. All Ahava products harness the power of the Dead Sea's potent minerals, recreating the nourishing feeling a real dip gives you. This serum exfoliates and moisturizes, while the eye cream helps disguise dark circles for a bushy-eyed look.
"My eye size is on the large side of the scale, so I address this area pronto. Cooling eye masks are an underrated luxury and work magic against swollen, tired lids, and the bracing cool gives you the kick in the pants you need to start the day off. It's uber trendy right now, but a jade roller does go gangbusters on inflamed and puffy skin."
- Rhea Kumar, early bird and brand strategist with clients in multiple time zones
Shiffa Jade Roller, $63
Cool stone brings blood to the surface of your skin and stimulates facial muscles for a refreshed, perfect-sleeper look.
"I try to eat an avocado every day. They're filled with fatty acids, antioxidants, and vitamins, so it really shines through your skin. I [also] drink apple cider vinegar with water as an elixir every morning. It has a lot of skin-clearing abilities and makes it look like I'm glowing."
-Geneva Peschka, community manager at The Wing and independent filmmaker
Bragg Apple Cider Vinegar, $9
ACV is reported to help with heart health and feelings of satiety. Add a teaspoon to water, working up to a tablespoon if you like the taste.