The 15 Best New Products at Sephora Right Now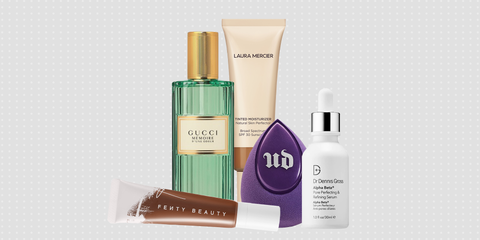 Design By Morgan McMullen
Sephora, the Beauty Wonderland, is back at it again this month with fresh launches that will not disappoint. To save you the time and stress of being bombarded by too many options to choose from, I hand-picked 15 new products that are actually worth your coins. These recs are coming from a beauty skeptic who is not easy to please, so, trust me on this. Whether you need a new foundation, lipstick, or a skincare re-up, these makeup, skin, and haircare products are far from average—consider them the stars amongst the stacked shelves! Click through for Sephora's dopest new launches on my top shelf this month.
An Actual Instagram Filter for Your Face
Tinted Moisturizer Broad Spectrum SPF 30
Laura Mercier
sephora.com
$46.00
True story: I wore this tinted moisturizer in Palm Springs when it was 115 degrees. I'm convinced its crease-free, lightweight, hydrating formula has miraculous powers because I somehow managed to take several Instagram-worthy photos, while being protected from the sun because of the SPF 30, and not sweating my face off because it's long-lasting. I'm hooked.
A Poppy Flower Lover's Dream
Poppy & Barley Cologne
Jo Malone London
sephora.com
$94.00
Frolicking through the gorgeously lush fields of England's meadows sounds like a distant dream. But you can mentally transport yourself there with this vibrant, poppy-infused fragrance, which is layered with fruity notes of rose, violet, and blackcurrant.
A Quick-Absorbing Moisturizer
Face Cream Light
Dr. Barbara Sturm
sephora.com
$205.00
In warm climates, lightweight moisturizers are life-savers. This top-notch hydrator is ideal for those with oily or wrinkle-prone skin. It will quickly absorb into your skin and deeply penetrate your pores.
A Glow-Inducing Foundation
Pro Filt'r Hydrating Longwear Foundation
Fenty Beauty
sephora.com
$47.00
If you're not into super-matte foundation formulas, Rihanna's about to win you over with her latest complexion product. The grape seed oil and sodium hyaluronate is what makes this foundation so hydrating, and perfect for dry skin types. Or, if you're simply in love with the look of dewy skin, this'll keep you glowing for hours on end.
An Earthy, Unisex Scent
Mémoire d'une Odeur Eau de Parfum
Gucci
sephora.com
$120.00
There's something alluring about unisex fragrances—they're meant for everyone and feel altogether less limiting. This one, featuring notes of roman chamomile, coral jasmine, and vanilla, has an earthy appeal. Plus, this bottle gets major points for being such a looker.
An Innovative Makeup Sponge
Build and Blend Sponge
Urban Decay
sephora.com
$18.00
Everyone complains about makeup sponges soaking up too much product. You don't have to worry about being wasteful anymore because this incredibly soft sponge has a silicone center that doesn't steal all your makeup. The texture ensures a super-smooth application.
A Biotin-Filled Formula
Lash Blowout Mascara
IT Cosmetics
sephora.com
$17.50
Not everyone's born with extra-long lashes. God bless IT Cosmetics for this innovative, biotin-packed mascara that will give you the healthy, strong lashes you've been wanting. Studies show that biotin specifically makes your hair healthier and stronger.
A Pore Minimizer
Alpha Beta® Pore Perfecting & Refining Serum
Dr. Dennis Gross Skincare
sephora.com
$65.00
Large pores: can't erase them, but you can shrink those suckers! This serum uses the help of acids and antioxidants to deep-clean your pores, reduce build-up of dirt and debris, and promote cell-turnover. The result is squeaky-clean, soft skin and small pores.
A Skincare-Foundation Hybrid
Airbrush Flawless Longwear Foundation
Charlotte Tilbury
sephora.com
$44.00
Before this foundation launched, it had a 17,000-person waitlist. Why? Well, anything makeup legend Charlotte Tilbury touches turns to gold. This foundation, available in 44 shades, is made with skincare actives that reduce the appearance of wrinkles. It's magic!
A Super-Smooth Highlighter
Flex Highlighter
Milk Makeup
sephora.com
$28.00
Throw that powdery highlighter that falls all over your face away. This new highlighter feels velvety and smooth, so it actually blends onto your skin easily without fall-out or looking harsh. However, if you like subtlety, step away, because this is made of crushed gemstones for a major glow.
An Earth-Toned Lipstick
Giorgio Armani Beauty Lip Maestro
Giorgio Armani Beauty
sephora.com
$38.00
Neutral lip lovers will enjoy Giorgio Armani's new Earthy Matte Collection, which features natural-toned shades inspired by nature. It has a matte texture that stains your lips with long-lasting color.
A Radiant Filter for Your Face
Illuminating Setting Powder
Cover Fx
sephora.com
$35.00
You can avoid the annoying task of touching-up your makeup if you swirl this setting powder all over your face. It extends makeup for all-day wear, and has a luminous effect.
A Plant-Derived Exfoliator
Treatment Enzyme Peel Cleansing Powder
AMOREPACIFIC
sephora.com
$16.50
This plant-derived product has your skin's best interests in mind because the papaya and green tea-derived enzymes do most of the work for you. It's a powder-to-foam exfoliator that washes away grime without stripping your skin completely of its natural oils.
A Sustainably-Made Fragrance
Neon Rose Eau De Parfum
Floral Street
sephora.com
$30.00
Floral Street is a UK-born brand that's thinking about fragrance differently. Each scent is made from sustainably-sourced raw materials. This means that no gorgeous flowers were ruined in the process of creating this scent. Neon rose is a juicy floral made of 20-percent perfume oil to ensure it's long-lasting.
A Pore Extracting Magic Wand
DERMAPORE Ultrasonic Pore Extractor & Serum Infuser
DERMAFLASH
sephora.com
$99.00
Just imagine all the gross things trapped in your pores right now. Dermaflash's newest device relieves your skin's clogged pores with its extract mode feature. It works double-time to enhance the penetration of your products and remove everything that's not supposed to be sitting in your skin. Basically, you need it in your bathroom because it'll save you a trip to the spa.
•••
For more stories like this, including celebrity news, beauty and fashion advice, savvy political commentary, and fascinating features, sign up for the Marie Claire newsletter.

SUBSCRIBE HERE
This content is created and maintained by a third party, and imported onto this page to help users provide their email addresses. You may be able to find more information about this and similar content at piano.io