The 22 Best Beauty Products on Amazon Under $50
Skin treatments, makeup, and hair tools galore.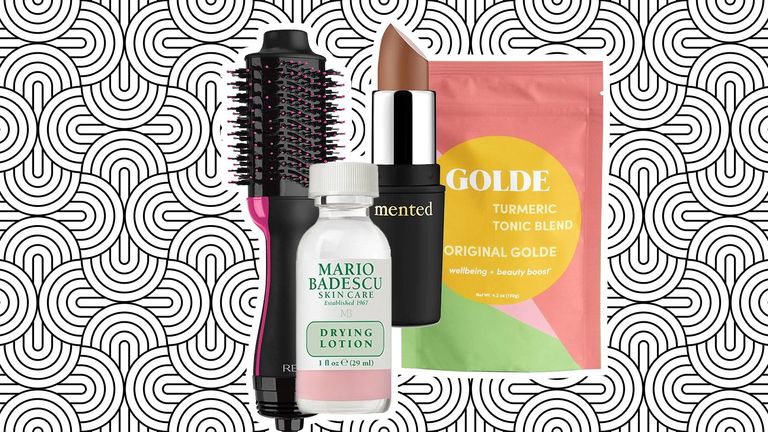 (Image credit: HANNA VARADY)
Amazon is a one-stop shop for just about anything your heart desires. With the e-comm giant's speedy shipping options and thousands of detailed customer product reviews, it can be difficult not to fill your cart with all types of promising products. Beauty, of course, is no exception. If you're anything like me, you've fallen victim to spending hours upon hours browsing Amazon reviews to find the absolute best hair, skin, and makeup products that promise to yield the best results. From top-tier acne treatments, hair heroes, skincare tools, and more, I've rounded up the worthiest beauty finds according to countless five-star reviews and my personal experiences. They're all under $50, so add to cart ASAP.
1/22
HEETA Hair Shampoo Brush, Scalp Care Hair Brush with Soft Silicone Scalp Massager
This Soothing Shampoo Brush
Here's a hair tool you didn't know you needed—until now. This shampoo brush doubles as a soothing scalp massager to combat scalp irritation, promote blood circulation, and aid in a relaxing wash day experience.
2/22
L'Oréal Paris Revitalift Derm Intensives Night Serum with Pure Retinol
This Anti-Aging Serum
This nighttime serum does wonders for reducing the appearance of wrinkles and smoothing out uneven texture for the glowing complexion you covet. A current bonus: the Revitalift Intensives Night Serum comes with samples of an ultra-hydrating and brightening moisturizer.
3/22
Buttah. by Dorion Renaud Sonic Pulsating Cleansing Face Brush
This Gentle Cleansing & Exfoliating Face Tool
Gently cleanse, exfoliate, and draw out impurities with this pulsating face brush. Equipped with two speeds and hundreds of micro nodules, the super compact tool will give you a deep, facial-worthy cleanse from the comfort of your home.
4/22
Aztec Secret Indian Healing Clay
This Purifying Mask
Behold the acne-prone, oily skin hero. To make the most of its detoxifying properties, use a wooden spoon to mix one part clay with one part apple cider vinegar or water and apply to clean skin for five to 10 minutes. Consider it an intense yet satisfying pore-clearing at-home facial.
5/22
Brush With The Best Felicia Leatherwood Detangler Brush
This Heavy Duty Detangler
Natural hair expert Felicia Leatherwood has created the ultimate detangling tool to allow naturalistas to glide through their kinks and curls with absolute ease. This detangling brush is designed with flexible bristles to unwind strands without causing breakage. In turn, it also prevents excessive shedding.
6/22
Cetaphil Gentle Foaming Cleanser
This Easy-on-the-Skin Cleanser
Formulated with hydrating ingredients like glycerin, vitamins B5 and E, this incredibly gentle, fan favorite cleansing foam is the perfect go-to for seamlessly removing makeup, dirt, and oil without stripping the skin.
7/22
Differin Resurfacing Acne Scar Gel Treatment
This Blemish Banisher
Rejoice: What was once a top-rated, prescription-only acne treatment has since been approved for over-the-counter use. Differin's water based, non-comedogenic topical retinoid works to effectively treat and prevent breakouts while also reversing signs of scarring.
8/22
Tangle Teezer Wet or Dry Detangling Hairbrush for All Hair Types
This Mane Detangler
The beauty of the Tangle Teezer detangling brush is its contoured back which lets you easily secure it within the palm of your hand as you maneuver through your mane. It's also highly regarded for its two-tier bristles—the longer ones work to remove tangles while the shorter bristles glide through your separated strands to smooth and prevent frizz.
9/22
Golde Superfood Latte Blend
This Superfood Latte Blend
We know that a healthy glow manifests from the inside out. Beauty and wellness brand Golde is all about offering such holistic skincare musts, and this Turmeric Tonic Blend is comprised of essential superfoods to tackle inflammation, balance stress levels, and promote overall skin health. Mix it with your daily coffee, tea, or smoothie for that lit-from-within glow.
10/22
Maybelline New York Volum' Express The Falsies Waterproof Mascara
This Volumizing Mascara
This budget-friendly mascara is perfect for full and elongated lashes that go the distance: it's designed with a flexible wand and "Spoon Curler" brush for easy application and curl. (Fun fact: before there were lash curlers, makeup pros would wield small metal spoons to bend and curl lashes!). Plus, its waterproof formula contains fibers which help add extra lash-fattening volume.
11/22
COVERGIRL TruBlend Undercover Concealer
This Matte Concealer
For just $8 you, too, can enjoy a pristine everyday makeup look. Add this lightweight matte concealer to your next Amazon purchase to instantly do away with under-eye circles and blend out complexion imperfections.
12/22
Original Beautyblender
This Cult-Fave Makeup Sponge
With 8,000+ five-star reviews, Beautyblender is a makeup lover's holy grail. Seamlessly blend in your foundation, concealer, and highlighter for a radiant second-skin finish. Wash, dry, repeat.
13/22
Mario Badescu Drying Lotion
This Blemish Clearing Solution
Here's an acne spot treatment gem. Mario Badescu's Drying Lotion does wonder for shrinking stubborn pimples overnight. Formulated with salicylic acid, sulfur, and calamine, it dries and calms breakouts so you can wake up to a clear, glowing complexion.
14/22
Baby Foot Foot Peel Exfoliator
This Foot Exfoliator
Let's be clear: Baby Foot exfoliating peel is legend. And, before it could be bought on Amazon, editors and beauty pros would stuff their suitcases with them whenever traveling to Japan. Now, happily, you don't have to leave your couch to get yours. Racking up 20,000+ five-star reviews and counting, the heavy-duty exfoliating peel lives up to its name and transforms rough, calloused feet into a soft, babylike state.
15/22
Elevate the Beauty Eyebrow And Lash Lamination Kit
This Brow Laminator
Here's an at-home solution for achieving the pristine brows of your dreams. Using this four-step system, you can easily straighten and lift your brow hairs for the ultimate soap brow look. Results last four to six weeks.
16/22
Maybelline New York SuperStay Matte Ink Liquid Lipstick
This Longwear Liquid Lip
A highly-pigmented liquid lipstick that lasts for up to 16 hours, comes in 40-plus highly-pigmented shades, and costs just $8? We'll take it.
17/22
REVLON One-Step Hair Dryer And Volumizer Hot Air Brush
This Volumizing Hair Dryer
Here's a cost-friendly hair dryer that promises to add volume and promote shine to thin and limp strands. The best part: The tufted bristles allow for you to dry and detangle simultaneously for a quick and easy va va voom blowout.
18/22
Mented Semi Matte Nude Deep Tan Lipstick
This Semi-Matte Lippie
Designed for all skin tones, Mented cosmetics makes a semi-matte lipstick collection with stay powering like no other. Miraculously, the long-lasting vegan lipsticks also keep lips hydrated. And the nude range offers complementary shades for every undertone.
19/22
Bio-Oil Body Oil for Scars and Stretchmarks
This Healing Body Oil
The benefits of Bio-Oil are endless. This lightweight yet mighty body oil works to fade stretch marks and acne scars, smooth uneven skin tone, and even heal surgery inducing scars over time.
20/22
Finishing Touch Women's Painless Hair Remover
This Pain-Free Hair Remover
This portable device has garnered over 46,000 five-star reviews on Amazon and is heralded for its easy-to-use capabilities. You can easily remove pesky peach fuzz from the upper lip, chin, and cheeks for a nice and smooth makeup application.
21/22
Drunk Elephant Virgin Marula Luxury Facial Oil
This Ultra-Hydrating Facial Oil
Yes, cult-favorite brand Drunk Elephant has a storefront on Amazon. Add their luxurious, ultra-hydrating Virgin Marula Luxury Oil to your cart and skincare routine for the ultimate glow.
22/22
Organys Lash & Brow Booster Serum
This Lash & Brow Growth Serum
Let sparse brows and lashes become a thing of the past. Consider this serum, jam packed with powerful growth-boosting ingredients like keratin, green tea, saw palmetto, and nettle root, for longer, stronger lashes and fuller brows.