The 29 Best Beauty Products on Amazon Under $50
Skin treatments, makeup, and hair tools galore.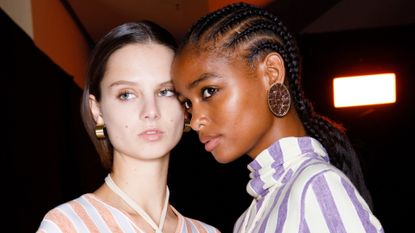 (Image credit: Rosdiana Ciaravolo/Getty Images)
Fact: Amazon is a one-stop shop for just about anything your heart desires. With the e-comm giant's speedy shipping options and thousands of detailed customer product reviews, it can be difficult not to fill your cart with all types of promising products on a daily basis—and beauty products are no exception. The e-retailer boasts a downright expansive range of products across skincare, hair care, and makeup, so it should be one of the first places you turn when you're in need of something new.
From top-tier acne treatments, hair care heroes, handy skincare tools, and more, I've rounded up the best beauty finds on Amazon, according to countless five-star reviews and my personal experiences. Oh—and all of the products on this list are priced at under $50. Some are less than $10, so take a gander and add them all to your shopping cart ASAP and thank me later. (One note: Always make sure that you're buying from an "authorized seller" on Amazon, lest you fall victim to a counterfeit product.)
1/29
REVLON Oil-Absorbing Volcanic Face Roller
This ingenious oil roller from Revlon will replace the need for oil blotting sheets in your beauty routine. It works like magic to remove the look of oil with a few swipes over your T-zone.
2/29
Olaplex Hair Perfector No 3 Repairing Treatment
This bond protector from Olaplex is one of the top-selling products on Amazon for a reason: it repairs your hair from the inside out. It works on a molecular level to fix damage caused by heat or chemicals.
3/29
Dr Teal's Foaming Bath with Pure Epsom Salt, Soothe & Sleep with Lavender
Upgrade your next bath experience with this super affordable bath foam from Dr. Teal's. Epsom salts soothe sore muscles, while the dreamy scent of lavender helps you fall asleep.
4/29
AQUIS COPPER SURE Rapid Dry Microfiber Hair Wrap
Protect your hair while you style it thanks to this hair towel from AQUIS. It's designed to dry your hair in half the time, as well as fight frizz and keep hair looking smooth and shiny for days.
5/29
Wander Beauty Baggage Claim Gold Undereye Patches
I love a product that I can use just about anywhere, and these gold undereye patches from Wander Beauty are just that. Users claim that it makes their dark circles look less dark over time.
6/29
Loving Tan 2 Hr Express Mousse
No need to worry when trying out this express self-tanning mouse from Loving Tan. It delivers a glowy, natural look in practically no time at all. if you have super fair skin, leave it on for half the time for a more subtle look.
7/29
essence | Lash Princess False Lash Effect Mascara
This less-than-$5-mascara from essence is hard to beat if you're looking for a mascara that does it all. It gives you massive volume and length, so be prepared to have the best lashes of your life.
8/29
Living Proof Dry Shampoo, Perfect hair Day Advanced Clean
This dry shampoo doesn't leave a white cast on my black-brown hair and actually makes my hair look clean rather than making it look like...I've just doused it in dry shampoo. Keep it in your gym back or by your desk at work for an instant refresh.
9/29
Hero Cosmetics Mighty Patch Original
Got a pimple that popped up out of nowhere? Rather than pick at it, apply one of these best-selling hydrocolloid pimple patches and leave it on while you sleep. It'll be gone by the morning!
10/29
Youthforia BYO Blush
This blush from Youthforia goes on green before instantly transforming into your perfect shade of blush. If you're after a dewy, natural makeup look, this product needs to be in your collection.
11/29
Better Not Younger Superpower Fortifying Hair & Scalp Serum
This hair oil from cult-favorite brand Better-Not Younger actually works to rebalance your scalp to keep oil overproduction at bay. It protects and smooths hair from the follicle down to the strands of your hair for better hair over time.
12/29
Paula's Choice Skin Perfecting 2% BHA Liquid Salicylic Acid Exfoliant
Is your skin in need of a refresh? Try this gentle facial exfoliator from Paula's Choice. The 2% BHA (beta hydroxy acid) reduces the look of enlarged pores and fine lines for a smoother overall appearance.
13/29
Amazon Aware Nourishing Body Cream with Vitamin E & Shea Butter
Soothe your dry winter skin with this under $20 body cream from Amazon's new Aware line. Aware is Amazon's first ever private brand of beauty, apparel, home, and household products that are all certified by third-party organization that meets the site's Climate Pledge Friendly program. This body butter is dermatologist tested to boot.
14/29
HEETA Hair Shampoo Brush, Scalp Care Hair Brush with Soft Silicone Scalp Massager
Here's a hair tool you didn't know you needed—until now. This shampoo brush doubles as a soothing scalp massager to combat scalp irritation, promote blood circulation, and aid in a relaxing wash day experience.
15/29
L'Oréal Paris Revitalift Derm Intensives Night Serum with Pure Retinol
This nighttime serum does wonders for reducing the appearance of wrinkles and smoothing out uneven texture for the glowing complexion you covet. A current bonus: the Revitalift Intensives Night Serum comes with samples of an ultra-hydrating and brightening moisturizer.
16/29
Aztec Secret Indian Healing Clay
Behold the acne-prone, oily skin hero. To make the most of its detoxifying properties, use a wooden spoon to mix one part clay with one part apple cider vinegar or water and apply to clean skin for five to 10 minutes. Consider it an intense yet satisfying pore-clearing at-home facial.
17/29
Brush With The Best Felicia Leatherwood Detangler Brush
Natural hair expert Felicia Leatherwood has created the ultimate detangling tool to allow naturalistas to glide through their kinks and curls with absolute ease. This detangling brush is designed with flexible bristles to unwind strands without causing breakage. In turn, it also prevents excessive shedding.
18/29
Cetaphil Gentle Foaming Cleanser
Formulated with hydrating ingredients like glycerin, vitamins B5 and E, this incredibly gentle, fan favorite cleansing foam is the perfect go-to for seamlessly removing makeup, dirt, and oil without stripping the skin.
19/29
Tangle Teezer Wet or Dry Detangling Hairbrush for All Hair Types
The beauty of the Tangle Teezer detangling brush is its contoured back which lets you easily secure it within the palm of your hand as you maneuver through your mane. It's also highly regarded for its two-tier bristles—the longer ones work to remove tangles while the shorter bristles glide through your separated strands to smooth and prevent frizz.
20/29