MC Cheatsheet: Karl Lagerfeld, Pebbles Flintstone Top List of Famous Ponytails
Plus, check out what other sites and stories we've been clicking on today.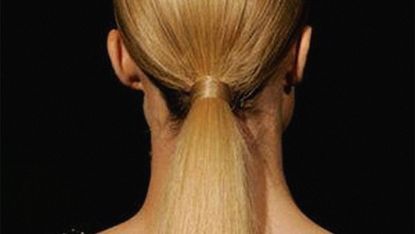 (Image credit: Dan Lecca)
Kate: "What do Ava Gardner, Karl Lagerfeld, and Winnie Cooper from The Wonder Years have in common? That's right ... famous ponytails." StyleList
Sophia: "The Hills finale explained. Kind of." Jezebel
Anna: "I'm only aware of Silly Bandz because my boss has two children under the age of 5. But now that they make one in the shape of a Birkin, I might have to jump on the bandz-wagon! (Sorry, couldn't resist.)" The Gloss
Katie: "She's had her ups and downs — now, she has a blog. Courtney Love hits the stylosphere. Brace for impact." Styleite
Jessica: "This is hilarious is so many ways. Mostly for the way Sarah Palin must be FREAKING OUT right now." New York Post
Koryn: "Tired Gay succumbs to Dix: Best headline ever." Reuters
Tell Marie Claire: What are you obsessed with today? Share your faves in the Comments section below!