10 Ridiculously Pretty Mermaid Hair Ideas You'll Truly Want to Try
All of the chic, with none of the gaudy.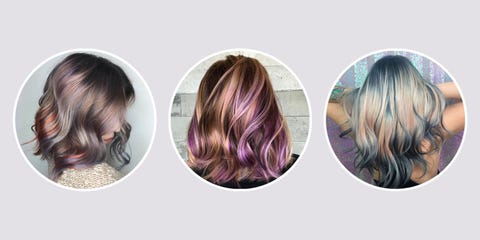 There's the bright, neon, tie-dye hair of your Manic Panic and Myspace past, and then there's mermaid hair, a soft mix of teals, purples, violets, and blues, all blended together to look like a mystical, magical watercolor painting on the bottom of the ocean floor.
[contentlinks align='left' textonly='false' numbered='false' headline='Related%20Stories' customtitles='The%2010%20Prettiest%20Ash-Brown%20Hair%20Ideas%20to%20Copy%7CThe%20Latest%20Celebrity%20Hair%20Transformations' customimages='|' content='gallery.4948|gallery.2383'] Sure, the trend may not be doable for the Ruther Bader Ginsburgs of the world, but if you exist in a more-forgiving work environment, or you just DGAF and want some pretty-as-hell waves, give mermaid hair a try at your next appointment.
So to get you in the under-the-sea mood right now, we rounded up the prettiest inspo photos to screenshot and stare dreamily at for the next thousand hours or so. You're welcome.
This content is created and maintained by a third party, and imported onto this page to help users provide their email addresses. You may be able to find more information about this and similar content at piano.io