Editors handpick every product that we feature. We may earn commission from the links on this page.
Updo Hairstyles
Get hair tips for easy updo hairstyles.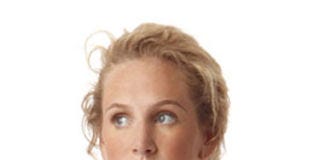 Get hair tips for easy updo hairstyles.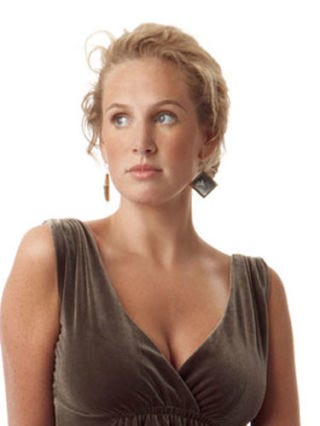 Hairstyle Handbook
Curly hair lends itself nicely to a messy chignon.
Flip hair over and spritz with hairspray all over. This will give your hair a little extra grit and keep your chignon from wilting after an hour.
Rake hair up and back with your hands, pushing it forward at the roots to encourage lift, and secure ends in a twist at the nape of your neck. Keep sticking in bobby pins and pulling out pieces to loosen the style.
Then, mist the twist with a little shine spray. This shouldn't look perfect but fast/sexy/chic.
MARIE CLAIRE RECOMMENDS
HAIRSPRAY
like
Aussie Catch The Wave Hairspray
, $3.99.
BOBBY PINS
like
Scunci Comfort Curve Bobby Pins
, $1.29.
SHINE SPRAY
like
Charles Worthington All Over Shine Spray
, $6.49.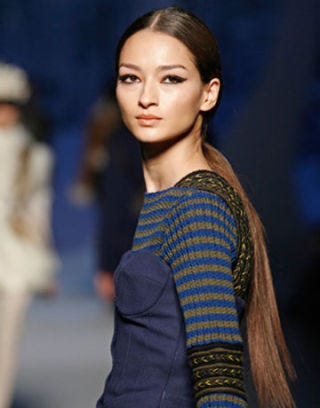 Hairstyling Lessons
AT-HOME HOW-TO: THE PONYTAIL
Style Stopwatch: 20 minutes from start to finish
1. Wind hair around a two-prong wave iron.
2. Cover hair from root to tip with gel.
3. Pull hair back into a ponytail, with some height at the crown.
4. With a little more gel, slick back sides to prevent flyaways.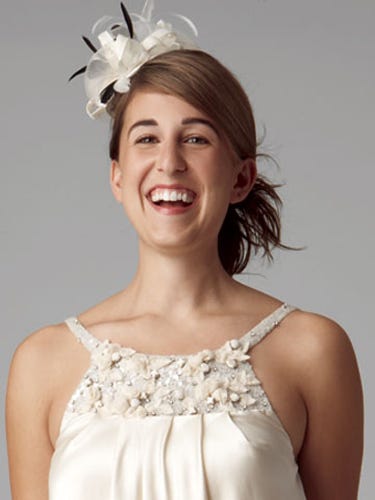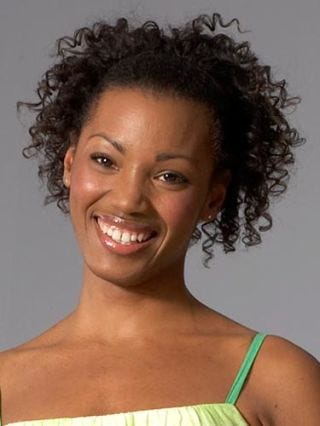 Hairstyle Handbook
Apply a hair mask in the shower for a strong dose of hydration. Detangle with a wide-tooth comb in the shower. Rinse almost all of it out — however, a little residual moisture is a good thing.
Work a mixture of shine glaze and leave in conditioner through wet hair and let it air dry.
MARIE CLAIRE RECOMMENDS
HAIR MASK like Alberto VO5 Hot Oil Treatment, $3.93.
SHINE GLAZE like Ouidad Shine Glaze, $17.
LEAVE-IN CONDITIONER like Bumble & Bumble Leave-In Conditioner, $22.99.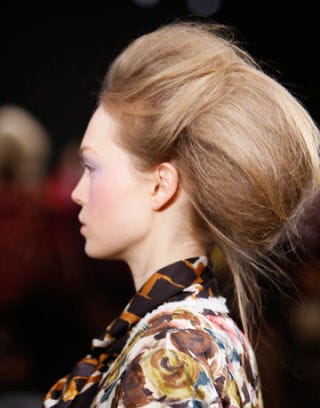 Hairstyling Lessons
AT-HOME HOW-TO: THE THAKOON UPDO
Style Stopwatch: 1 hour from start to finish
1. Spritz roots with a volumizer and blow-dry hair.
2. Tease hair, and clamp each section with a flatiron to set it.
3. Gently loosen teasing with a detangling comb or nylon brush.
4. Tucking the ends under, pin hair up, then apply hairspray.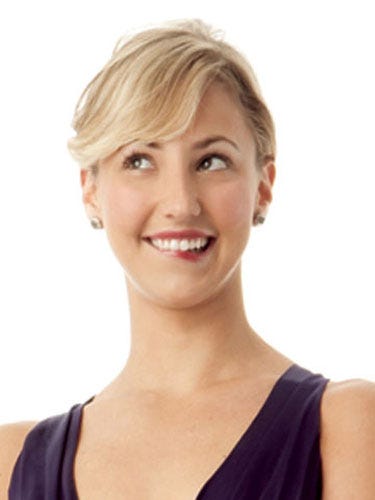 Hairstyle Handbook
A quick updo for short hair. Grab a handful of bobby pins and take little sections of hair and twist them back leaving the ends sticking out so you get a messy chignon effect.
Spritz your bangs with a little volumizer at the roots and blow-dry them so they lay sideswept across your forehead.
Finish with a light, fine mist of hairspray to keep everything in place.
MARIE CLAIRE RECOMMENDS
BOBBY PINS
are one of the fastest ways to get a whole new look.
Scunci Bobby Pins
, $1.29.
VOLUMIZER
like
TRESemmé Volume Big Boost European Root Lift Spray
, gives you instant oomph. $4.69.
HAIRSPRAY
Keep a bottle around, even if you hardly ever use it.
Aussie Catch The Wave Hairspray
, $3.99.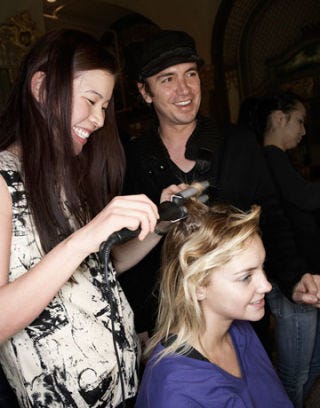 Hairstyling Lessons
UPWARDLY MOBILE
At the Sari Gueron show, I'm relieved to see a style I'm familiar with: the ponytail. In a look he describes as "chic but still street," Ashley Javier, a Clairol Herbal Essences stylist, creates a slicked-back shape using lots of gel. For extra height at the crown, he asks me to wind hair around a two-prong wave iron in a figure eight. This creates undulating bends instead of a traditional curler's ringlets. "Teasing doesn't really work here, because of the stiff gel; you don't want it to look like a dirty rat's nest," Javier explains. And so comes the gel. I rub a squirt into my palms and begin dabbing it onto the model's hair, but Javier says it's not enough. He starts piling on big globs of it, then asks me to work it into the hair. "Gel makes the hair sculptural and graphic. It should be all solid and hard. Crunchy is fine," he assures me. "You just don't want any frizz." I'm nervous when I look down at my hands, which are covered in a combination of goo and model Heather Marks's blonde hair. Then Javier asks me to put in the hair elastic. With my sticky fingers, how can I wrap the elastic around without pulling out even more hair? "She's very gentle, isn't she?" Javier says to Marks with an impish smile as he tightens the elastic himself. Marks doesn't even wince. Turns out putting someone else's hair in a ponytail is the hardest thing I had to do all week.
This content is created and maintained by a third party, and imported onto this page to help users provide their email addresses. You may be able to find more information about this and similar content at piano.io