Preeeeeetty: Our Favorite Celebs with Rainbow Hair
Blonde and brunette are *so* 2010.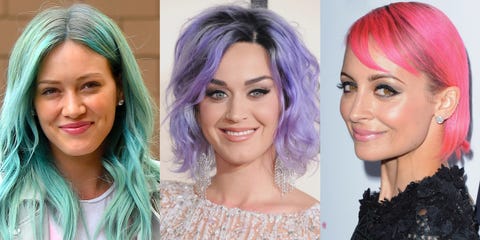 Blonde and brunette are *so* 2010.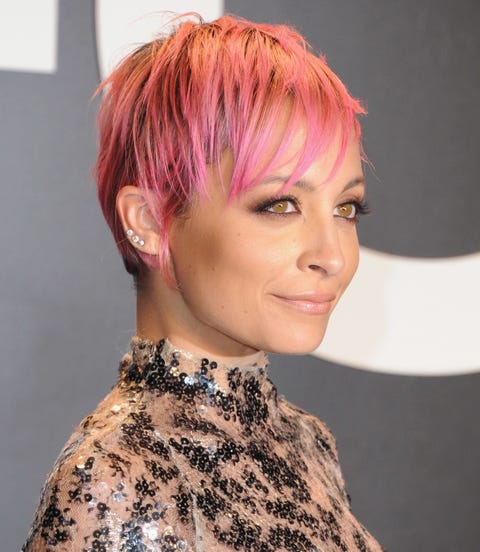 Nicole Richie in Pink
First she had a pink bob in early 2015, then it turned into this pink pixie. Richie is about all the extremes.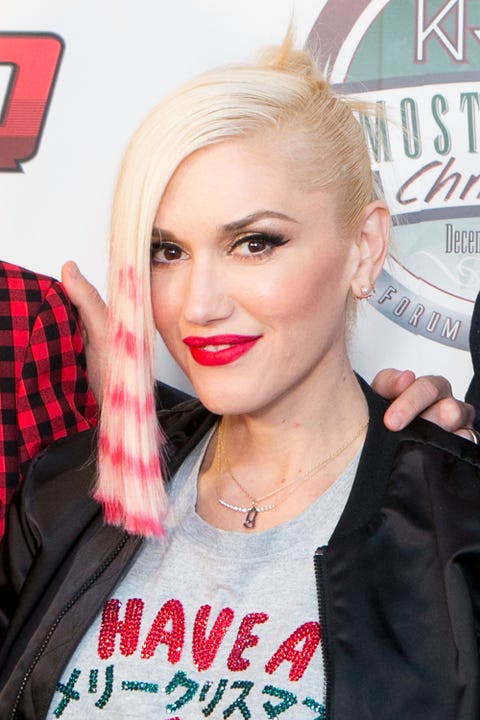 Gwen Stefani in Pink *Stripes*
One of the pioneers of celebrity color switch-ups—with hues that are not at all natural—the blonde recently added pink stripes. (Almost as an ode to her old, pink 'do. RIP.)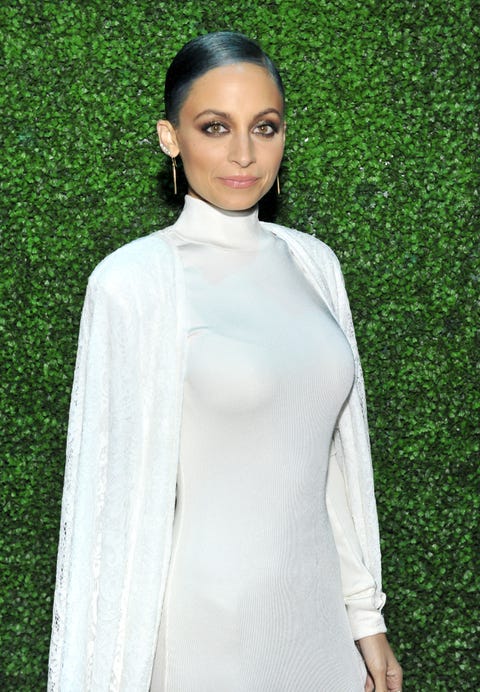 Nicole Richie in Teal
Can you paint with all the colors of the wind? IDK, but it looks like Nicole is definitely trying to dye her hair all the colors in the Crayola box. And this November 2014 look has us totally on board for that endeavor.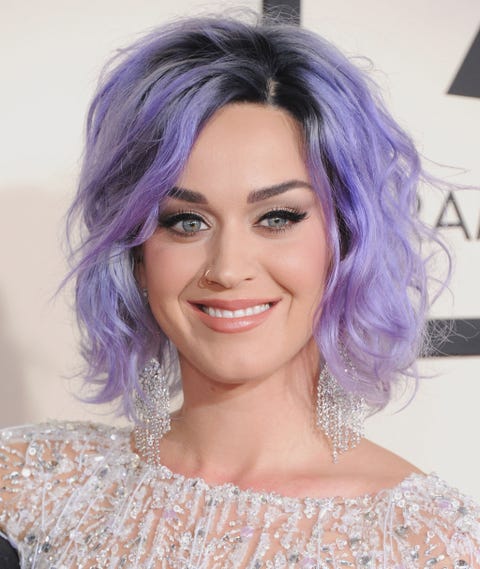 Katy Perry in Purple
The singer debuted this look at the Grammys in February 2015 and suddenly people were like, all purple all the time.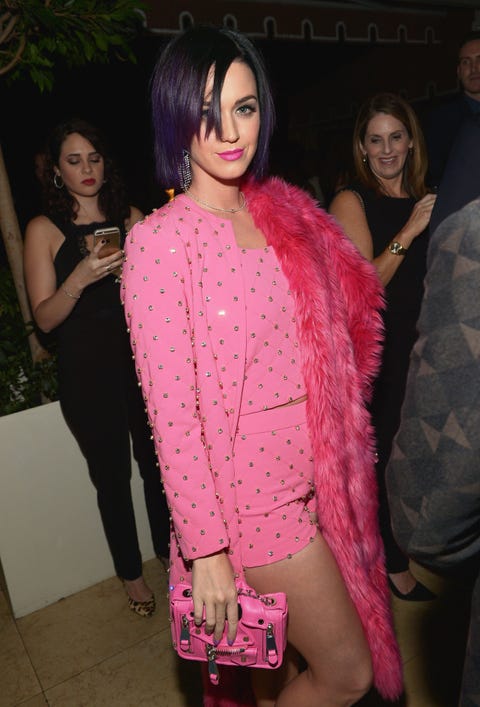 Katy Perry in Violet
You're turning violet, Violet Katy. This look in January 2015 was a win, even if it only lasted for about a second.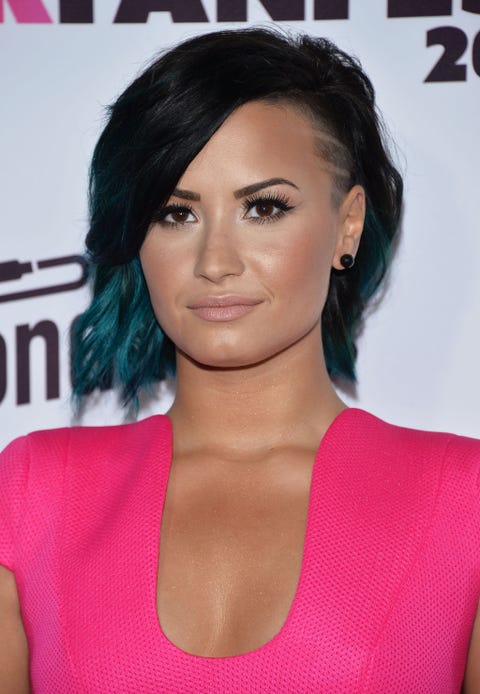 Demi Lovato in Teal Ombré
In October of 2014, Lovato showed off her new bob with turquoise underneath and a shaved side. Nothing fazes this girl hair-wise. NOTHING.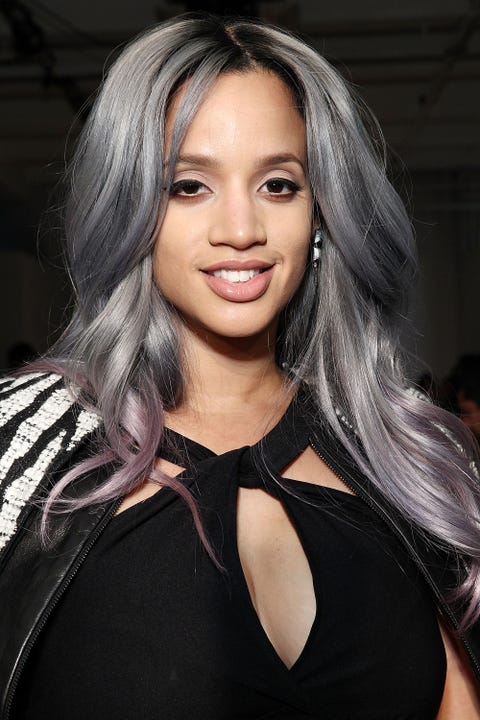 Dascha Polanco in Gray/Lilac
The Orange Is the New Black star only had a short time to switch up her hair before filming in September 2014, so she went all out by switching from her dark brunette locks to this lightened 'do. We like.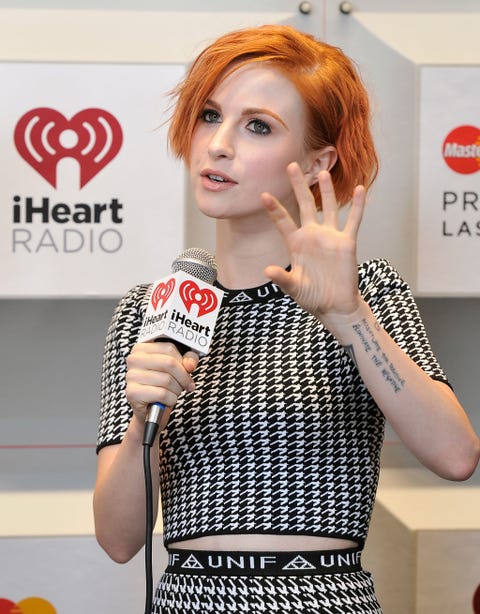 Hayley Williams in Orange
If someone said to us, "Orange hair would actually look really good," we would have been skeptical. Until Paramore's Williams showed us the light.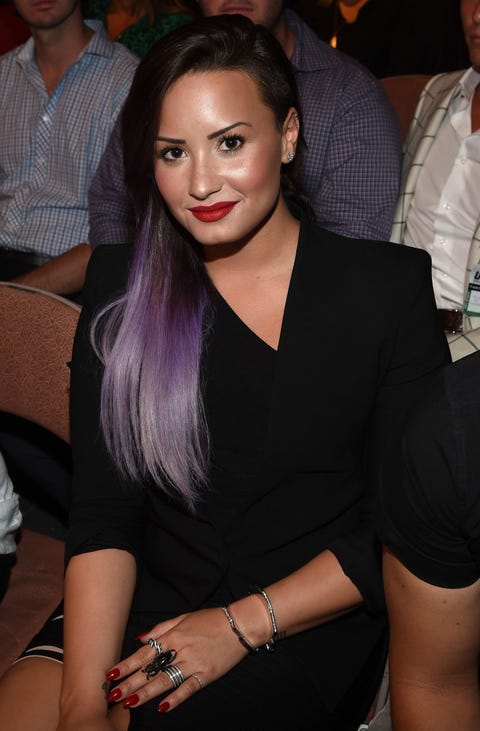 Demi Lovato in Violet Ombré
The singer loves changing it up—in July of 2014 she went for a violet ombré. Thumbs up.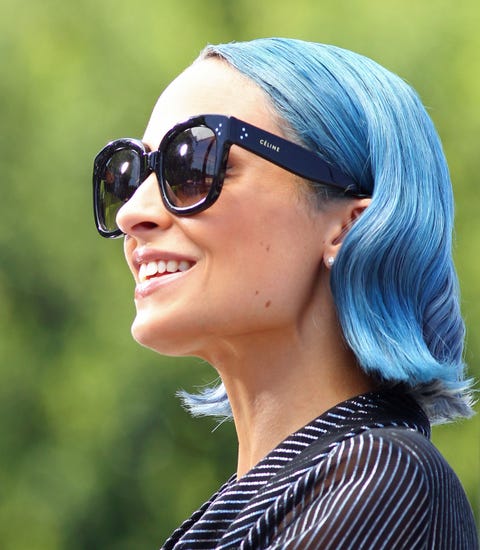 Nicole Richie in Blue
As you can tell, it's a core group of celebs gravitating towards the not-found-in-nature colors. Can we get more of you interested? Eh eh?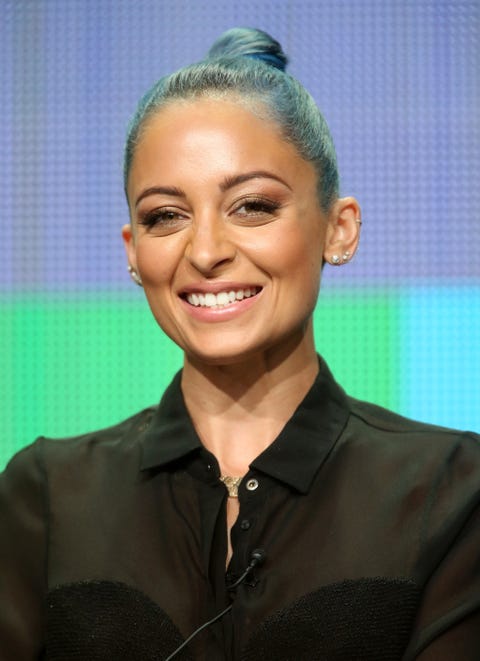 Nicole Richie in Green-Blue
Annnnd another awesome Richie moment, this one from July of 2014.
Hayley Williams in Blue
Really this *shouldn't* look as good as it does...but it does.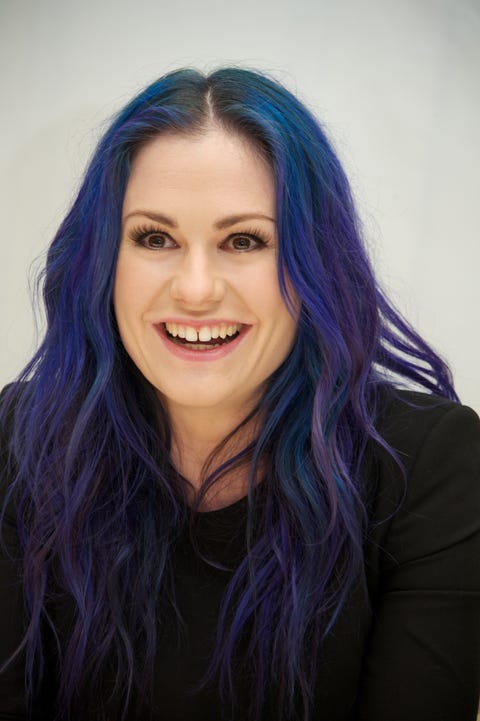 Anna Paquin in Blue-Violet
The True Blood star was essentially contractually obligated to be a blonde for her character until July 2014, so when that was up she was like, I'm doing this big. And here we are.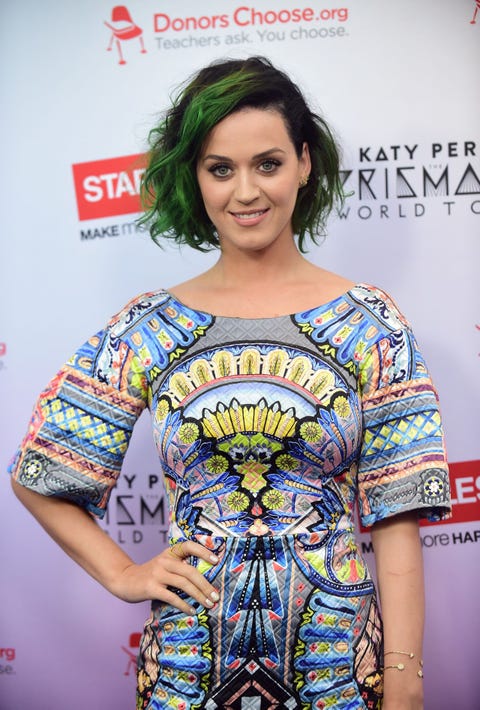 Katy Perry in Green
Hello, hair chameleon! The singer went green in June 2014 and somehow made us rethink Nickelodeon's infamous green slime as possibly chic? Are we in the Matrix?
Nicole Richie in Purple
We're not going to lie to you, we're so down with this look that Richie debuted in May of 2014 that we're contemplating it right now.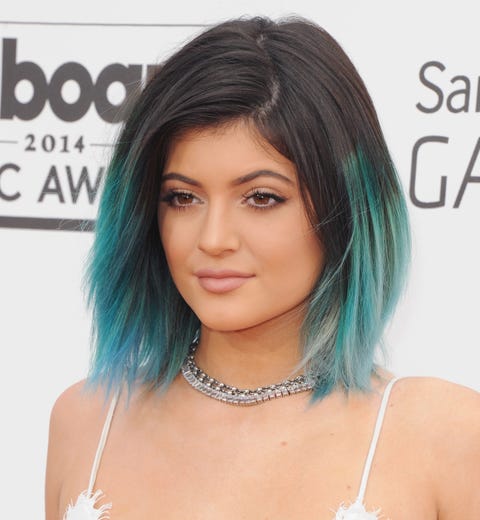 Kendall Jenner in Turquoise
The Jenner sister is a self-proclaimed beauty junkie (and has already come out with her own line of extensions) so it makes sense that the teen often switches up her look. We're particular fans of this bob with turquoise accents at the 2014 Billboard Awards in May. (Are we sad that we're envious of a 17-year-old? Maybe.)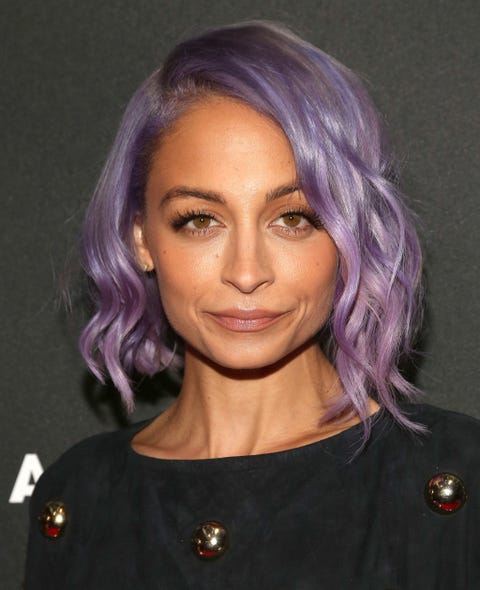 Nicole Richie in Purple
Richie showed off her grape 'do in April of 2014, and it's like, are we starting to become so used to it or does this look natural to anyone else?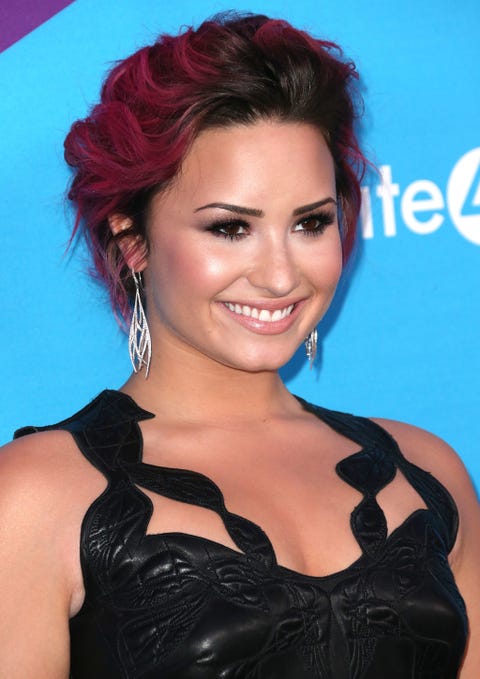 Demi Lovato in Fuchsia
The singer showed off her dark pink/fuchsia locks on the red carpet in February of 2014. It's like Old Hollywood red but better.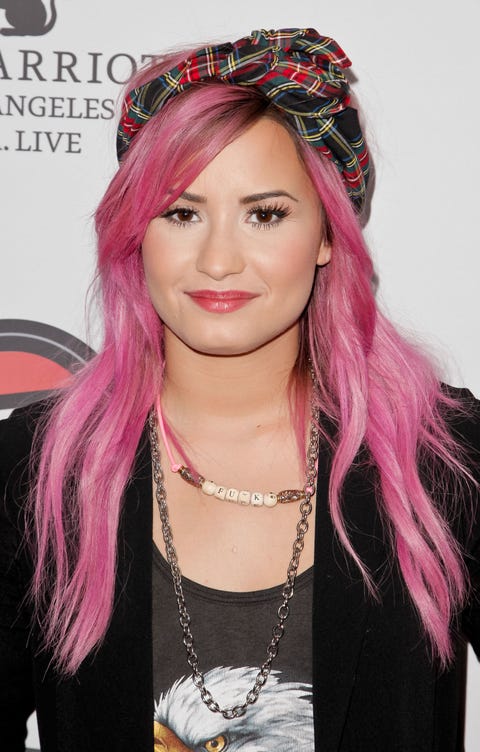 Demi Lovato in Pink
If strawberry shortcake hair is wrong, we don't want Demi to be right. This 'do debuted in January 2014 and lasted ONE WHOLE MONTH until the next color. (That honestly is an eternity in the Demi Hair Color Timeline.)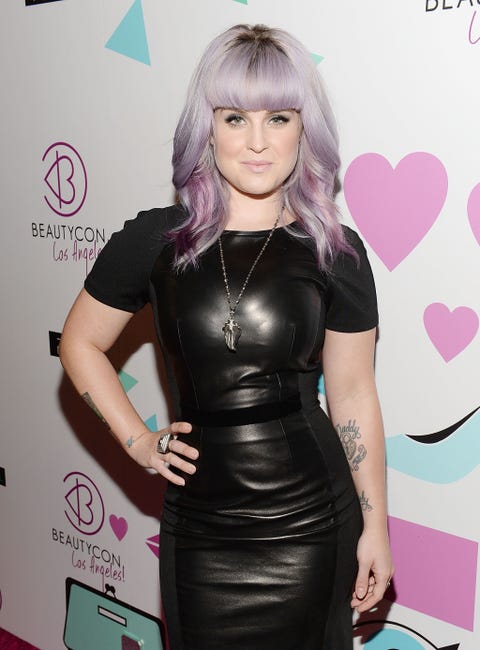 Kelly Osbourne in Gray-Lilac
The TV personality really started the party in 2013 when it came to making gray an intentional hair color—and the lilac tint brings it to the next level.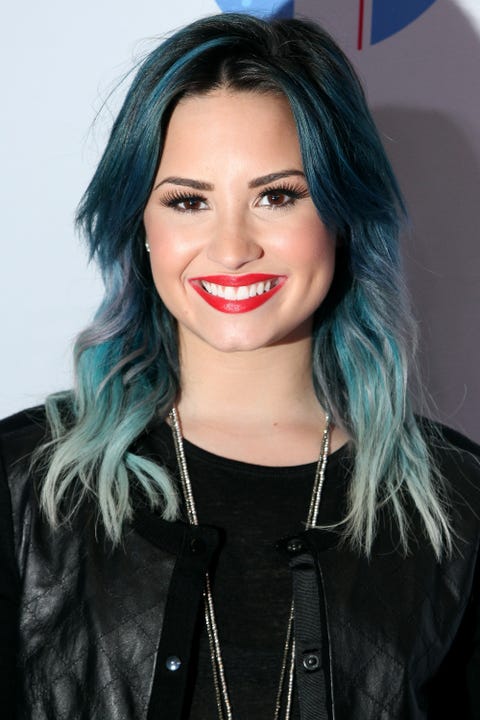 Demi Lovato in Blue-Green Ombré
Demi Lovato's hair in December 2013 was definitely better than our hair in December of 2013.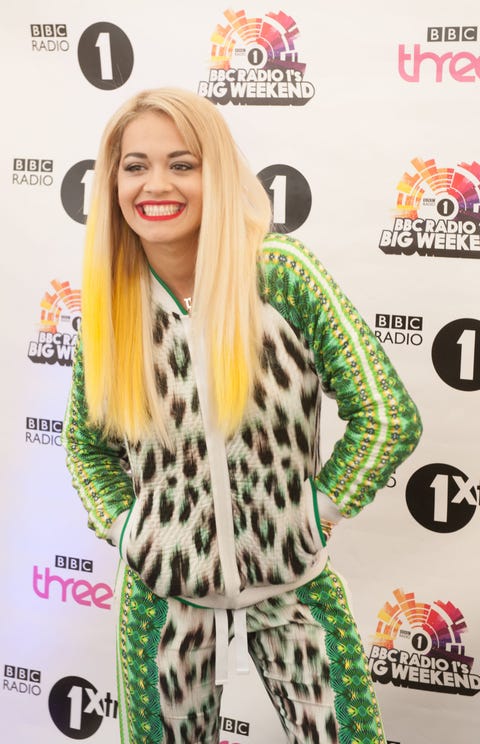 Rita Ora in Yellow Ombré
The singer debuted a new look in May 2013 by trying out a yellow ombré, and we are not getting Big Bird vibes at all. What an incredible feat.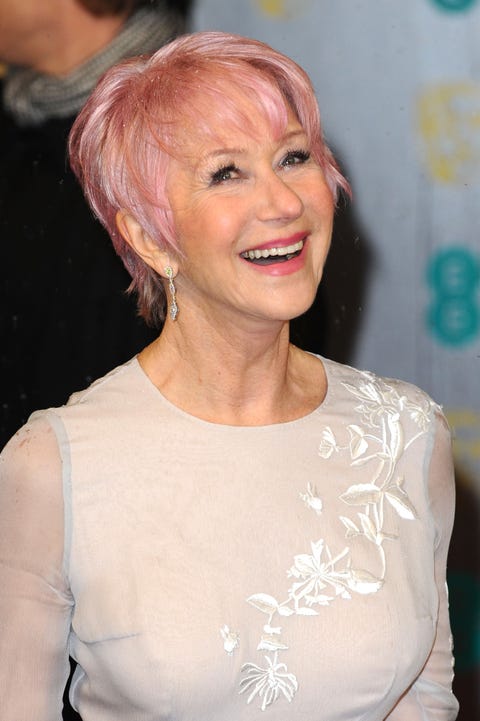 Helen Mirren in Pink
The Dame Helen Mirren surprised everyone at the 2013 BAFTA Awards when she showed up rockin' this amazing new shade. And the reason for the change was just as surprising: the inspiration apparently came from America's Next Top Model. "'Well, the British girl who won, she had pink hair, and I thought: 'That looks really pretty.' So I'm copying her, basically.'" Can we be as cool as the Dame please?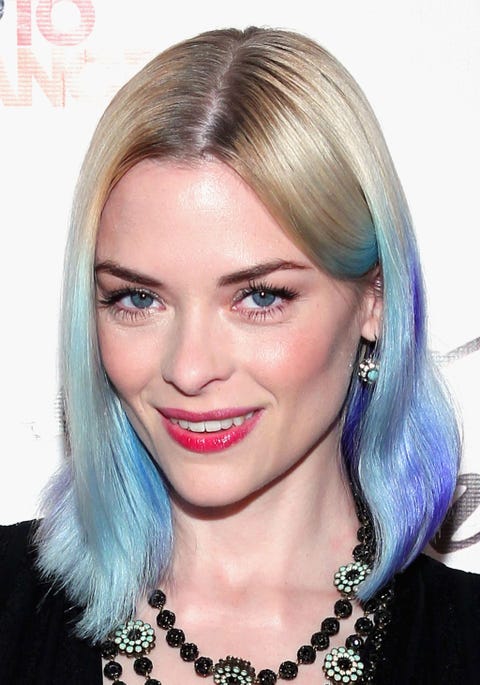 Jaime King in Blue Ombré
The Hart of Dixie star changed it up in 2012: "I felt like it would be fun for me to just do something different just to get back to myself a little bit," she told Us Weekly. This is about as different as you can get, so way to go full throttle Jaime.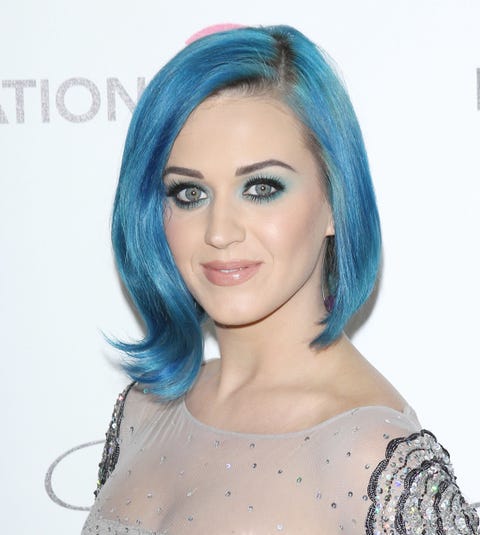 Katy Perry in Blue
Clearly not afraid to make some drastic changes, Perry showed off a new blue hue in February 2012. (Let's say what we're all thinking here: Smurfette. There, we can all move on now.)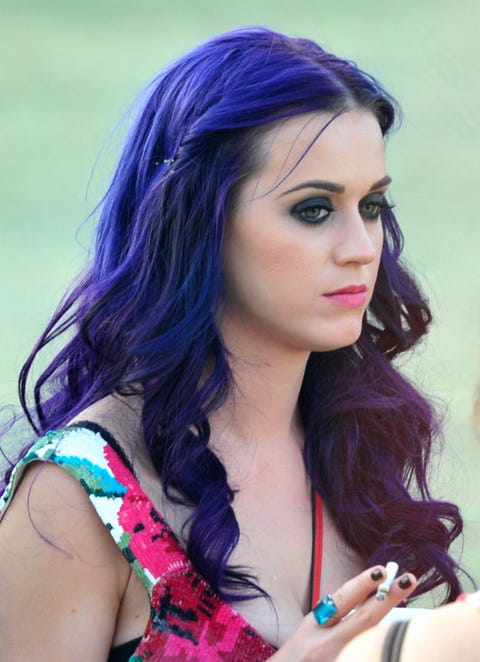 Katy Perry in Indigo
And it's another shade! In April 2012, Perry went for indigo at Coachella. (Also, throw out that cig, Katy. We say this because we love you.)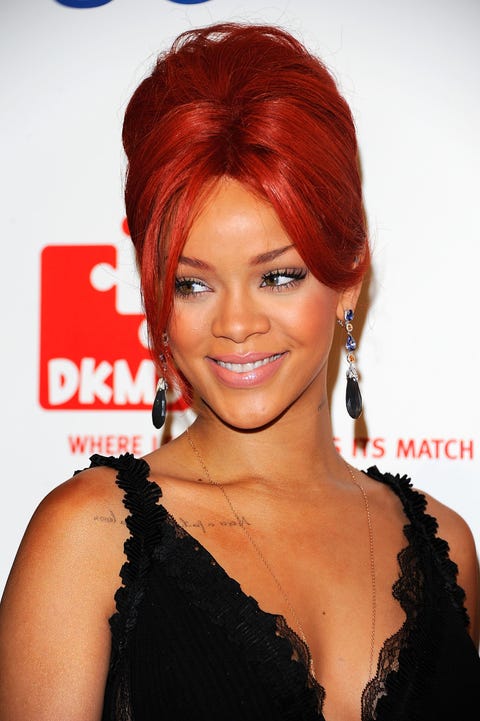 Rihanna in Red
The beauty hailing from Barbados is a huge fan of red—she's often changed her hair to some version of the color she wore here in 2011.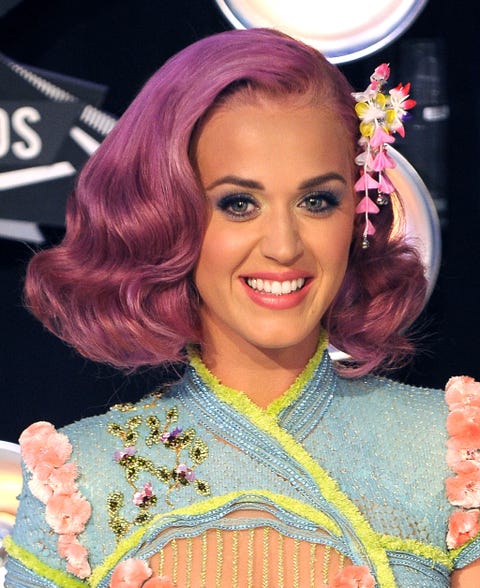 Katy Perry in Violet-Pink
At the 2011 MTV VMAs, the songstress showed off some pink with a hint of purple.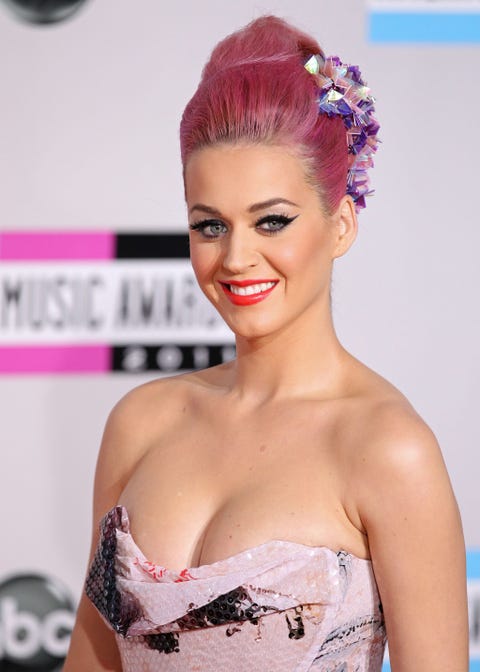 Katy Perry in Pink
A-ha, the genesis of that pink/purple, here in November 2011. That's kind of the awesome thing about these rainbow hues...they're so easy to morph from one to the next.
This content is created and maintained by a third party, and imported onto this page to help users provide their email addresses. You may be able to find more information about this and similar content at piano.io