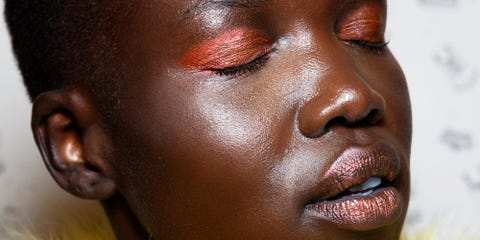 Every summer, there's a point where, after sweating through my shirt and watching my foundation slide down my face, I say "screw it." Screw the perfectly smooth hair and the perfectly pressed dress, and most definitely screw the perfectly matte face, with the perfectly applied eyeshadow, lipstick, and blush. When it's hot as hell outside, it's simply not feasible to look like you just stepped out of a photoshoot all damn day.

So to turn the warm, humid weather into a beauty advantage, I searched high and low and found five trending looks that get prettier, sexier, and edgier (yes, all three of those things are possible at once) the more they melt into your skin, along with the best products to help get you there. So please, screenshot these looks, turn off your AC, and get your sweat on.
There's an easy way to recreate this smudgy, softly stained look, and then there's an even easier way. The easy way: Suck on a popsicle for 25 mins. The easier—and less messy—way: Blot a red lip stain over your mouth, concentrating on the center of your lips, then gently dab and blend the color up and over the edges of your lips. The pigment will stay on for hours, leaving you free to guzzle iced coffees with reckless abandon.
MY PICK: 100% Pure Lip and Cheek Tint in Cranberry Glow, $26
Yes, I know the last time you rimmed your entire eye in jet-black eyeliner was when you first discovered makeup in 8th grade, but trust me—the goth-level look is back and perfect for summer. The sweatier you get, the more the liner will smudge around your lash lines, taking your look from precise to smoky by the end of the day. To keep the liner from completely running down your face, though, tap a bit of black eyeshadow (or sheer setting powder) over your lower lash lines to lightly set the liner.
MY PICK: Sephora Long Lasting Kohl Pencil, $10

Since your skin will be living in a perpetual state of flush for most of the summer anyway, swap your usual layer of cream blush for an iridescent bronzer to give your complexion a warm, just-napped-on-the-beach look. After an hour in the sun—or, let's be honest, 60 seconds in your hot car–the bronzer will melt into your skin for a naturally glowy, dewy finish.
MY PICK: RMS Beauty Buriti Bronzer, $28

Bright, glitter-flecked eyeshadow can quickly veer into Studio 54 territory as soon as you start to perspire, but a bright, metallic cream shadow only looks better the hotter you get. If coppers and reds feel too bold, try tapping the same cream shadow over your lips and the apples of your cheeks, too, to balance out the eyes and tie the whole look together.
MY PICK: Chanel Ombre Premiere Longwear Cream Eyeshadow, $36

Oil slicks on your nose? Not so hot. Oil slicks on your lids? Ridiculously hot. I know, I know; it's a double standard. But a slightly glossy, lived-in eye automatically gives off a vibe that says, "IDGAF that it's 100-degrees out, because I'm chill as fuck on the inside" (this vibe is a very talkative vibe). To get the look, just blend on your favorite eyeshadow, then dab a layer of eye gloss across your lids. To baby-step your way into the trend, try dabbing a tiny bit of gloss on just the center of your lids for a light-reflecting finish.
MY PICK: Milk Makeup Face Gloss, $20