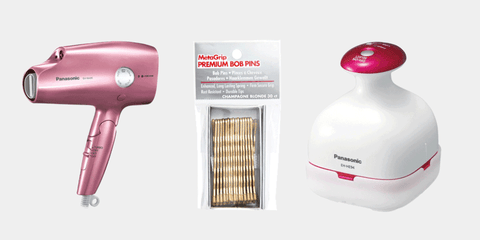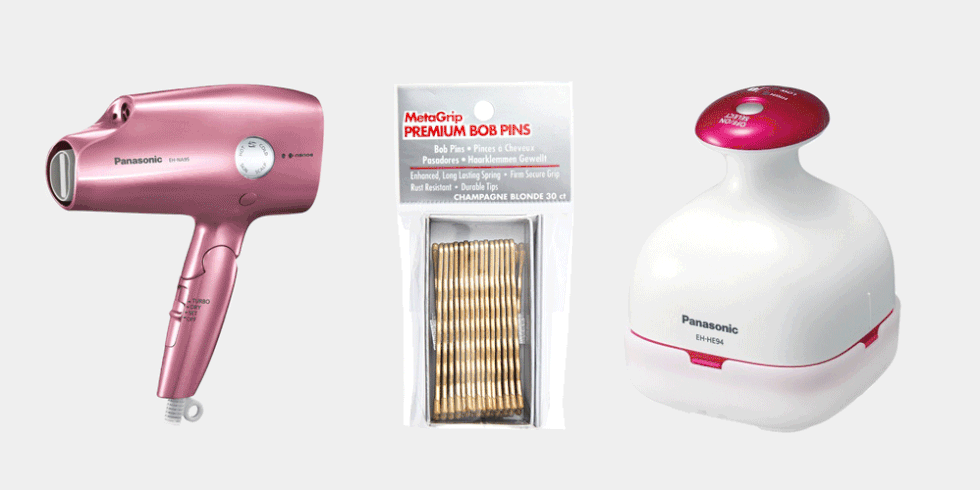 Design by American Artist
Korea may have the skincare and makeup game on lock, but it's Japan that continues to be on the cutting edge of what's next for hair tech. From the ironclad bobby pins that Jen Atkin swears by to the diffuser of your dreams, these tools are what your strands (and scalp) have been waiting for. And, IMHO, they are totally worth the exorbitant international shipping fees 💸.
1
Panasonic Head-Spa Scalp Aesthetic Massager
You know that feeling when you get your hair done in a salon and relish in the pro shampoo with a massage to boot? Now you can bring that feeling home with you. Consider this device a D.I.Y. spa for your head. It's waterproof so you can use it when you shampoo for a thorough cleanse/scalp stimulation that feels damn good.
Panasonic Head-Spa Scalp Aethetic Massager, $91.95; amazon.com.

It was Fashionista who first spotted this soft, sock-like diffuser in the wild backstage at Jeremy Scott's Fall 2015 show. Unlike the plastic models we're used to, this super-light nylon mesh fabric snug and won't fall off. Not to mention, it emits heat, but no airflow so you get the most natural-looking, non-frizzy dry job. For curly girls especially, this why-didn't-we-think-of-this innovation is an utter no-brainer.
YS Park Large Diffuser, $50; ysparkusa.com.

3
Y.S. Park YS-701 Hairbrush
Suffice it to say, if celebrity hairstylist Ted Gibson can't live without it there must be something to the luxe wooden oval brush he discovered at a beauty supply shop in Paris. The combination of boar and nylon bristles are designed so that they reach all the way to the scalp, but won't cause any irritation. They also distribute your hair's natural oils, which will give new life to your ultra-dry ends.
Y.S. Park YS-701 Hairbrush, $148; ysparkusa.com.

4
Panasonic Nano-e Nano Care Hair Dryer
This hair dryer not only looks cool in a retro kind of way, but has four different heat settings (hot, cold, skin, and scalp) that allow for a next-level, customized experience. And if heat damage is a concern, just know that its nano-e technology is designed to help your hair retain moisture.

Panasonic Nano-e Nano Care Hair Dryer, $261.80; amazon.com.
5
Jaguar Thermocut Pro Hair Cutting Scissors
Split ends are no match for these red-hot scissors. You can control the temperature of these fancy sheers, which boast insulated blades that seal the cuticle. This leaves strands less at risk for damage and your cut looking fresher, longer. They'll cost you an arm and leg to buy, so instead look for a salon that offers this kind of cut.

Jaguar Thermocut Pro Hair Cutting Scissors, $606; amazon.com.
6
Meta Grip Premium Bob Pins
Props to Byrdie for spotting these bad boys on Jen Atkin's Snapchat. The Kardashian hair confidante loves these pins as their patented Japanese technology was designed so they grip the hair without snagging. And as far as their shelf life is concerned, they're rust-resistant and boast a long-lasting spring, which means they won't be taking up residence in our bobby pin graveyard anytime soon.
Meta Grip Premium Bob Pins, $9.57; amazon.com.