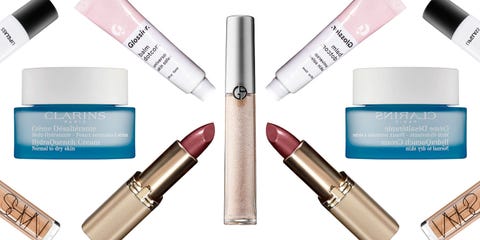 Call it foolhardy, but only when you're casual about beauty—and willing to brave irritation—can you discover the secret second (or third) uses of products. We're happy to report that these six editors disregarded the instructions on the back of the box to great, *safe* effect.
Lori Keong, assistant editor
Jessica Pels, digital director
"Foundation seems like such a slog to apply...you have to use a blender or a brush or get your hands really, really messy. So I basically approximate foundation coverage with concealer, which is so much easier to put on. My method: Dot and swipe and draw it wherever I need it, blend with my middle finger, done." [Editor's note: Complete instructions and a truly great anecdote here.]
NARS Radiant Creamy Concealer, $29, sephora.com.
Andi Henke, beauty assistant
"My all-time favorite highlighter is actually an eyeshadow. I love the way it melts into my foundation and gives a subtle brightening glow without being too sparkly or greasy-looking, like a lot of highlighters. I swipe it on the tops of my cheekbones, brow bones, bridge of my nose, and insides of my eyes. If I was stranded on a desert island, this would be my one product to bring!"
Giorgio Armani Eye Tint in Gold Ashes, $39, sephora.com.
Chelsea Peng, assistant editor
"Between the desert and the booze and the dancing, Coachella is one of the most drying things you can do short of sticking your body into a convection oven. (Even though you do, inexplicably, emerge prettier.) Good thing I had 1) this super rich Clarins mask ready and 2) the brilliant idea of leaving it on overnight as a moisturizer. What began as a half-drunk 'whatever' is now part of my everyday routine."
Clarins Hydraquench Cream-Mask, $36, clarinsusa.com.
Samantha Leal, senior editor
"I use balms for literally everything. Lips, naturally, but also on eyelids for a cool sheen, eyebrows to tame flyaways (same for baby hairs), on cuticles…you get the gist. Vaseline is my go-to, but lately I've been addicted to Glossier Balm Dotcom."
Glossier Balm Dotcom, $12, glossier.com.
Lauren Valenti, associate editor
"I'm obsessed with Georgia May Jagger's no-f*cks-given approach to beauty, and during a recent interview, she had the most amazing dark red smoky eyes. She actually used Rimmel London's Exaggerate Full Colour Lip Liner in Under My Spell. I would have never known it wasn't shadow, and love the idea of bold, rich color that actually stays put."
Rimmel Exaggerate Full Colour Lip Liner in Under My Spell, $6, ulta.com.
Lauren Valenti, associate editor
"I also love using lip gloss to add a glassy finish to my lids—though it can be tricky. I recently learned a trick via makeup artist Michael Anthony: Whether you've applied with your fingers or brush, use a fluffy brush to blend the edges of the gloss out. It keeps things from looking slimy."
MAC Clear Lipglass, $15, macys.com.