Meghan Markle's Family Members Have Said Some Pretty Controversial Things About Her
They aren't holding anything back about their "Princess Pushy."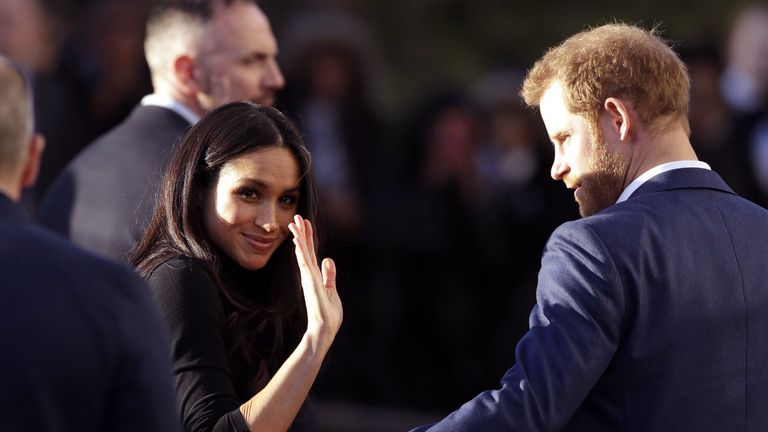 (Image credit: Getty Images)
As the royal wedding (opens in new tab) quickly approaches, many members of Meghan Markle's family have come out of the woodwork to share their thoughts about the future royal. A couple of relatives have revealed that they have not been invited to the royal wedding (opens in new tab) and have said that they haven't seen Markle in years. Others have been open about their turbulent relationship with the bride-to-be. Here are some of Markle's family members (opens in new tab) and what they've said so far:
Tracey and Tyler Dooley
Meghan Markle's nephew and his mum have not received an invitation to the Royal Wedding but say they're proudly supporting her. pic.twitter.com/LrMb8WCszhMarch 26, 2018
See more
Tracey and Tyler Dooley are some of the latest family members to openly talk about Markle. Tracey was previously married to Meghan's half-brother, Thomas Jr., and Tyler is Meghan's nephew, according to Good Morning Britain.
Tracey Dooley and her son Tyler recently were on the British morning show to extend their congratulations to the royal couple. While Tyler seemed hopeful that they would possibly receive wedding invitations, Tracey was a little less so as they haven't seen Meghan in years.
"I don't think we are going to get the invitations—and that's fine," she told Good Morning Britain. "We're okay with that. We're still supporting her on. We're so proud of her."
Thomas Markle Jr.
Today: DailyMailTV's exclusive with Meghan Markle's brother on his drunken New Year's brawl, plus Oprah's big moment at the Golden Globes. Showtimes: https://t.co/wcajGMmT7s pic.twitter.com/tE0QUhuAScJanuary 8, 2018
See more
Thomas Jr. is Meghan's half-brother and Tracey's ex-husband. The two share the same father, Thomas Markle Sr. According to The Sun (opens in new tab), he is currently living in Oregon and works as a window fitter.
He has recently been vocal about the royal wedding, especially after Prince Harry said the royals were the family that she's never had, according to People (opens in new tab). Thomas Jr. then said spoke with the Daily Mail (opens in new tab), "It was just a little shocking because Meghan had an amazing, amazing childhood growing up and she had a lot of family."
Thomas Jr. reportedly tried to ask Markle for help after he made headlines due to altercation with his fiancée, according to an interview with In Touch (opens in new tab). He blamed the fight on the newfound pressure from the royal engagement. However, he told In Touch (opens in new tab) that her lack of help is a "slap in the face."
Samantha Grant
Samantha Grant, who is also known as Samantha Markle (opens in new tab), is Meghan's half-sister, whom she shares the same father. Like Thomas Jr., Samantha Markle is from her father's first marriage.
Grant has been very vocal about the future royal even though she has said that she hasn't seen Meghan since 2008, when Meghan came to her graduation, according to an interview with the Daily Mail (opens in new tab).
Samantha seems to be both a supporter and critic of Meghan. She has done various interviews with the press, mentioning times that Meghan could've helped her and her family, including their father, she said in an interview with the Australian TV show A Current Affair (opens in new tab). However, she says that she is very supportive of her sister and is happy about her engagement, according to Us Weekly (opens in new tab).
She is also plans to release a memoir called, The Diary of Princess Pushy's Sister, although she insists it will not be against Meghan at all. She also says the book's title comes from the media's portrayal of Meghan.
Meghan Markle's half-sister has denied she's cashing in by speaking about their troubled relationship.#9News pic.twitter.com/DYwCuaYMH6February 5, 2018
See more
"The title is a mockery of the media," she told the Daily Mail (opens in new tab). "It wasn't me who called Meg 'pushy.' It was the tabloid newspapers. She is not pushy. The book isn't going to be negative—it's a warm, witty, honoring book—unfortunately, the negative sing-song has gone round the world."
Thomas Markle Sr.
Samantha, Thomas Jr., and Meghan all share the same father, Thomas Markle Sr. Meghan is Thomas' only child with his second wife, Doria Ragland, while Samantha and Thomas Jr., are all from his first marriage. According to the Daily Mirror (opens in new tab), Thomas Sr. is very reclusive and has been living in Mexico.
When Meghan and Harry announced their engagement, Thomas Sr. and Doria released a joint statement (opens in new tab) saying, "We are incredibly happy for Meghan and Harry. Our daughter has always been a kind and loving person. To see her union with Harry, who shares the same qualities, is a great joy for us as parents. We wish them a lifetime of happiness and are very excited for their future together."
Ms. Markle's parents, Mr. Thomas Markle and Doria Ragland have wished the couple 'a lifetime of happiness.' pic.twitter.com/H4kpTgpkYENovember 27, 2017
See more
Tracey and Tyler Dooley also revealed in their interview with Good Morning Britain that her father is expected to walk Meghan down the aisle. "I don't think he's waiting for an invitation because I'm sure they already have the plans in place. From me talking to him, he's very excited to be a part of it," Tracey said.
Doria Ragland
Meghan's mother, Doria Ragland, will also be there for the big day. According to many reports, Meghan is particularly close to her mother as she stayed with her after her parents got divorced (opens in new tab) when she was six. Unlike Thomas Sr., Doria has been seen with Meghan out in the spotlight and has attended many events including the Invictus Games (opens in new tab).
Harry has since gushed about her mother (opens in new tab), saying "her mum's amazing" during their first sit-down interview together after their engagement.

Doria has stayed quiet about Meghan and the future wedding. So far, she has only released the joint statement with Thomas Sr. released after their engagement.

There's no word on what Doria will be doing during the wedding day but she will definitely be a part of it. Meghan had previously shared that she wanted her mom to walk her down the aisle (opens in new tab).
Hopefully, Meghan can get everything between her family sorted out soon so she can enjoy her big day.
Tamara Fuentes is the current Associate Entertainment Editor at Cosmopolitan, where she covers TV, movies, books, celebrities, and more. She can often be found in front of a screen fangirling about something new. Before joining Cosmopolitan, she was the entertainment editor over at Seventeen. She is also a member of the Television Critics Association and the Latino Entertainment Journalists Association. Follow her on Twitter and Instagram.