Watch Ariana Grande Go Old Hollywood Glam for Her MTV Movie Awards Performance
She did "Dangerous Woman" and it was really, really pink.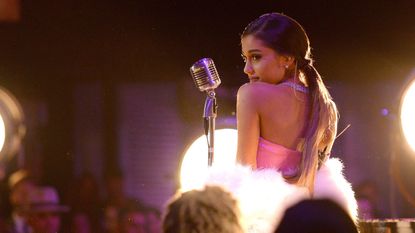 (Image credit: Getty Images)
When there's a stage, Ariana Grande will sing. And that's what she did at this year's MTV Movie Awards. Belting out "Dangerous Woman," the lead single from her upcoming album of the same name, Ariana channeled her inner Marilyn Monroe from her Gentlemen Prefer Blondes era (or whoever you think of first when you see a classy pink dress and diamonds). BFFs Gigi Hadid and Kendall Jenner introduced the performance. Something tells me they also got shivers when Ariana executed ~those notes~ at the song's peak.
Ariana's album drops May 20.