Jimmy Fallon Honors Prince on 'SNL' with Never-Before-Seen Performance Clip
The late musician gave a surprise concert at the 'SNL 40' afterparty.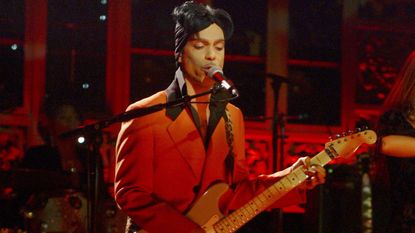 (Image credit: Archives)
Update, 4/24: Last night Saturday Night Live aired a special tribute show honoring Prince. The Tonight Show host and SNL alum Jimmy Fallon wore a purple tie while giving a touching monologue about Prince's special place on the show over the last four decades.
"Other people may have been on the show more times, or performed more frequently," said Fallon (opens in new tab), clearly emotional, "But there was something different about a Prince performance. It was special. It was an event. It was Prince."
The special included clips from Fred Armisen's "Prince Show" (opens in new tab) skit with co-host Beyoncé, played by Maya Rudolph and Prince's many amazing performances (opens in new tab) including a never-before-seen video of The Purple One giving an impromptu performance at the SNL 40th Anniversary afterparty.
Almost as good as the performance is Fallon's account of how it all happened. Even in a room full of the world's biggest stars (Beyoncé (opens in new tab) and Jay Z cleared a path for him to the stage), Prince's performance was clearly the standout moment:
Original, 4/23: Since Prince's untimely death (opens in new tab) earlier this week, there have been homages all across the media landscape — Broadway tributes, articles, magazine covers, and TV specials — honoring the musician's life and music. Tonight, Saturday Night Live will share its own special remembrance, Entertainment Weekly (opens in new tab) reports.
The segment, called "SNL Goodnight Sweet Prince," will honor Prince's appearances on the sketch comedy show throughout his career. He was a musical guest three times: 1981, 2006 and in 2014. He also played "Electric Chair" on SNL's 15th anniversary special in 1989.
Get your tissues ready and tune in at 11:30 PM ET.