Someone Asked Meghan Markle If She Wants to Marry Prince Harry, and Her Reaction Says It All
Awkwaaaard.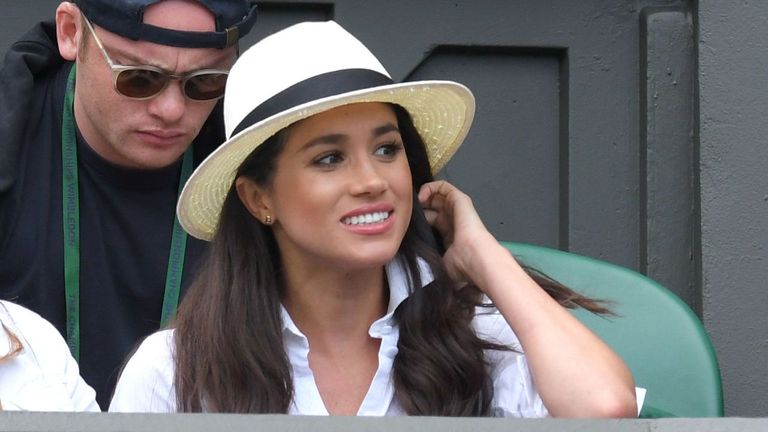 (Image credit: Getty)
After a whirlwind romance that's seen actress Meghan Markle and Prince Harry jet across the world to spend time with each other, attend high-profile weddings in Jamaica and Berkshire, kiss at polo matches, and now reportedly have their dreams set on moving in with each other later this summer, it's not exactly a long shot to think the 35-year-old Suits star might have marriage on the brain.
RELATED STORY
However, during her attendance at the ATX Television Festival in Austin, Texas over the weekend, where the Californian actress was participating in a script-reading of the original Suits pilot with her co-stars, followed by a panel discussion, the actress was keen to keep tight-lipped about her royal beau.
Dressed in a cream dress with red floral print, the actress was teased when her costar Rick Hoffman suggested she did her part of the script reading in a British accent, in an apparent reference to her relationship with the British royal and weeks after accompanying him to the wedding reception of Pippa Middleton.
During the panel discussion, the Toronto-based star–who is rumoured to be leaving the hit U.S. show–also described her cast-mates as being like "family."
"We were in a group email the other day and I was saying we'd all lived in the same corporate housing so on top of working together we were living together which makes a whole different dynamic, I think. We just became this whole family right out the gate," she said, according to the Telegraph.
She also described her character, paralegal Rachel Zane, as a "role model."
"I am so happy," she said. "She's worked so hard and I love that, as a role model, how she's been crafted to balance it all and now have this place at the firm where she really knows her standing and her office isn't just because she's a good researcher, it's because she's an associate. She's really earned that spot."
However, the question on everyone's lips was whether Meghan has any plans to marry her royal boyfriend any time soon.
In response to the question, Markle reportedly smiled but remained mum on the subject, much like Prince Harry, who earlier this year expertly dodged the subject.
We'll take that as a "yes," Megs.
RELATED STORY
Follow Marie Claire on Facebook for the latest celeb news, beauty tips, fascinating reads, livestream video, and more.
Katie O'Malley is the Deputy Digital Editor, at ELLE UK. On a daily basis you'll find her managing all digital workflow, editing site, video and social media content, liaising with commercial and sales teams on new partnerships and deals, implementing new digital strategies and compiling endless data traffic, SEO and ecomm reports. Since joining in 2016, Katie has written features on everything from sex addiction, and the use of tear gas during protests to virtual cuddling, 'friendship fade' and access to contraception post Brexit. Her list of interviewees over the years include those with Oprah Winfrey, Benedict Cumberbatch, Reese Witherspoon, Emma Stone, Zoe Kravitz etc.