Damn, Brad Pitt Took His New Girlfriend to His and Angelina Jolie's Wedding Venue on Their Anniversary
He really went there.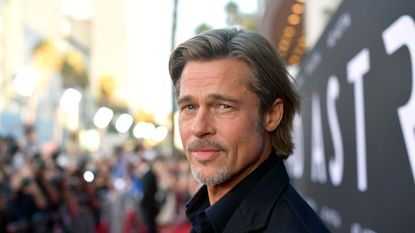 (Image credit: Matt Winkelmeyer)
Brad Pitt took his new girlfriend, Nicole Poturalski, to his and Angelina Jolie's French castle slash wedding venue on their wedding anniversary.
Brad reportedly doesn't care what Angelina thinks.
Nicole is reportedly married and in an open relationship.
So, Brad is dating married German model Nicole Poturalski. They met in 2019 at her husband's restaurant, but Roland Mary is totally cool with her seeing the Once Upon a Time in Hollywood star.
When the news of Brad's new relationship broke, paparazzi photos of them heading down to his castle in the south of France emerged. At first, just knowing that Brad took his new girlfriend to his and Angelina Jolie's castle was enough to prompt some side-eye. But get a load of this: Brad took Nicole to the castle, where he and Angelina married in 2014, on his and Angelina's wedding anniversary. Way to throw salt in the metaphorical wound, Brad!
Umm, yeah. It'd be totally understandable if Angelina was peeved about him taking Nicole to their wedding venue, which they still reportedly share. Remember: Their divorce was held up for a while because they had issues deciding how to split the castle.
Even if she were upset, according to Us Weekly sources, Brad couldn't care less what Angelina thinks about his love life. They claimed:
"Taking Nicole to Miraval on their former wedding anniversary, Brad knows exactly what he is doing and the reaction it's going to get from Angelina. He just doesn't care if Angelina is going to lash out. He expects she will."
Damn. This is divorce is getting messier and messier by the minute. Hopefully Brad and Angelina are able to work out the custody arrangement for their children before things get even worse.
Shannon is a news writer at Cosmopolitan.com, and when she's not obsessing about Cardi B, she's thinking about Justin Bieber and still trying to memorize Beyoncé's Beychella choreography.