MC Cheatsheet: Butchers Warn Against Lady Gaga Meat Dress for Halloween
Plus, check out what other sites and stories we've been clicking on today.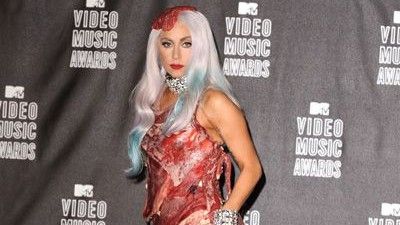 (Image credit: Steve Granitz/WireImage)
Jessica: "Beware, all you Little Monsters…" BuzzFeed
Sophia: "According to this poll, 6 p.m. is when men are most likely to agree to favor requests. I'm totally trying this tonight." Lemondrop
Anna: "In case you, like me, have found yourself wondering why American Apparel models pose the way they do, behold — the McSweeney's list of names of poses for AA models. It all makes sense now." McSweeney's
Kate: "Our fearless leader talks about the season's must-have accessory: Marie Claire's brand-new iPad app, of course." StyleCaster
Koryn: "Oh, Dylan, you haven't changed." Gawker
Elana: "She may be able to navigate parties in McQueen's armadillo-style platforms with ease, but apparently Daphne Guinness cannot operate a bathtub faucet. Selective skills, I guess?" The Cut
Tell Marie Claire: What are you obsessed with today? Share your faves in the Comments section below!