Just 48 Surprisingly Creepy Pictures from Behind the Scenes of 'Stranger Things'
If you thought Hawkins got less creepy when the cameras stopped rolling...think again.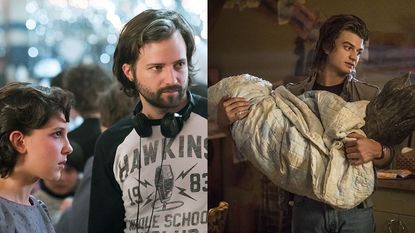 (Image credit: Netflix)
If you thought things in Hawkins stopped being a creep-fest when the cameras aren't rolling, then think again. Here are 48 pictures from behind the scenes of Stranger Things that prove the creepy vibes never stop on set.
1/48
Series creators Matt and Ross Duffer, making the magic happen.
2/48
Finn Wolfhard living your nostalgia dreams in the arcade set between takes.
3/48
Everything is bathed in eerie lights on the Stranger Things set—even behind the camera.
4/48
Just David Harbour and Millie Bobby Brown filming one of those father/daughter scenes that made your heart swell.
5/48
You can tell this is a behind-the-scenes picture because that smirk is pure Millie, not Eleven.
6/48
Millie Bobby Brown, in her element as Eleven on set.
7/48
New cast member Sadie Sink talking through a scene between takes.
8/48
Winona Ryder getting final touches before filming a scene with the oh-so-talented Noah Schnapp.
9/48
Run, cast of Stranger Things, run!
10/48
Dacre Montgomery staying in character as a terrifying bad boy when the cameras weren't rolling.
11/48
Sadie Sink and Gaten Matarazzo, nailing the "average middle schooler" vibes while filming a scene.
12/48
Real talk: How long do you think Noah Schnapp had to spend in that hospital bed between scenes?
13/48
Natalia Dyer and Charlie Heaton even have chemistry when they're sitting still, doing nothing.
14/48
Sadie Sink getting finishing touches before a scene.
15/48
Not sure if the camera equipment makes this pit more or less terrifying.
16/48
Noah Schnapp, apparently preparing for a career behind the camera (which we would be 100 percent here for).
17/48
Millie Bobby Brown chilling between takes on the set of that polarizing Chicago episode.
18/48
Millie Bobby Brown, totally in character as the brooding, serious Eleven.
19/48
Paul Reiser, going over a script with one of the Duffers.
20/48
The Duffer Brothers, making the show creepy perfection (thanks, guys).
21/48
The Duffer Brothers working with Caleb McLaughlin on set.
22/48
If this shot doesn't bring back childhood Halloween memories, we don't know what will.
23/48
The Duffer Brothers and Caleb McLaughlin working between scenes.
24/48
The Duffer Brothers, looking beyond cool walking around set.
25/48
The Duffer Brothers, Noah Schnapp, Gaten Matarazzo, and Caleb McLaughlin talking through a scene in the arcade set.
26/48
You'd never know from the smile on his face that they're filming a horror show.
27/48
The Duffer Brothers poring over a script.
28/48
The Duffer Brothers talking to the child stars while filming one of the Halloween scenes.
29/48
Finn Wolfhard, Gaten Matarazzo, and Caleb McLaughlin filming one of the Halloween scenes.
30/48
No actor has ever looked more believably sick than Noah Schnapp. He could pull a Ferris Bueller any day he wanted to.
31/48
Caleb McLaughlin talking with director Shawn Levy behind the scenes.
32/48
A behind-the-scenes peek at one of those very intense getaway scenes in Chicago.
33/48
Finn Wolfhard and Winona Ryder, prepping for a scene on the hospital set.
34/48
The Duffer Brothers, focusing intently on scaring the pants off of every Netflix subscriber on earth.
35/48
Proof that the Stranger Things set is creepy behind-the-scenes too.
36/48
Even in the behind-the-scenes shots, it's impossible not to want to hug Noah Schnapp.
37/48
Joe Keery, carrying around everyone's favorite Stranger Things prop—the baseball bat with the nails.
38/48
What is Finn Wolfhard whispering to Charlie Heaton here? We're actually dying to know.
39/48
Film equipment does help this Winona Ryder scene look less terrifying.
40/48
Just Joe Keery carrying a little Demogorgon around like it's NBD.
41/48
Here's who to thank for the amazing attention to detail on Stranger Things: The Duffers. End. Of. Story.
42/48
Just in case you thought this creepy-city cave was CGI, it's not. The Stranger Things actors are brave, brave souls.
43/48
Fingers crossed that this amazing cool picture is both the Duffer Brothers profile picture on every platform.
44/48
A yearbook-worthy candid from filming the Snow Ball scene.
45/48
Remember when Nancy asked Dustin to dance at the Snow Ball? It's also adorable with the giant camera reminding you that it's really Gaten and Natalia.
46/48
Did the Duffer Brothers give a speech while the cast filmed the Snow Ball scenes? And if so, why isn't it on YouTube?
47/48
Joyce/Jim shippers should bookmark this picture of Winona Ryder and David Harbour laughing between takes.
48/48
And finally, here's Millie Bobby Brown, taking direction and looking like a pro.
Kayleigh Roberts is a freelance writer and editor with more than 10 years of professional experience. Her byline has appeared in Marie Claire, Cosmopolitan, ELLE, Harper's Bazaar, The Atlantic, Allure, Entertainment Weekly, MTV, Bustle, Refinery29, Girls' Life Magazine, Just Jared, and Tiger Beat, among other publications. She's a graduate of the Medill School of Journalism at Northwestern University.