36 Celebrity Couples Who Aren't Afraid of PDA
Ahead, ridiculously cute celebrity couples who are not-at-all afraid to show a little PDA, including Ryan Reynolds, Blake Lively, Chrissy Teigen, John Legend, and more.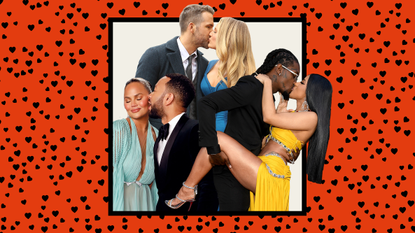 (Image credit: Design by Morgan McMullen )
People have been obsessed with celebrities since the dawn of time (or, at least, it feels like it). And thanks to celebrities' fondness for oversharing, we know which creepy mask (opens in new tab) is keeping celebrities' faces smooth, the wine (opens in new tab) Kylie Jenner drinks to unwind after a long day, and the "best ever" barbecue chips (opens in new tab) Cardi B loves that I suddenly have to try. On top of that, we get to see just how obsessed with each other all of our favorite Hollywood couples (opens in new tab)are. Some of them get very frisky with their late-night Instagram comments; others open up about their lover on late-night shows; and a few special people leave nothing to the imagination with their couples' photos. And don't even get me started with the red carpets. Am I the only one that has had to walk away from the television after another celebrity licking (opens in new tab)?
Still, if there's one thing I love more than celebrity culture, it's love! Here, we've rounded up 36 couples that aren't scared to show their significant other just how important they are to them. Whether it be holding hands, a peck, or a full-on makeout sesh, these couples aren't scared of a good public display of affection. Enjoy all these sweet moments—we all deserve to feel loved by the people we care about most, in private and in public!
1/28
Gwen Stefani and Blake Shelton
These two couldn't help their love as much as they tried. They met while shooting The Voice and quickly fell hard (opens in new tab) for each other. Now, they are nauseatingly cute everywhere from Instagram to the Grammys (opens in new tab).
2/28
Sophie Turner and Joe Jonas
People have been obsessing about Sansa Stark and her JoBro lover since they went public in 2016. Joe put a ring on it in 2017, and the two were married in late 2019 in an intimate Parisian wedding (opens in new tab). The pair are always touching, and Sophie is the biggest JoBro fangirl. In early 2020, rumors started swirling Sophie is expecting the couple's first child and I personally can't wait for Baby Jonas (opens in new tab).
3/28
Priyanka Chopra and Nick Jonas
Nick and Priyanka took the Internet by storm when they attended the 2017 Met Gala together. Their 2018 wedding (opens in new tab)was a spectacle—there was a literal dance competition (opens in new tab) and Nick totally cried (opens in new tab) —and since then the Jonas love has been on full display.
4/28
Cara Delevingne and Ashley Benson
The couple were initially pretty private, but Cara began opening up about their relationship to Marie Claire in 2019 (opens in new tab) and the pair made headlines at the U.S. Open (opens in new tab). Now, they can be seen together on the red carpet, front row at fashion week, or on Instagram.
5/28
Ryan Reynolds and Blake Lively
Ryan Reynolds and Black Lively have a habit of being really, really ridiculously cute with each other in public. Whether they're trolling each other (opens in new tab) in interviews or playing around on the red carpet (pictured, here, at the 2014 Met Gala), their PDA-filled marriage is one for the books.
6/28
Jennifer Lopez and Alex Rodriguez
There's a reason the internet is obsessed with newly minted couple Jennifer Lopez and Alex Rodriguez (opens in new tab) (a.k.a. J-Rod): They look ridiculously happy together. Here they are smiling and snuggling each other during the 2018 Met Gala.
7/28
Chrissy Teigen and John Legend
Ultimate love birds Chrissy Teigen and John Legend have reigned King and Queen of the Red Carpet since tying the knot in 2013. In 2016, Legend shared a quick kiss with then-pregnant Teigen before heading into the 88th Annual Academy Awards.
8/28
Zoe Saldana and Marco Perego
Throw a red carpet in front of Zoe Saldana and her husband Marco Perego and they're basically guaranteed to make out on it (which, props). Here, in 2016, the couple embraced each other at the premiere of Star Trek Beyond in San Diego.
9/28
Ellen DeGeneres and Portia de Rossi
Ellen DeGeneres and Portia de Rossi are no strangers to red carpet PDA—since their 2008 marriage, the couple has supplied us with a portfolio of ridiculously sweet moments. Exhibit A: In 2008, the couple shared a passionate kiss at the 35th Annual Daytime Emmy Awards in 2008 (to be fair, DeGeneres had just won the award for Outstanding Talk Show Host).
10/28
Kim Kardashian West and Kanye West
Kanye West isn't shy about his admiration for Kim's body, and the couple rarely scale it back in photographs. During the 57th Annual Grammy Awards in 2015, Kanye and Kim went in for a (touchy) kiss.
11/28
Beyoncé and Jay-Z
Although Beyoncé and Jay-Z (opens in new tab) are relatively low-key about their private life, the couple don't hold back when it comes to PDA—especially when they're performing. Here, the objectively epic husband and wife kiss on stage during their 2018 On the Run II Tour.
12/28
Emily Blunt and John Krasinski
Emily Blunt and John Krasinski reached peak cute when the duo starred in Krasinski's A Quiet Place (opens in new tab) in 2018. At the movie's New York premiere in April, Blunt cheekily grabbed Krasinski's butt in front of the cameras.
13/28
Gisele Bündchen and Tom Brady
Honestly, you can't blame Gisele Bündchen and Tom Brady (together since 2007) for being so touchy in public—the duo is arguably the hottest couple of all time. For Bündchen and Brady, the 2018 Met Gala was the perfect spot for a hefty dose of PDA.
14/28
Kristen Bell and Dax Shepard
Sure, Kristen Bell and Dax Shepard typically aren't ones to flaunt their relationship in public, but that doesn't mean they always play it safe on the red carpet. Here, the loved-up duo share a kiss at the 70th Annual Golden Globe Awards in Los Angeles.
15/28
Jesse Tyler Ferguson and Justin Mikita
Jesse Tyler Ferguson laid a wet one on the cheek of husband Justin Mikita at the 26th Annual Elton John AIDS Foundation Academy Awards Viewing Party in 2018, and Mikita's smile was contagious.
16/28
Jada Pinkett and Will Smith
Jada Pinkett and Will Smith have been together since 1997, which means they've had more than a few opportunities to spice up the red carpet with PDA. In 2007, the coupled stopped for a quick makeout sesh while walking into the 22nd Annual Santa Barbara Film Festival.
17/28
Charlie Heaton and Natalia Dyer
The Stranger Things co-stars turned real-life lovers have gone on a ridiculously sweet, PDA-filled tour since confirming their relationship (opens in new tab) in December 2017. Here, the couple poses cheekily at the 2018 Dior Addict Lacquer Plump event in Los Angeles.
18/28
Dwayne Wade and Gabrielle Union
Since making their official red carpet debut in 2010, Gabrielle Union (opens in new tab) and Dwayne Wade have cemented a red carpet presence with just the right amount of PDA (read: they leave some things to the imagination). Case in point: The duo shared a sweet hug at Union's 2017 appearance at Ulta Beauty in Florida.
19/28
Samira Wiley and Lauren Morelli
Finding a photo of Samira Wiley and wife Lauren Morelli not looking madly in love is a genuine struggle. Just take a peek at their faces during the Variety and Women In Film's pre-Emmy celebration in 2017. (I mean…)
20/28
Keith Urban and Nicole Kidman
Yes, Nicole Kidman did have a brief PDA moment with her co-star Alexander Skarsgård (opens in new tab) at the 2017 Emmys, but it was nothing compared to her incredibly sweet PDA moments with husband Keith Urban. The couple—who have been married since 2006—held each other at the Cannes Film Festival in 2017.
21/28
Adam Levine and Behati Prinsloo
Adam Levine and Behati Prinsloo—who welcomed their second daughter together in February 2018—shared a kiss after Levine was awarded a star on the Hollywood Walk of Fame in 2017.
22/28
Lisa Bonet and Jason Momoa
At the 2015 InStyle Awards in Los Angeles, under-the-radar duo Lisa Bonet and Jason Momoa (who got married in 2017) showered the red carpet with PDA (and promptly became the couple with the best hair).
23/28
Armie Hammer and Elizabeth Chambers
Armie Hammer and his wife Elizabeth Chambers—two equally beautiful and tall specimens—were caught in a cute embrace at the 2017 Independent Film Awards in New York City.
24/28
Alison Brie and Dave Franco
Alison Brie and Dave Franco are one of my favorite, low-key couples (opens in new tab)—but that doesn't mean they're anti-PDA. At the Screen Actors Guild Awards Gala in January 2018, the married couple shared a close embrace.
25/28
Ryan Michelle Bathe and Sterling K. Brown
After winning the award for Outstanding Performance by a Male Actor at the SAG Awards in 2018, Sterling K. Brown planted a massive (and adorable) kiss on his wife Ryan Michelle Bathe.
26/28
Kelly Rippa and Mark Conseulos
Longtime couple Kelly Pippa and Mark Conseulos are well-versed in the art of PDA. At the 90th Annual Academy Awards in 2018, the couple went in for a playful kiss.
27/28
Kaley Cuoco and Karl Cook
Kaley Cuoco and Karl Cook—who tied the knot (opens in new tab) relatively recently—played for the cameras at the 23rd Annual Critics Choice Awards in January 2018.
28/28
Alec and Hilaria Baldwin
Alec Baldwin scooped up his wife Hilaria (who gave birth to the couple's fourth child this year) at the 66th Annual Cannes Film Festival in 2013.
For more stories like this, including celebrity news, beauty and fashion advice, savvy political commentary, and fascinating features, sign up for the Marie Claire newsletter (subscribe here (opens in new tab)).
Ruby was the beauty editor at Cosmopolitan, where she covered beauty across print and digital. Her work has appeared on The Zoe Report, Fashionista, and StyleCaster. Follow her on Instagram.