The 15 Sassiest Things Kate Middleton Has Ever Done
The Duchess can throw down when she needs to, OK?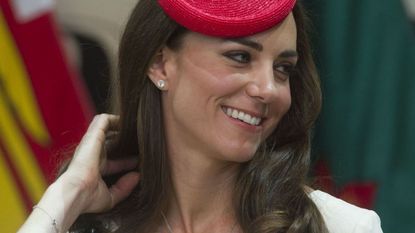 (Image credit: Getty Images)
Kate Middleton's response to a perhaps over-officious supervisor at the Northside Center for Child Development in Harlem, where she was wrapping gifts during a photo opportunity while in New York last week, was the eye-roll heard around the world. Nobody expected such unbridled, snarky emotion from an otherwise carefully sanitized member of the British royal family, even in a moment when she'd maybe forgotten the cameras were rolling. It's her middle-class stock, the nobility whispered, while the media applauded, because hey, there's clickbait potential in the phrase "royal side-eye."
But beneath the blowouts and respectable veneer, KMid has always had a bit of a sassy streak. Or it would seem, at least, that she's not as dry toast as she has to present herself in public. Here, 15 times she let her sass flag fly.
1. The aforementioned side-eye, because you can never have too much of this royal GIF:
2. When she caught Prince William's attention in the first place modeling a barely there gown in a student fashion show at St. Andrew University, where they both studied.
3. Oh, and when she also dressed up as an adult baby during her time at university.
4. WHEN SHE HULA DANCED THAT ONE TIME:
(And then got pregnant shortly afterward.)
5. When she visited the Harry Potter Studio Tour with William and Prince Harry, and posed gamely with a wand even though you could tell she thought the whole thing was ridiculous; she'd already worked her magic on William, you see. ZING.
6. When she learned to DJ, and DJ Jolly Hockey Stix was born. Even if you don't like nightclubs, you would pay as much to see KMid DJ as you would Paris Hilton, right? (Meaning a lot in theory, but very little if the opportunity actually came to pass.)
7. When she had a bit of a Marilyn Monroe moment — or, more accurately, moments — and you could occasionally catch a glimpse of her underwear, if you're into that.
8. When she used to captain a dragon boat racing team and would occasionally get photographed standing majestically on the boat with a paddle, making it clear she could steer a country into the future as well as she could a small boat along the Thames.
9. And in other boat antics, when she beat Prince William in a yacht race while on their grand tour of Australia and New Zealand last year. It takes a lot of sass to beat the future King of England at anything, even if you've married him.
10. When she dressed up in sequins and hot pants for a charity roller-skating party while at a widely reported "make or break it" point in her relationship with Wills, which is as sure a way as any of shouting, "LOOK AT WHAT YOU COULD BE MISSING, PRINCEYPOO."
11. When she birthed Prince George, who I think we all agree is a delightful lil' sass monster.
12. When she went grocery shopping on her own but threw some very unimpressed glances at a photographer who snapped her pushing her cart.
13. When she made excitable faces watching tennis.
14. And when she made lots more excitable faces watching the Olympics.
15. This: