Bachelor Wedding Wines
So tonight's the night – Ben finally chooses the girl who's going to make him a non-Bachelor.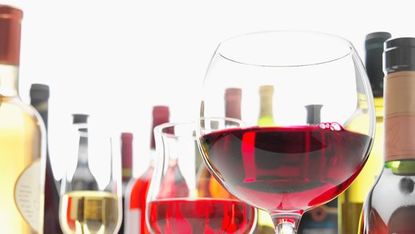 (Image credit: Getty Images)
So tonight's the night — Ben finally chooses the girl who's going to make him a non-Bachelor. Orrrrr not, since we all know the rumors that he chooses Courtney but now isn't into her after seeing the season play out. But I've given Courtney props all season — she's in competition to win the heart of a winemaker and has masterfully displayed her grape love every week. As for Lindzi, I just didn't see the extra wine mile from her. Regardless, she's still in contention for the ring so I have to wonder: if each of these girls picked wines to serve at their weddings, would they be? Obviously, Ben would serve all Envolve wines (though they don't make a sparkling, which you'd of course need for toasts). As for the girls, here's how I see the wine choices going down.
LINDZI'S WEDDING WINE LIST:
Sparkling
Lindzi's like the girl with all good traits - nice, fun, pretty, melting her ice queen-ness and opening up. So as they kick off the wedding with some bubbles, they should choose one made from all white grapes (yeah, you know where I'm gonna go with this for Courtney). In sparkling wine terms, white grapes mean Chardonnay, and an all-Chardonnay's called a "blanc de blancs" (white of whites).
They'd serve: Biltmore NV Blanc de Blancs, Russian River Valley ($25). Light, a little tart and refreshing - a good affordable choice for a sparkling wine!
White
Right from Lindzi's bold entrance riding in on a horse, Ben knew he had an adventurous girl on his hands. She also repelled off a cliff without complaint and dared to tell him she loved him. This is a girl who'd be willing to take a chance on the wines they serve, and in that case they'd probably go with something like Grüner Veltliner. This is an awesome, awesome Austrian wine that's fresh, grassy, and crisp. TBD if Lindzi will regret risking her feelings with Ben, but she wouldn't regret serving Grüner.
They'd serve: Domäne Wachau 2011 Grüner Veltliner Federspiel Terrassen ($15). This has fantastic white pepper taste and the classic grassy smell. A perfect wine for spring and new love.
Red
In addition to the horse entrance, Lindzi brought Ben to her family's horse farm in Florida where they had carriage races. Obviously, her perfect red would be from Horse Heaven Hills, an AVA in Washington State that makes great Merlot. The area is very windy which helps the grapes avoid rotting as they grow - we'll see if Lindzi and Ben's love can stay healthy too!
They'd serve:
2009 Columbia Crest H3 Merlot ($11). Solid flavors of chocolate, plum and blueberry. A mildly earthy crowd pleaser, like our girl Lindzi.
COURTNEY'S WEDDING WINE LIST:
Sparkling
So if Lindzi's all good, Courtney's going to go with bubbles made mostly from the "black" grapes in the traditional Champagne blend, Pinot Noir and Pinot Meunier. Such sparkling wines are called blanc de noirs ("white of blacks").
They'd serve: Iron Horse Wedding Cuvée ($38). Not only is this aptly called Wedding Cuvée, but it's made from 88% Pinot Noir (12% of white Chardonnay grape thrown in for when Courtney cried and apologized on Women Tell All). It's creamy with small bubbles and has a great pink tinge – the perfect accompaniment to food or toasting!
White
Throughout the season, no one had as much of an acid tongue as Courtney. Seriously, that Women Tell All montage was really a mean-tage of all her zingers (and frankly, I thought some of them were pretty funny if not mildly deranged). So for her wedding white wine, clearly they'd go with something acidic and thin - she's a model after all, and does look phenom in a bikini - like Sauvignon Blanc.
They'd serve: Craggy Range Sauvignon Blanc, Te Muna Road Vineyard ($16). More complex than most New Zealand Sauvignon Blanc's but still awesome and tangy! This is some great juice full of grapefruit, grapefruit, and more grapefruit.
Red
What Ben liked about Courtney was that she had some backbone and complexity: "She challenges me. She keeps me on my toes. She's funny. She's confident. She's sexy. She's beautiful. I don't know. She keeps me thinking." Eh, maybe he was just talking about the bottle of Cabernet he'd had the night before. And like a young Cab whose tannins need time to soften, Courtney might just need a few years to mature and mellow out.
They'd serve: Mount Veeder 2008 Cabernet Sauvignon, Napa Valley ($40). Great blackberry and mocha flavor, plus has some really dusty tannins and not the kind that just assault you like a girl in the Bachelor house. Courtney could really learn a thing or two from this subtle wine, and maybe her recent softened behavior indicates this is what she's been drinking all season.
Best wishes, Ben! We don't know if you choose Lindzi or Courtney (or neither), but we do know you'll be popping open some good bottles tonight.
For more wine fun, head to grapefriend.com!
Celebrity news, beauty, fashion advice, and fascinating features, delivered straight to your inbox!