9 Netflix Hacks That Will Change Your Life
Bingeing just got even more beautiful.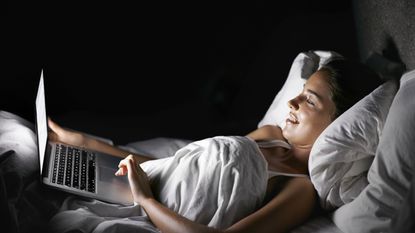 (Image credit: Archives)
1. Helium (opens in new tab). It's a floating, transparent browser window that allows you to watch Netflix while you work and it will revolutionize your productivity game. I don't know about you, but I get a lot more done when I'm watching OITNB at the same time as I'm churning through my work like a boss. (You see, it motivates me to work hard so I don't end up losing my job and then be forced to turn to a life of crime and end up at Litchfield. It could happen!)
2. The Neflix Enhancement (opens in new tab). This glorious bundle of ingenious Netflix add-ons for Chrome will change your entire life for the better (and for free!). With one quick installation, you can get IMDB profiles, trailers, and pop-up ratings from Metacritic and Rotten Tomatoes. It's seriously the greatest and if it went away it would be more devastating to me than my last breakup.
3. Watch in HD (opens in new tab). It costs the same as a Standard Def subscription and you can see the pores of all your favorite actors, up close and personal. I love the future!
4. Watch Netflix from other countries! You can use the free site Hola (opens in new tab) or the paid site Media Hint (opens in new tab) to access the Netflix lists for other countries. Anglophiles, now you can enjoy all those obscure britcoms from the comfort of your own couch here in the good ol' U.S. of A! *Praise hands*
5. Create Multiple Profiles (opens in new tab). This is great if your tastes (Rom-Coms With a Female Lead Who Falls Down A Lot differs greatly from your partner's tastes (Undercover Boss, exclusively). With separate profiles, you two can be into totally different weird shit and it won't affect your ratings or anything else. Plus, with multiple profiles, you can create one for your mom when she comes over so her incessant viewing of American Dad doesn't totally throw off your expertly curated queue. (And, if you want to watch embarrassing stuff and never let anyone know that, you can always create a profile and delete it when you're done! Nobody has to know just exactly how much you love Beauty and the Briefcase.)
6. Instant Watcher (opens in new tab). Keeps you up-to-date on what's coming and going from Netflix. Which, as anyone who's gone to watch something and had it not been there can tell you, might literally save you from a stroke.
7. Flix Roulette (opens in new tab). This is the most fun under the Netflix sun. You use your general tastes — you can specify favorite directord, actors, or even keywords — to narrow down your search, Flix Roulette chooses something for you based on what you're into. I've discovered so much good stuff from this that I now leave the house less than ever. I consider that a win!
8. Buh-bye to Buffering. Don't even get me started on that asshole, Buffering. She is so not invited to my holiday party this year. (My holiday party is eating cookies shaped like snow men and watching Glitter on repeat. You're invited.) To kick this no-goodnick to the curb, while playing a title, hold down Shift+Opt (Shift+Alt for Windows) and left click, to open up a "hidden" menu (called the Stream Manager) with buffering fixes and some other ways to help you out. (If you are using Chrome, press Ctrl+Shift+Alt/Opt+S to access this menu.) Unfortunately, this only works on a computer so if you're watching on your TV, you're gonna have to microwave an extra bowl of popcorn and snuggle up with Buffering because she ain't going nowhere.
9. Reddit to the rescue! (opens in new tab) How many times can you say Reddit brought something good into your life? Well, here's one! At r/netflixbestof, people share their thoughtful picks for lesser known Netflix treasures that you'll probably want to check out before they're gone. Which might be before the end of this sentence.
Follow Marie Claire on Instagram (opens in new tab) for the latest celeb news, pretty pics, funny stuff, and an insider POV.
I write on Fox's THE GREAT NORTH. Before that, I wrote and edited for Cosmopolitan (opens in new tab) magazine and the Jezebel (opens in new tab) blog. My writing has also appeared in the New York Times, The New Yorker, Esquire, VICE, Marie Claire, McSweeney's, California Sunday, BUST, Elle, Village Voice, Harper's Bazaar, LA Weekly, Eater, Fast Company, Mic, Atlas Obscura, and more. I co-host/co-produce a comedy/storytelling (opens in new tab) show on the first Friday of every month at Stories in LA. I have a degree in Film and TV from NYU's Tisch School of the Arts.