7 Key Questions After the 'Big Little Lies' Finale
Spoilers follow, obviously.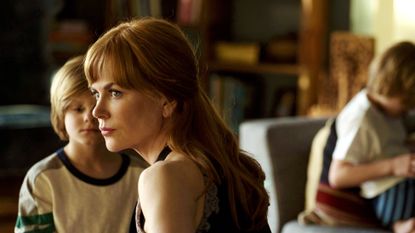 (Image credit: HBO)
After weeks of not reading the book for answers, we finally know exactly what happened on Rich People Trivia Night! SPOILERS FOLLOW. LOOK AWAY NOW.
Bonnie pushed Perry down the stairs to prevent him from further assaulting Celeste. It was more or less the ending we expected, but satisfying nonetheless. Justice (maybe not in the eyes of the law) has been brought to Monterey.
So, Big Little Lies is over. But that doesn't mean all our questions were answered in Sunday's season finale. These are some of the lingering mysteries we want solved:
You're telling me Jane had never seen a picture of Perry anywhere? Not once? We're under the impression these women are pretty good friends throughout the start of the school year. They hang out at the same coffee shop and chat. And Celeste never once showed Jane a picture of her husband?
How did Perry get impaled? Was there just something sticking up out of those stairs that were under construction?
Why lie about what happened? Four witnesses all saw Perry attack Celeste. This was self-defense, as the detectives point out. The show seems to imply that they lie to protect Bonnie, but she was simply stopping a man from brutally beating his wife. There's no reason to lie about what happened.
Why are all these men such good performers? Ed (Adam Scott) and Madeline's ex-husband (James Tupper) sounded amazing. They were originally horrible, Jean-Marc Vallée told Vulture, which led to the obvious lip-syncing. Wouldn't it be more realistic—and fit with both of their characters—if they sounded bad or at least average?
Who was watching them at the end? In an HBO behind-the-scenes clip, we learn it's a detective watching them. But are we supposed to assume they're still under investigation? Which also implies...
Will there be a second season? They certainly leave it open-ended that another season could involve the investigation. But the director wants to leave it this way, as he told The Hollywood Reporter: "Now it's up to the audience and their imagination to figure out. To do a season two, I'm not for it. Let's move on and do something else!"
And, the real question: Why don't any of these families have pets?
Follow Marie Claire on Facebook for the latest celeb news, beauty tips, fascinating reads, livestream video, and more.
Matt Miller is a Brooklyn-based culture/lifestyle writer and music critic whose work has appeared in Esquire, Forbes, The Denver Post, and documentaries.