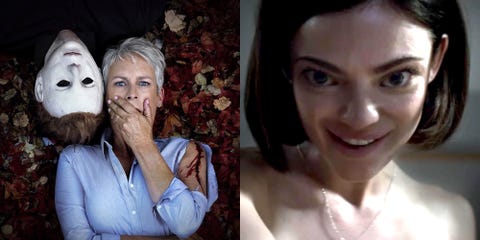 The real world is pretty scary these days, but if you're craving some over-the-top horror to distract you from the terrors of your every day life, here are 17 nightmare-inducing movies coming out in 2018. Fun times!
Release date: July 13, 2018.
Starring: Taissa Farmiga, Demián Bichir, Charlotte Hope, Ingrid Bisu, Jonas Bloquet, and Bonnie Aarons
The Premise: The movie is a spin-off of The Conjuring 2, and focuses on a demon that has taken the form of a woman of the cloth. So terrifying.
Release date: August 3, 2018.
Starring: Boyd Holbrook, Olivia Munn, Trevante Rhodes, Keegan-Michael Key, Sterling K. Brown, Jacob Tremblay, Yvonne Strahovski, Alfie Allen, Thomas Jane
The Premise: Despite appearances, this movie isn't a reboot. It fits into the existing franchise as a prequel to 2010's Predators, and the cast has us more than sold.
Release date: August 10, 2018.
Starring: Jason Statham, Jessica McNamee, Li Bingbing, Winston Chao, Ruby Rose, Rainn Wilson, Cliff Curtis, and Robert Taylor
The Premise: It's literally about Jason Statham battling a monster shark. You're welcome.
Release date: August 24, 2018.
Starring: Shay Mitchell, Stana Katic, Grey Damon, and Nick Thune
The Premise: Anyone suffering Pretty Little Liars withdrawal should make a point to see this movie, which stars Shay Mitchell as an ex-cop starts working in a morgue and witnessing murders. It doesn't take place in Rosewood, but feels like it could.
Release date: October 19, 2018.
Starring: Jamie Lee Curtis
The Premise: Forty years after the original Halloween, Laurie Strode comes face-to-face with Michael Myers yet again.
Release date: October 26, 2018
Starring: Jovan Adepo, Jacob Anderson, Pilou Asbæk, Iain De Caestecker, John Magaro, Wyatt Russell, and Bokeem Woodbine
The Premise: The film is rumored to be the fourth installment in the Cloverfield franchise, but producer J.J. Abrams denies that. All we know for sure about the plot is that it follows a group of U.S. paratroopers who drop behind enemy lines on the eve of D-day only to learn that the Nazis have been experimenting with some scary supernatural forces.

Release date: November 2, 2018
Starring: Tilda Swinton, Dakota Johnson, Chloë Grace Moretz, Mia Goth, and Jessica Harper
The Premise: It's a remake of a 1977 film of the same name. It follows and aspiring American dancer who travels to Germany to train at a ballet school in Berlin. At the school, students start disappearing and she learns the school has a dark past.