21 Horror Movies Coming Out in 2018 for When Real Life Isn't Scary Enough
Let's get scared.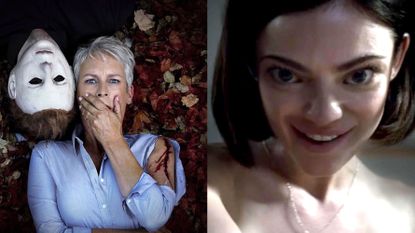 (Image credit: Universal Pictures)
Given everything that's happening in the world, you would be forgiven for thinking the nightly news is all the horror you need in 2018. But if you're in the mood to get real scared, we've assembled 21 of the best horror movies of 2018 for your consideration. (But I won't tell anyone if you need to cover your eyes for the scary parts.)
1. 'Winchester'
Release date: February 2, 2018.
Starring: Helen Mirren, Jason Clarke, and Sarah Snook
The Premise: Helen Mirren stars as Sarah Winchester in this movie based on the true story of the Winchester Mystery House in San Jose, California. Sarah—the heir to the Winchester rifle fortune—builds a massive haunted mansion that's terrorized by the ghosts of people killed by Winchester rifles. Which is a lot of people.
2. 'Annihilation'
Release date: February 23, 2018.
Starring: Natalie Portman, Jennifer Jason Leigh, Gina Rodriguez, Tessa Thompson, Tuva Novotny, and Oscar Isaac
The Premise: The movie follows a group of scientists who have to explore a mysterious disaster area where another group of scientists disappeared—except for one (played by Oscar Isaac), who came back horrifically injured.
3. 'The Strangers: Prey at Night'
Release date: March 9, 2018.
Starring: Christina Hendricks, Martin Henderson, Bailee Madison, and Lewis Pullman
The Premise: This sequel to 2008's The Strangers features a new family being terrorized by the same horrifying group from the first movie.
4. 'Unsane'
Release date: March 23, 2018.
Starring: Claire Foy, Joshua Leonard, Jay Pharoah, Juno Temple, Aimee Mullins, and Amy Irving
The Premise: This movie—shot by Steven Soderbergh on an iPhone (because why not?)—stars Claire Foy as a woman who is committed to a mental institution against her will.
5. 'A Quiet Place'
Release date: April 6, 2018.
Starring: Emily Blunt and John Krasinski
The Premise: This film, starring America's favorite couple Emily Blunt and John Krasinski (and directed by Krasinksi), is about a family hiding from a supernatural baddie that can only hunt them if it can hear them. As a means of survival, they've learned to live an entirely silent life.
6. 'Truth or Dare'
Release date: April 13, 2018.
Starring: Lucy Hale, Tyler Posey, Violett Beane, Nolan Gerard Funk, Hayden Szeto, Sophia Ali, Sam Lerner, and Landon Liboiron
The Premise: Every time you lie (or refuse a dare) in Truth or Dare, you die. Kind of like The Ring meets Final Destination meets the worst slumber party ever.
7. 'Upgrade'
Release date: June 1, 2018
Starring: Logan Marshall-Green, Melanie Vallejo, Betty Gabrial
The Premise: Belonging to the elusive "science fiction action body horror (opens in new tab)" genre, this gorefest is about a guy who gets "upgraded" into a killing machine as part of a secret government experiment and then goes on a revenge quest to figure out who killed his wife.
8. 'Delirium'
Release date: June 5, 2018
Starring: Topher Grace, Patricia Clarkson, Genesis Rodriguez
The Premise: A man who was recently released from a psychiatric hospital decides to recuperate in a mansion he inherits a mansion from his dead father. But—surprise!—there might be ghosts living there. Gee thanks, Dad.
9. 'Hereditary'
Release date: June 8, 2018
Starring: Toni Collette, Alex Wolff, Milly Shapiro, Ann Dowd, and Gabriel Byrne
The Premise: When the family matriarch passes away, her daughter's family starts to unravel horrifying secrets about their ancestry and realize they've all inherited a terrible fate.
10. 'The First Purge'
Release date: July 4, 2018.
Starring: Y'Lan Noel, Lex Scott Davis, Joivan Wade, Luna Lauren Velez, and Marisa Tomei
The Premise: How did the Purge begin? This prequel (with a Make America Great Again knockoff hat as its logo) will tell us!
11. 'The Nun'
Release date: July 13, 2018.
Starring: Taissa Farmiga, Demián Bichir, Charlotte Hope, Ingrid Bisu, Jonas Bloquet, and Bonnie Aarons
The Premise: The movie is a spin-off of The Conjuring 2, and focuses on a demon that has taken the form of a woman of the cloth. So terrifying.
12. 'The Predator'
Release date: August 3, 2018.
Starring: Boyd Holbrook, Olivia Munn, Trevante Rhodes, Keegan-Michael Key, Sterling K. Brown, Jacob Tremblay, Yvonne Strahovski, Alfie Allen, Thomas Jane
The Premise: Despite appearances, this movie isn't a reboot. It fits into the existing franchise as a prequel to 2010's Predators, and the cast has us more than sold.
13. 'The Meg'
Release date: August 10, 2018.
Starring: Jason Statham, Jessica McNamee, Li Bingbing, Winston Chao, Ruby Rose, Rainn Wilson, Cliff Curtis, and Robert Taylor
The Premise: It's literally about Jason Statham battling a monster shark. You're welcome.
14. 'Cadaver'
Release date: August 24, 2018.
Starring: Shay Mitchell, Stana Katic, Grey Damon, and Nick Thune
The Premise: Anyone suffering Pretty Little Liars withdrawal should make a point to see this movie, which stars Shay Mitchell as an ex-cop starts working in a morgue and witnessing murders. It doesn't take place in Rosewood, but feels like it could.
15. 'Searching'
Release date: August 24, 2018
Starring: Jon Cho, Debra Messing, Michelle La
The Premise: The story of a widower who tries to discover the whereabouts of his missing daughter using only her online presence, this thriller is about what we get from technology and what it takes away from us.
16. 'Slice'
Release date: Streaming as of September 11 (watch it here (opens in new tab))
Starring: Chance the Rapper, Zazie Beetz, Joe Keery, Paul Scheer
The Premise: I'm sorry, is this an A24-released, pizza-themed horror movie starring Chicago's own Chance the Rapper? Say no more. Just take my money.
17. 'Climax'
Release date: September 19. 2018 (France)
Starring: Sofia Boutella, Romain Guillermic, Kiddy Smile
The Premise: This trippy, surrealist movie from visionary director Gaspar Noé (Enter the Void) follows a party full of dancers who slowly realize that reality is getting mixed up, thanks to someone dosing the communal sangria with LSD. Wondering where the horror comes in? Take a look at that trailer and you'll begin to see just how scary a prospect that could be.
18. 'The House with a Clock in Its Walls'
Release Date: September 21, 2018
Starring: Jack Black, Cate Blanchett, Owen Vaccaro, Renée Elise Goldsberry, Sunny Suljic, and Kyle MacLachlan
The Premise: In this family-friendly horror-comedy, a young orphan has to help his uncle and a witch ::shrug emoji:: find a magic clock with the power to end the world.
19. 'Halloween'
Release date: October 19, 2018.
Starring: Jamie Lee Curtis
The Premise: Forty years after the original Halloween, Laurie Strode comes face-to-face with Michael Myers yet again.
20. 'Suspiria'
Release date: November 2, 2018
Starring: Tilda Swinton, Dakota Johnson, Chloë Grace Moretz, Mia Goth, and Jessica Harper
The Premise: It's a remake of a 1977 film of the same name. It follows and aspiring American dancer who travels to Germany to train at a ballet school in Berlin. At the school, students start disappearing and she learns the school has a dark past.
Cady Drell is a writer, editor, researcher and pet enthusiast from Brooklyn.