Clare Crawley's 'Bachelorette' Cast: Every Detail We Know
Get to know the contestants—they're super-important this season.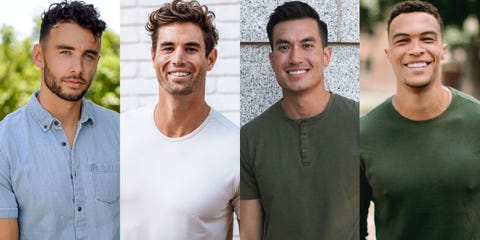 Okay, are you sitting down? Because I'm about to give you a lot of information. The 2020 season of The Bachelorette saw a major delay, a lead replacement, and two cast shake-ups—basically, in the vernacular of Chris Harrison, the most dramatic season ever (but, like, actually this time). This list of men is the official cast list for Clare Crawley's season: 31 men in all. (Forty-two men were cast, but we'll get to why this list only has 31 contestants on it in just a sec.) And boy, has it been a long road to get here.
Cast your mind back to early 2020. Producers initially cast men for Crawley's season—and then the COVID-19 pandemic hit. The show was put on hold and producers took the opportunity to, uh, take a closer look at the men and get rid of some of the younger ones (there was a 23-year-old, people, and Crawley is 39). They also set up more alternates for her cast in case someone tested positive for COVID-19 while they all isolated on set at the La Quinta Resort & Club in California. Seventeen men were from the original cast; the other 25 were new. But not all 42 cast members were going to make it on screen. This list is the men who do.
Oh, but then. Just in case we weren't already confused enough! Crawley only filmed a few episodes of her season before reportedly zeroing in on one particular contestant and choosing to move forward in a monogamous relationship, off the show. No spoilers in this intro, but we'll indicate who we're talking about in the slideshow. So then, Bachelor alum Tayshia Adams was asked to fill Crawley's shoes and come on as the season's second Bachelorette—the first time on the show this has happened—meaning she'll have her own cast list, which is here.
Details on the men come from their social accounts, Bachelorette spoilers, and Reality Steve, plus their full bios from ABC. I've included Instagram accounts where available (some of the men don't have them). Get to know these guys now, because there's going to be a lot of drama.
This content is created and maintained by a third party, and imported onto this page to help users provide their email addresses. You may be able to find more information about this and similar content at piano.io