My Private Pilates Class with Blake Brody's New Vegan Footwear
We test out Blake Brody's new vegan shoes for (usually shoeless) workouts like yoga and Pilates!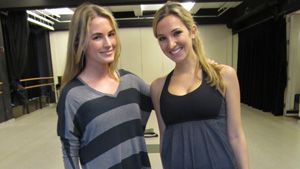 (Image credit: Archives)
I'm a big fan of yoga, Pilates, coreFusion, and ballet — basically any type of workout that has to do with flexibility and core strength. So I was psyched when footwear designer Blake Brody invited me to a private Pilates session so that I could try out her workout shoes firsthand! It felt a little funny being in a class of three people (especially since Blake is awesome at Pilates and I hadn't worked out in a few weeks), but it was a great way to test out the shoes.
Basically, instead of going barefoot when you do any studio workout, you can wear a pair of Blake Brodys (opens in new tab). The plus is that you have an added layer of protection for your feet, not to mention it's more hygienic to cover your tootsies mid-workout. Personally, I thought it might feel a bit unnatural wearing shoes in Pilates, but the weird thing is that the shoes are so comfortable, you forget that you are even wearing them! This may have to do with the fact that Blake, an avid yogi, consulted all her favorite instructors on the form and fit of the shoes. And an added bonus? The shoes are vegan and made from environmentally-conscious materials. Working out never felt so good!
Check out my fave pairs from her current collection below.