Instant Classic: Sports Watches
Not to be left in the dark, macho midnight-hued timepieces keep tickin' through the digital age.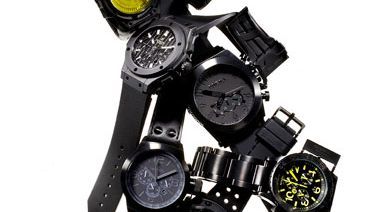 (Image credit: Jeffrey Westerbrook/Studio D)
Technology is a funny thing. Remember those geek-chic calculator watches from the '80s? Back then, Casio took time-keeping to a whole new level with PDA-like sophistication. (Dwight from The Office still wears his.) But these sleek selections shed the nerdy vibe in less than 60 seconds with their chunky straps, multiple dials, and glow-in-the-dark (without disturbing your neighbor at the movie theater) faces. On time is the new fashionably late.
WATCH OUT

(clockwise from the top left.)
1. Linde Werdelin, price upon request; lindewerdelin.com.
2. Alessi, $120; alessiwatches.com.
3. Brera, $750; breraorologi.com.
4. Breil, $850; (888) 494-8463.
5. Nixon, $450; nixonnow.com.
6. Glam Rock at Saks Fifth Avenue, $1,525; (212) 753-4000 for stores.
7. TW Steel at Kenjo, $650; (212) 333-7220.
8. Hublot at Shapur Mozaffarian, price upon request; (415) 392-1200.