10 Fashion Trends We Hope Never Come Back
While some trends are hot in theory, not all translate in real life. Here are some celeb fashion looks we'd rather forget.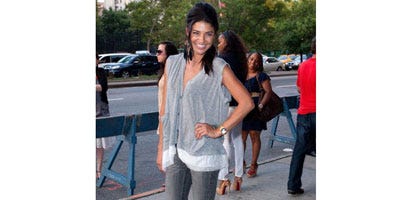 Dario Cantatore/Getty Images Entertainment
Clogs, harem pants ... it seems like everything that's old is new again, as exemplified by these famous faces. But when celebs can barely pull a look off, is there any hope for the rest of us? Click through for fashion "moments" that, well, were over before they began.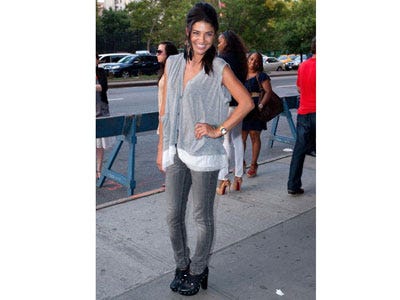 Dario Cantatore/Getty Images Entertainment
Clogs
We have mixed feelings about clogs being back. Can they really be rocked, or should they remain part of Dutch folklore? Actress Jessica Szohr makes a great case for clunky shoes at the screening of Twelve in New York, but we remain somewhat unconvinced.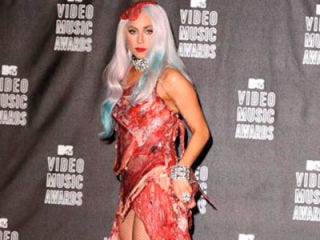 Edible Attire
Sure, we love the lady, but do not try this at home kids! The carcass couture Lady Gaga sported to the MTV Video Music Awards definitely deserves a warning label. While her extreme ensemble prompted other celebrities to follow suit (Ellen DeGeneres offered her an animal-friendly vegetable bikini), this stinky style should be kept in the freezer. (Unless you're Lady Gaga, of course.)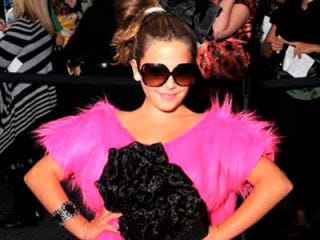 Katy Winn/Getty Images Entertainment
Fluorescent Faux Fur
One of the best ways to make a classy piece look cheap is by dying it fluorescent. Fashion designer Cecilia Cassini sports this over-sized, bright dress at New York's Fashion Week, making us wish she'd gone with boring, basic black instead.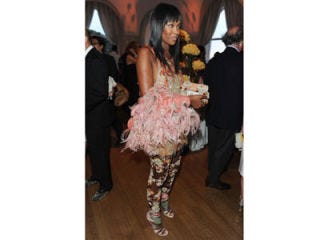 Printed Pants
Model Naomi Campbell looks like she grabbed a bunch of household items and put together one train wreck of an outfit. While it's hard to find any part of this look forgivable, some elements are more offensive than others. The wrong print on a pair of pants can look like you tore down your living room curtains a la Scarlet O'Hara and refashioned them for your wardrobe.
Samir Hussein/Getty Images Entertainment
Oversized Ponchos
We love a poncho now and then, especially if it's a Louis Vuitton. Yum! However. We can all agree that too-big knits in public can easily turn your look from homey to homely. British pop singer Lily Allen looks like she'd be much more comfortable on her living room couch.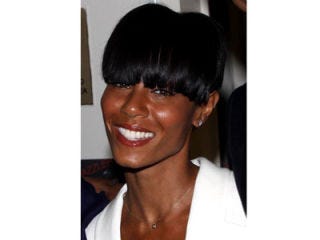 Thick Bangs
While bangs are definitely back, like ponchos, they can cover up too much if done the wrong way. You can barely see actress Jada Pinkett Smith's eyes through the black drape over her face.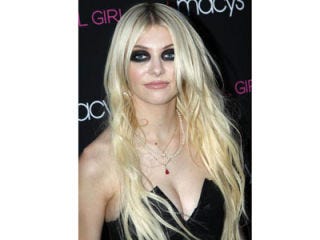 Raccoon Eyes
Easy on the eyeliner, Taylor! There's a fine line between smoky and raccoon eyes. Actress Taylor Momsen is a pretty girl, so why is she going with the footballer look?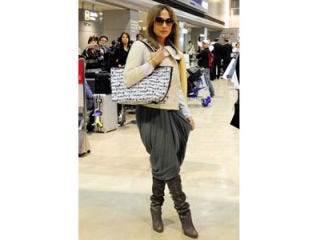 Parachute Pants
These pants may be useful if you're trying to escape from a burning building, but when it comes to flattering the female physique parachute pants fall flat. J. Lo looks more like a South American gaucho in this photo than a sexy diva from the Bronx.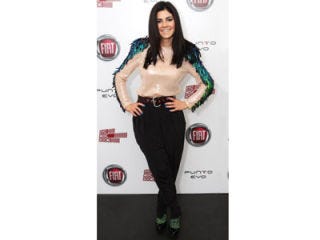 Claire R Greenway/Getty Images Entertainment
Shoulder Pads
Welsh singer songwriter Marina Diamandis certainly doesn't hit the right note with this outfit. Reminiscent of the late Michael Jackson's stage costumes, this top takes shoulder pads to another level — one she should never revisit.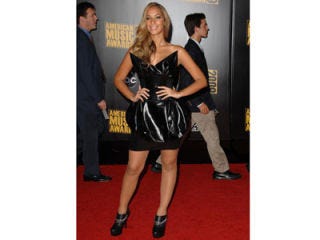 Embellished Hips:
Leona Lewis, another pop star from across the pond, isn't striking the right tone either with this black dress, which exaggerates all aspects of the female form, especially in the hips.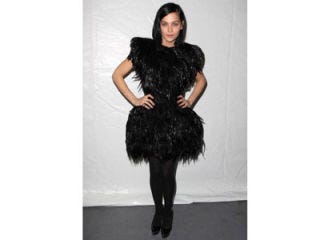 Feather Overload
Feathers in a fashion spread? Sure. A plumed headband? Love it. But with this ensemble, DJ and model Leigh Lezark proves that there is such a thing as more is less. While feathers can take an outfit from plain to posh, too many overshadow the entire look.
This content is created and maintained by a third party, and imported onto this page to help users provide their email addresses. You may be able to find more information about this and similar content at piano.io