The Most Fashionable Year a Baby Has Ever Had
The go-to male fashion icon of the under-three set.
Prince George may be just one year old, but he's already affirmed himself as the go-to male fashion icon of the under-three set. And even with just a few public appearances under his belt he's already shown to have a few sartorial go-to's he favors and taking outfit cues from mom.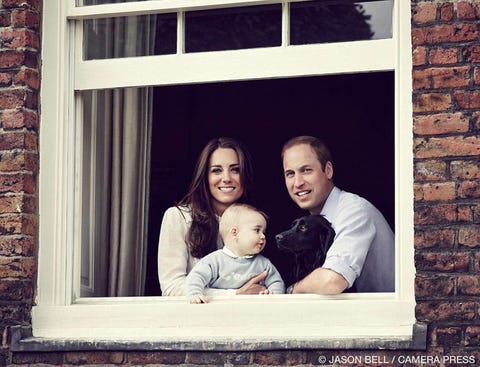 Personalized Gear
George alongside parents Will and Kate as well as royal pup Lupo, wore a light blue personalized sweater that reads George in a white script—as if we needed a reminder of his moniker. We don't know what we love more—his personalized knit or the way George and Lupo are staring at each other. Don't the two make the cutest best buds?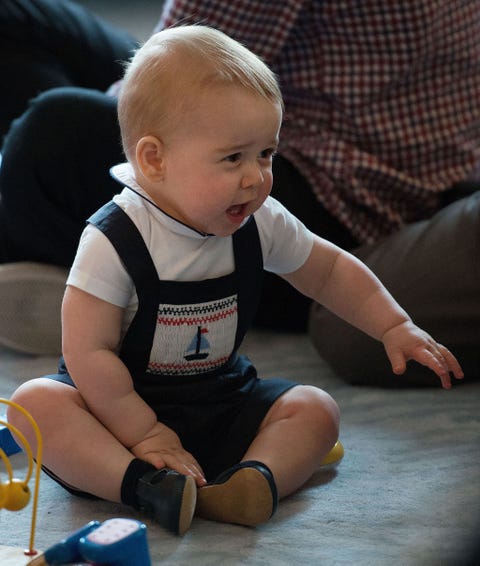 Sailboat Embroidery
The British Royals have their fair share of boats at their disposal (yachts, more like), and from the look of his wardrobe, Prince George already has his sea legs. During the Australia and New ZealandRoyal tour back in April, he sported two nautically inspired ensembles. The first was during a play date—navy shortalls with an embroidered sailboat. His second, was a white onesie with a whole fleet of baby blue boats sewn on the front when he arrived (with mom and dad) at the Sydney airport.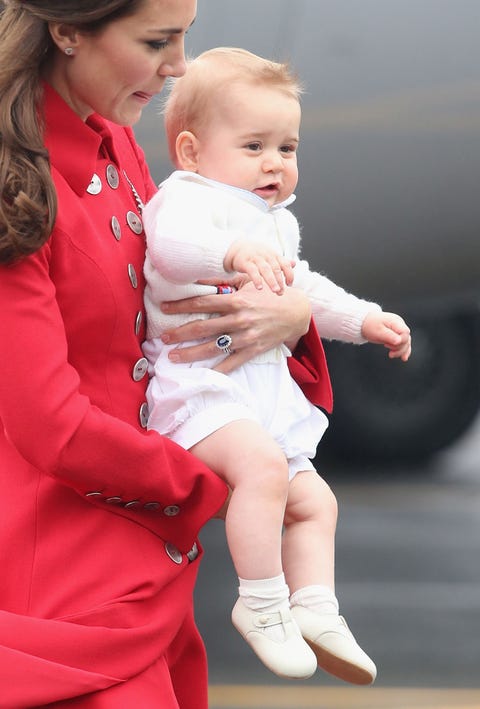 Cardigans
If we learned anything about Prince George's style during his days down under, it's that the little prince loves a good cardigan. First, at the family's arrival in New Zealand where he wore a daring all-white ensemble, complete with his go-to fashion item—alongside Kate's all-red outfit. He finished off the tour like he started, and said his final goodbyes in bright red.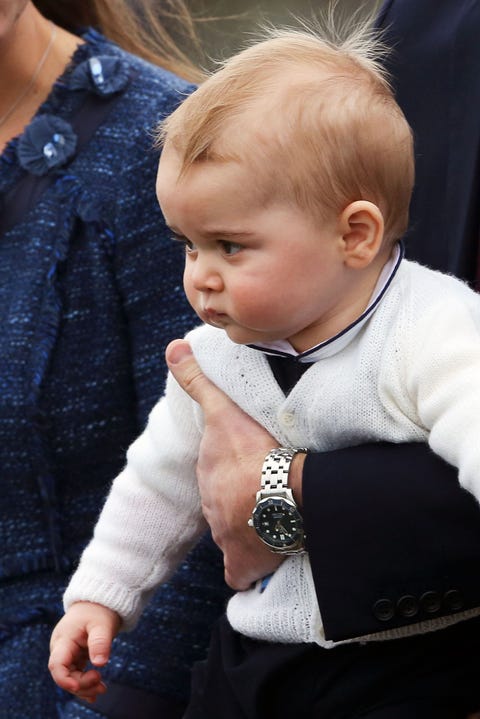 Peter Pan Collars
What does Great Britain's youngest heir wear underneath his favorite sweaters? More often than not, it's a classic Peter Pan collar. Whether it's a simple white one, like we saw him sport when George and company disembarked in New Zealand, or white with navy piping, like he wore underneath his sailboat-sporting shortalls during one of his play dates.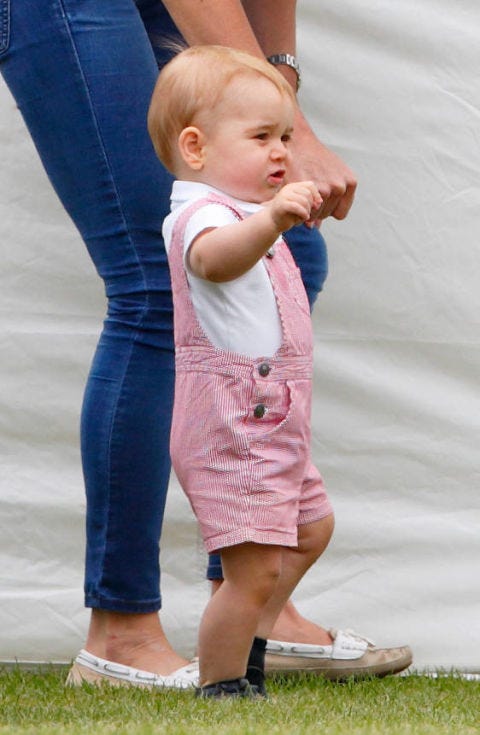 Shorts and Shorteralls
George is an active 1-year-old—he's already been racing around the halls of Kensington Palace's Apartment 1A. For a man on the go, George can't let a little fabric get in his way. From play dates to palling around at the polo field, George is often seen donning a pair of shorts.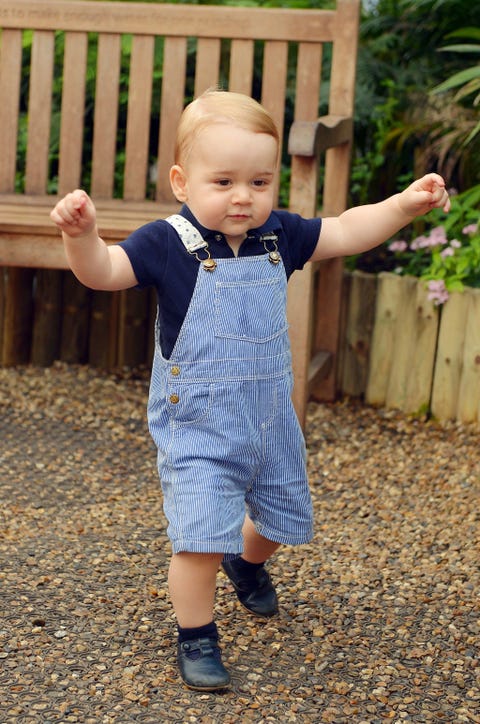 Seersucker
Prince George may caught some flack for sporting what appeared to be a pair of pink overalls to Dad Prince William's polo match this past Father's Day (see slide 5), but the critics just weren't looking close enough. George's shortalls were clearly red and white seersucker. This wasn't the first time George rocked the preppy print. He wore red seersucker while on tour with mom and dad in Australia. Not to mention, that in the Palace's official birthday photo of George, he's rocking the print in blue.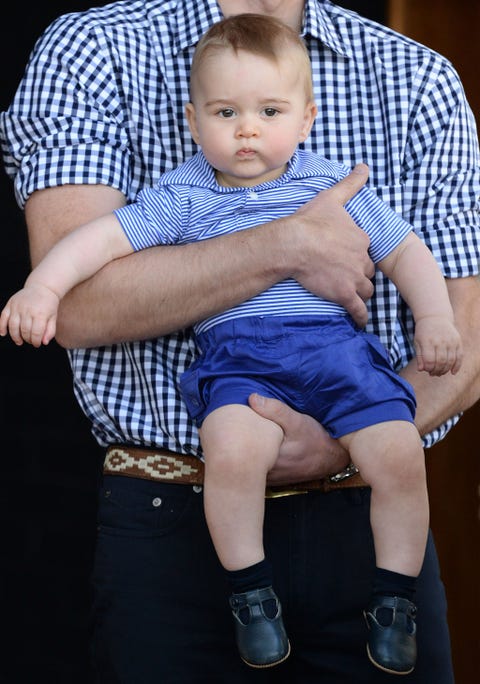 The Color Blue
We've seen a lot of George in what seems to be his favorite color. From sweaters to shorts, George is always rocking something blue. Here, he paired a striped blue polo with blue shorts and his go-to navy shoes for a trip to the zoo.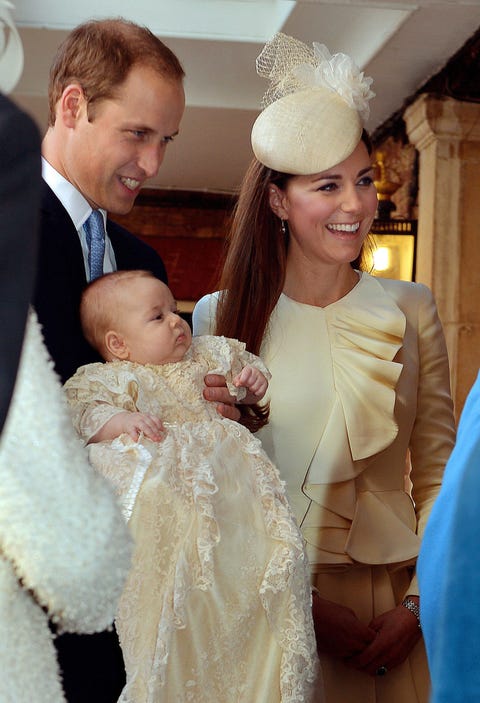 Historic Christening Gowns
Prince George wasn't born into just any family, but a clan with lots of history to live up to. While the christening gown little George donned back in October wasn't a 19th century original, it was a replica of the same gown that Queen Victoria's eldest daughter—along with 62 other royal infants—wore way back in 1841.
This content is created and maintained by a third party, and imported onto this page to help users provide their email addresses. You may be able to find more information about this and similar content at piano.io