17 Breakup Outfits That Were Just as Good as the Drama Itself
I came for the drama and the clothes.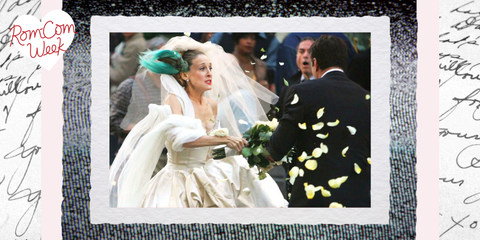 Many women agonize over what to wear on a first date: Something cool and flattering that you feel great in, but that doesn't look too extra or over-thought. When you're about to start something possibly life-changing, you want your outfit to be special. Pity you rarely have that same control and specificity when you end the relationship. But in the movies, they do. Costumes play a major role in expressing a character's personality and details about the world around them, so it's no surprise some breakup outfits have become as iconic as the movie themselves. Who can forget what Kate Hudson's character wore when she ended things with Ben in How to Lose a Guy in 10 Days? (That low-back yellow silk gown!) In honor of all the fierce women who have had their hearts broken—or done the breaking—we're taking a closer look at the very outfit they wore when the drama unfolded. After all, I came for the style and the spectacle.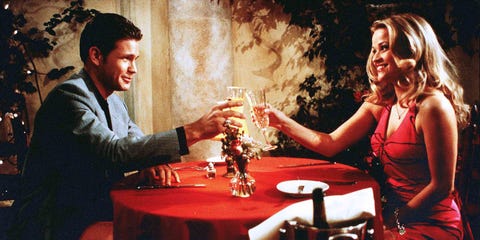 Legally Blonde
Elle Woods (Reese Witherspoon) is all dressed up for her date with Warner (Matthew Davis) because she thinks he's going to propose before he goes off to Harvard Law School. The dinner goes off the rails when Warner suggests they end things because he needs to "marry a Jackie, not a Marilyn," implying she isn't intellectual enough. (Though joke's on him when Elle also gets into Harvard.) The low-cut halter neck dress is just one of the many pink ones Elle wears in the film—call it her power woman color, because she definitely uses this moment to propel herself forward.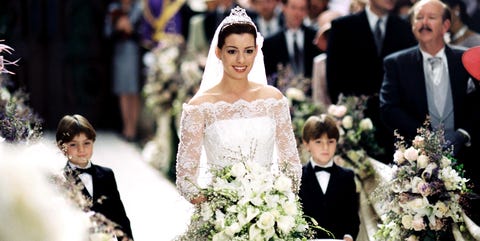 The Princess Diaries 2: Royal Engagement
In this sequel, Mia Thermopolis (Anne Hathaway) must find a suitor in order to become queen. She chooses Andrew Jacoby, Duke of Kenilworth, (Callum Blue) and prepares to marry him even though they don't love each other. Mia calls off the wedding at the altar, much to Andrew's relief too. It was a sad but beautiful moment made all the more stunning by Mia's off-the-shoulder lace gown—certainly fit for royalty—which was created by costume designer Gary Jones.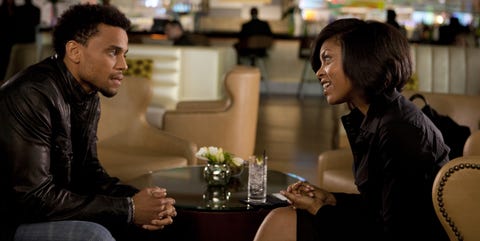 Think Like a Man
This movie has multiple storylines, one of which centers on an aspiring chef/dreamer Dominic (Michael Ealy) and Lauren Harris (Taraji P. Henson), a type-A, go-getter. In this scene, Lauren suggests "taking a break" while wearing a button down and knee-length pencil skirt, speaking to her #bosswoman vibes.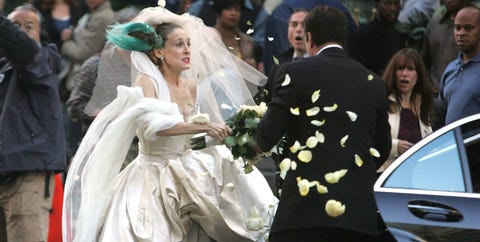 Sex and the City
We were rooting for you guys! In this heart-wrenching scene, Big (Chris Noth) gets cold feet and calls off the wedding before realizing he's made a dumb mistake. As he tries to hail down Carrie's (Sarah Jessica Parker) limo, she gets out in her gorgeous Vivienne Westwood gown and smacks him with her wedding bouquet. Serves him right.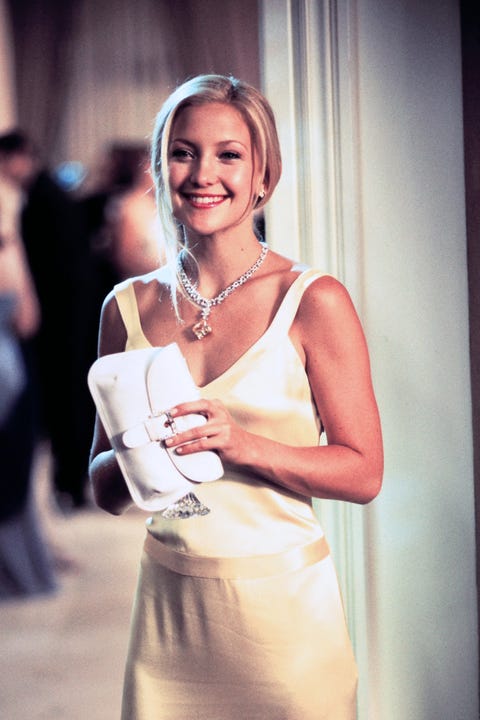 How to Lose a Guy in 10 Days
We still get chills every time we watch Andie (Kate Hudson) step out in this silky yellow dress created by costume designer Karen Patch. She even "frosts" herself with a stunning Harry Winston Isadora necklace. Though she looks lovely and happy in this movie still, that smile isn't forever.
She and Ben (Matthew McConaughey) get into an explosive fight at his company party after finding out their relationship was based on a bet. Well, two bets. The lovebirds break up and Andie, sadly, has to hand back her necklace. (Don't worry, though, it has a happy ending.)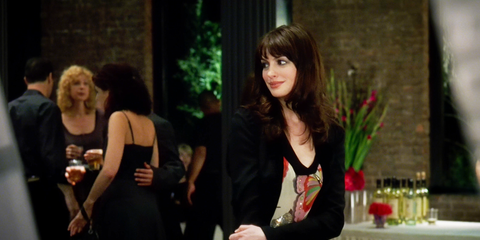 The Devil Wears Prada
Andrea Sachs (Anne Hathaway) is embracing her fashion girl makeover and looks incredible—screenprint silk top, well-tailored black blazer, blunt-cut bangs—but her personal life is about to fall apart. In this scene, her boyfriend Nate (Adrian Grenier) says they have nothing in common since she's been working at Runway; hurt, Andy suggests they take a break since she's about to head to Paris with her boss, Miranda Priestly (Meryl Streep), anyway.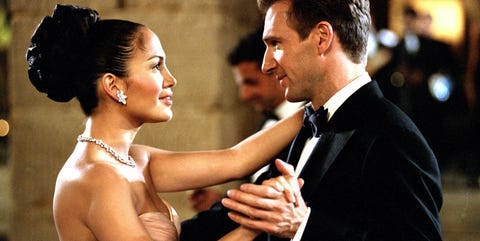 Maid in Manhattan
Marisa Ventura (Jennifer Lopez) shows up to a fancy political fundraiser determined to break off all contact with senator-hopeful Christopher Marshall (Ralph Fiennes). She catches the eye of everyone in the room with her strapless pink gown and Harry Winston necklace and, of course, Christopher becomes even more obsessed with her. They end up spending the night together, but she officially leaves him in the morning.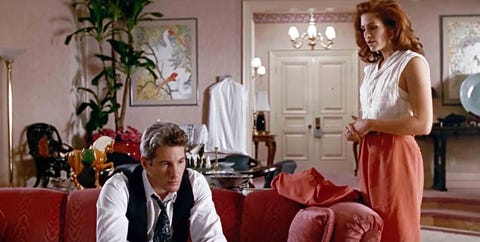 Pretty Woman
Vivian Ward (Julia Roberts) develops feelings for Edward Lewis (Richard Gere) and wants a real relationship with him, one that he can't give to her, or so he thinks. When they part ways, Vivian is pictured wearing a salmon-colored shorts suit set (so '90s) that basically says, "I'm an independent woman and I don't need rescuing."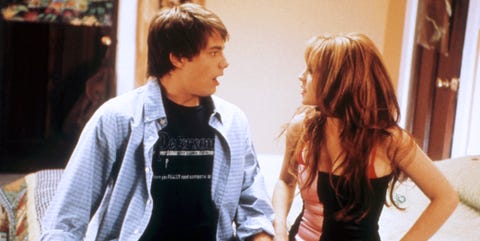 Mean Girls
Cady Heron (Lindsay Lohan) throws a party at her house while her parents are away and invites her crush Aaron Samuels (Jonathan Bennet) over, hoping to seduce him. She wears a body-con pink and black dress with her red bra straps peeking out because, it's 2004. Things don't go as planned when Cady, who's had too much to drink, accidentally insults him and vomits on Aaron.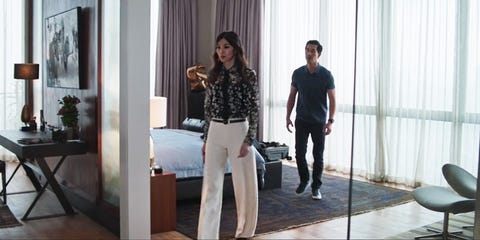 Crazy Rich Asians
At the end of the movie, Astrid (Gemma Chan) officially leaves her husband Michael (Pierre Png) after discovering his affair with another woman. She realizes that he's given up on their marriage and it's not up to her to make him feel like a man. Astrid walks away in a badass pair of high-waisted white trousers and floral blouse. The feminine yet tailored vibe suits Astrid's strong and willful, but also sensitive, soul.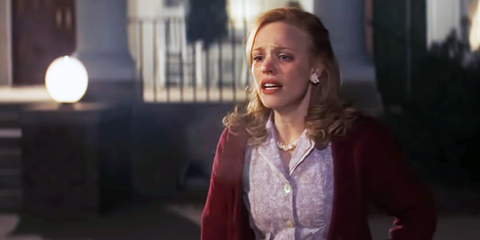 The Notebook
An heiress, Allie (Rachel McAdams), and a poor quarry worker, Noah (Ryan Gosling), have a summer romance, but their relationship is short-lived. Allie's parents forbid her to see Noah, the two get into a fight and break up. Allie tearfully watches Noah drives away in her pristine collared dress, cardigan, and pearl jewelry.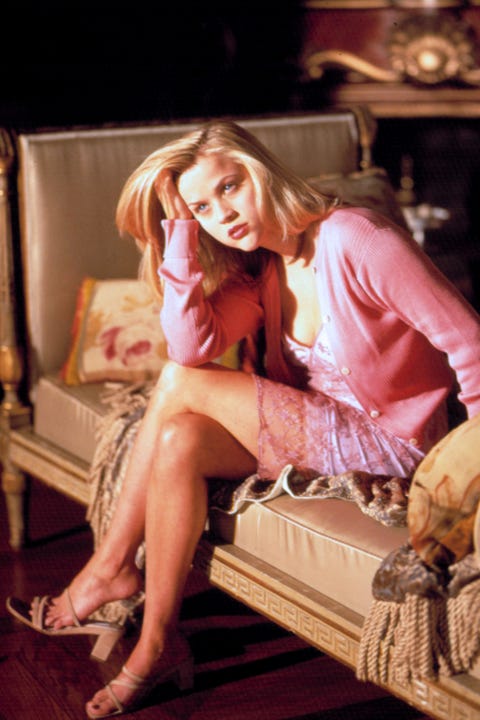 Cruel Intentions
The clothes in this movie reflect each character's personality to a T. Reese Witherspoon's character, Annette Hargrove, is pictured wearing a lot of light colors, like this sweet pink dress and cardigan, to imply innocence and chastity. In this scene, she's dumped by Sebastian Valmont (Ryan Phillippe), after he tells her she means nothing to him. Though this was all a result of lies and evil manipulation by his stepsister, Kathryn (Sarah Michelle Gellar).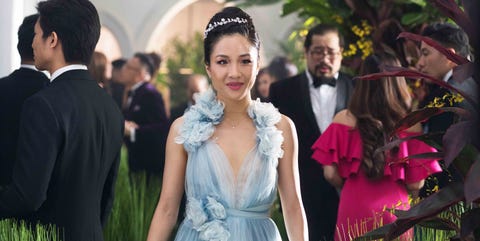 Crazy Rich Asians
Crazy Rich Asians does it again. Rachel Chu (Constance Wu) looked like Cinderella in this blue Marchesa dress she dons to attend a wedding with her boyfriend, Nick Young (Henry Golding). Everything seems like a fairytale until a secret comes out and it ends Nick and Rachel's relationship. She leaves the party in her beautiful gown, dejected and humiliated by Nick and his mother.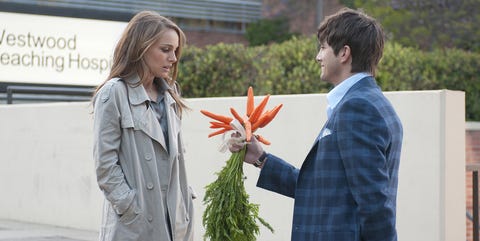 Cold Spring/Kobal/REX/Shutterstock
Shutterstock
No Strings Attached
In this flick, the clothing actually plays a role in the breakup. Emma (Natalie Portman) and Adam (Ashton Kutcher) started off with a no-commitment relationship, but eventually develop feelings for each other. Adam's the first to admit this, and takes Emma out on a post-work date. While exploring a museum exhibit outdoors, Adam carries her coat and attempts to help her put it on when she gets cold. Emma rejects the sweet gesture and the two start to bicker. Adam tells her he loves her, but she doesn't want to hear it (out of fear of eventually being hurt). And that's it for their casual relationship.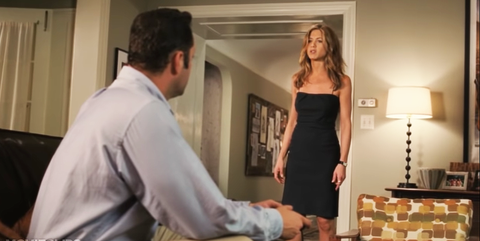 The Break-Up
No one can work the LBD better than Jennifer Aniston. In this scene, her character Brooke ends her relationship with live-in boyfriend Gary (Vince Vaughn). He calls her a nagger and control freak while Brooke views Gary as selfish and immature. I know what you're all thinking: Gary, don't be a dumbass! Look at her! Apologize.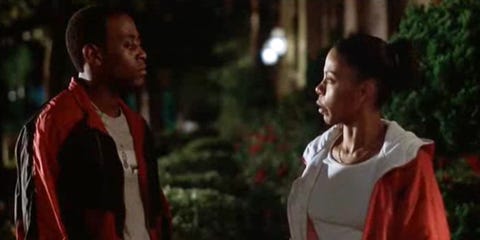 Love & Basketball
Despite her mom's best efforts to turn her into a lady, styling her in dresses and skirts, Monica (Sanaa Lathan) stays true to her tomboy image and love for basketball. She finds a fellow companion and, eventually, lover in Quincy (Omar Epps), a fellow basketball player with immense talent. The storyline follows their romance to college where the two struggle with balancing their relationship needs and their duties as top-performing athletes. This leads to Quincy ending things with Monica because he feels like she prioritizes basketball over him. Monica, naturally, is wearing a team jacket.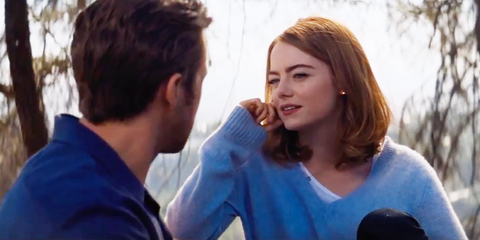 La La Land
Sebastian (Ryan Gosling) and Mia (Emma Stone) part for good after he helps her land a role in a film that will eventually kick start her career as a famous actress. Though the two still love each other, they both want to pursue their own dreams and are uncertain of their future together. In this final, bittersweet breakup scene, you'll notice that they're both wearing blue, a color often used to symbolize peace and strength.
This content is created and maintained by a third party, and imported onto this page to help users provide their email addresses. You may be able to find more information about this and similar content at piano.io