17 Breakup Outfits That Were Just as Good as the Drama Itself
I came for the drama and the clothes.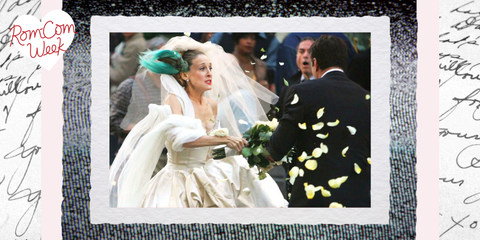 Many women agonize over what to wear on a first date: Something cool and flattering that you feel great in, but that doesn't look too extra or over-thought. When you're about to start something possibly life-changing, you want your outfit to be special. Pity you rarely have that same control and specificity when you end the relationship. But in the movies, they do. Costumes play a major role in expressing a character's personality and details about the world around them, so it's no surprise some breakup outfits have become as iconic as the movie themselves. Who can forget what Kate Hudson's character wore when she ended things with Ben in How to Lose a Guy in 10 Days? (That low-back yellow silk gown!) In honor of all the fierce women who have had their hearts broken—or done the breaking—we're taking a closer look at the very outfit they wore when the drama unfolded. After all, I came for the style and the spectacle.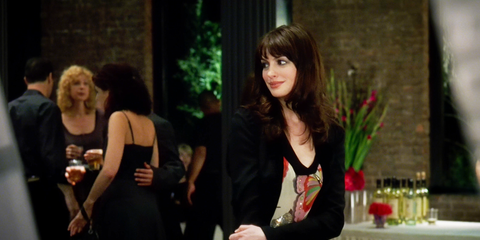 The Devil Wears Prada
Andrea Sachs (Anne Hathaway) is embracing her fashion girl makeover and looks incredible—screenprint silk top, well-tailored black blazer, blunt-cut bangs—but her personal life is about to fall apart. In this scene, her boyfriend Nate (Adrian Grenier) says they have nothing in common since she's been working at Runway; hurt, Andy suggests they take a break since she's about to head to Paris with her boss, Miranda Priestly (Meryl Streep), anyway.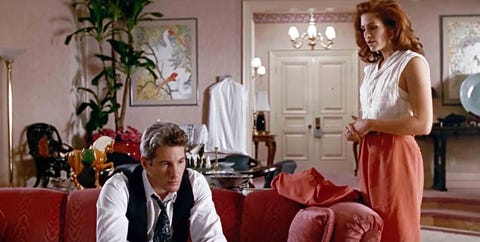 Pretty Woman
Vivian Ward (Julia Roberts) develops feelings for Edward Lewis (Richard Gere) and wants a real relationship with him, one that he can't give to her, or so he thinks. When they part ways, Vivian is pictured wearing a salmon-colored shorts suit set (so '90s) that basically says, "I'm an independent woman and I don't need rescuing."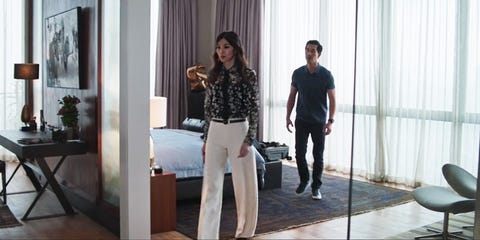 Crazy Rich Asians
At the end of the movie, Astrid (Gemma Chan) officially leaves her husband Michael (Pierre Png) after discovering his affair with another woman. She realizes that he's given up on their marriage and it's not up to her to make him feel like a man. Astrid walks away in a badass pair of high-waisted white trousers and floral blouse. The feminine yet tailored vibe suits Astrid's strong and willful, but also sensitive, soul.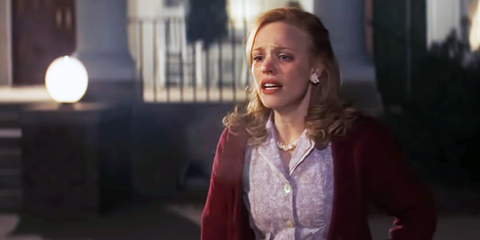 The Notebook
An heiress, Allie (Rachel McAdams), and a poor quarry worker, Noah (Ryan Gosling), have a summer romance, but their relationship is short-lived. Allie's parents forbid her to see Noah, the two get into a fight and break up. Allie tearfully watches Noah drives away in her pristine collared dress, cardigan, and pearl jewelry.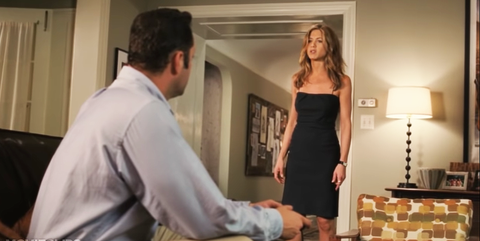 The Break-Up
No one can work the LBD better than Jennifer Aniston. In this scene, her character Brooke ends her relationship with live-in boyfriend Gary (Vince Vaughn). He calls her a nagger and control freak while Brooke views Gary as selfish and immature. I know what you're all thinking: Gary, don't be a dumbass! Look at her! Apologize.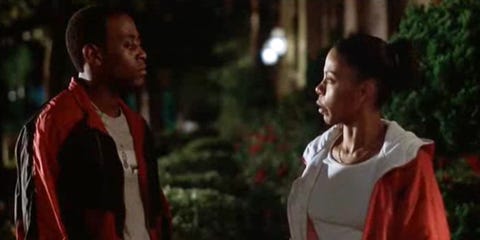 Love & Basketball
Despite her mom's best efforts to turn her into a lady, styling her in dresses and skirts, Monica (Sanaa Lathan) stays true to her tomboy image and love for basketball. She finds a fellow companion and, eventually, lover in Quincy (Omar Epps), a fellow basketball player with immense talent. The storyline follows their romance to college where the two struggle with balancing their relationship needs and their duties as top-performing athletes. This leads to Quincy ending things with Monica because he feels like she prioritizes basketball over him. Monica, naturally, is wearing a team jacket.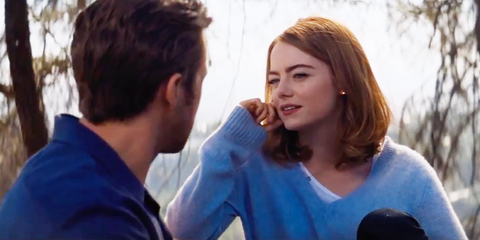 La La Land
Sebastian (Ryan Gosling) and Mia (Emma Stone) part for good after he helps her land a role in a film that will eventually kick start her career as a famous actress. Though the two still love each other, they both want to pursue their own dreams and are uncertain of their future together. In this final, bittersweet breakup scene, you'll notice that they're both wearing blue, a color often used to symbolize peace and strength.
This content is created and maintained by a third party, and imported onto this page to help users provide their email addresses. You may be able to find more information about this and similar content at piano.io