Editors handpick every product that we feature. We may earn commission from the links on this page.
The 11 Best Sweaters on Amazon
Stick a cup of hot cider in my hand and put me in front of a fireplace.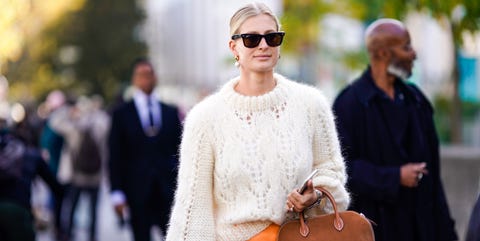 Edward Berthelot
Getty Images
Rather than inform you it's #sweaterweather—that's a no-brainer, it's already fall and winter is fast approaching—we'll skip ahead to help you find the cozy staple of your dreams. For anyone on a budget, or shoppers with a keen interest in scoring the best deals, we looked to Amazon for all of your sweater needs. We did our best to find tops with an interesting design that still feel wearable—and if you want simplicity, we found some everyday basics to boot. The only thing better than scoring an affordable find is receiving said find in 48 hours via Prime.
1
For Everyday Wear
Stitch Turtleneck Sweater
Every closet needs that one basic sweater for fall/winter. This is it. The sweater is 100 percent cotton, and comes in 10 different colors; one reviewer said the top was "functional and easy to style" while another customer said the one caveat is sizing. The fit appears to vary from person to person, depending on your body type.
2
The Unique Pick
Casual Crisscross Sweater
Plush, cozy, and sexy—those are the three adjectives that reviewers use most to describe this crisscross sweater. You can purchase it in a solid color or buy one adorned with fake pearls, though the solids are easier to maintain. (Pearls will invariably fall off.) And every time you wiggle out of your winter coat, you'll know that the sweater's distinct back will be a crowd pleaser.
3
The Slouchy Option
Off-the-Shoulder Batwing Sleeve Sweater
This sweater is an Amazon best seller, with over 1,600 reviews; its fans rave about the warmth and the oversize fit. Personally, I think the baggy style (size down if you want it less loose) is perfectly optimized for all those upcoming holiday meals. Wear yours off the shoulder for a slightly sexier feel—but one that won't offend your grandmother at the dinner table.

4
The Easy Neutral
Dolhearted Crewneck Sweater
Neutral sweaters aren't the most exciting winter pieces, right? Well, all that changes if a neutral color, like this cream shade, is paired with a slightly darker yet still-wearable hue like copper. Style with black skinny jeans or layer over a long silk dress.
5
For Wearing With Leggings
Casual Crewneck Knit Sweater
The kind of sweater you'll reach for without even thinking about it. The silhouette runs long to hug your butt, but will definitely shrink if you wash it and put it in a dryer (naturally). To keep it in its oversize condition, you should let it air-dry. Wear with brown over-the-knee boots.
6
For Layering
Mercantile Merino Turtleneck Sweater
This J.Crew sweater is on the thinner side, which makes it easily layer-able underneath your itchier wool tops and summertime spaghetti strap dresses. Already have enough black tops? This sweater also comes in a "brilliant sapphire" blue color.
7
The Super Fuzzy Pick
Long Balloon Sleeve Sweater
This sweater looks ordinary at first...until your eyes travel down to the sleeves. They're decorated with slightly fuzzy mohair details that make you want to run your hands over them. Thanks to this little design, the top makes for a good photo op. And, judging from the outfit snapshots from customers, it looks good on camera.
8
For Brightening Gray Days
Color-Block Sweater Crew Neck
A color-block sweater that comes in four color variations, so you never run out of options. The overall consensus on this top from reviewers: It's cute and beautiful, and at a digestible price point. If you find your sweater running on the larger end and don't want to exchange it for another size, take one reviewer's suggestion and tuck it into mom jeans.
9
The Wrap Option
Oversized Sexy Sweater
People who bought this top remarked on its softness, almost shockingly good quality (no itchy arms here), and the faux wrap sleeves. The sweater comes in six colors, so if you really love it, buy one more. We support you.
10
The Chunky Knit
Casual Chunky Knit Pullover Sweater
Your new favorite chunky sweater goes well with leggings or skinny jeans, according to those who already have it. That's cool, because we practically live in those two bottoms for the season. If you want to stand out, get the lilac color. If you want to blend in, opt for a gray.

11
For the Holidays
Printed Turtleneck Sweater
Put a cup of hot cider in my hand and stick me in front of a fireplace. If you need a good holiday-esque top to snuggle up into while you're chilling with the family, this is our pick. Those who bought it said it's "soft" and "beautiful."
This content is created and maintained by a third party, and imported onto this page to help users provide their email addresses. You may be able to find more information about this and similar content at piano.io